Viral Quote Twists Zomato Founder's Statement On Delivery Rider Row
A viral quote twists Zomato founder and CEO Deepinder Goyal's statement and gives it a communal spin.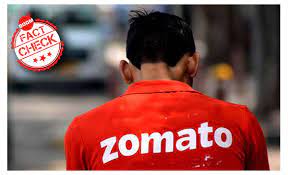 A viral quote stating Zomato Founder and CEO Deepinder Goyal said his app does not want business from Hindu customers who decline to take food delivered by Muslim delivery boys, is false.
The misleading quote also falsely claims that Goyal said the food business is the company's only religion.
Both Goyal and Zomato's tweets have been twisted to give it a communal spin.
The online food ordering app is in the news for standing up to a customer who cancelled an order from a restaurant as the delivery person was a Muslim.
On Wednesday, the company replied to the customer with 'Food doesn't have a religion. It is a religion,' winning many hearts online.
However, its stance has divided social media with a large section of conservative Hindus accusing Zomato of having double standards when it comes to accommodating requests of Muslim customers with regards to Halal meat.
Hashtags such as 'IStandWithAmit' 'BoycottZomato' 'ZomatoUninstalled' have also been trending on Twitter.
The company is now being targeted with fake news.
The text of the misleading post translates to.
'Zomato's owner Deepindra Goyal said, "We don't want business from Hindu customers who don't want to take food delivered by Muslim delivery boys. We don't care for religion, the food business is the biggest religion for us." So, stupid Hindus, will you die of hunger if you don't order food from Zomato?'
(Translated from Hindi: Zomato के मालिक दीपेंद्र गोयल ने कहा...."नही चाहिए हिन्दू कस्टमर्स से बिज़नेस जिसे मुसलमान डिलीवरी बॉय से सामान नही लेना न ले, हमारे लिए धर्म नही खाने का व्यापार ही सबसे बड़ा धर्म है" !! तो मूर्ख हिंदुओं क्या भूखे मर जाओगे अगर जोमाटो से नही मंगवाओगे तो? )
The post can be viewed here and its archived version can be accessed here.
Another post blatantly claimed Goyal said Zomato did not want business from Hindu customers. Click here to view an archived version of it.
Fact Check
BOOM checked the Twitter handles of, both Zomato and its founder Deepinder Goyal but did not come across any communal message shared by them.
On July 31, Zomato's official Twitter handle had quote-tweeted the irate customer Amit Shukla's tweet with the caption 'Food doesn't have a religion. It is the religion.'
Below is Shukla's tweet now deleted from his profile.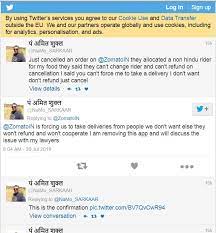 You can view the archived version of the tweet here.
On the same day, Deepinder Goyal had quote-tweeted Zomato's tweet adding 'We are proud of the idea of India - and the diversity of our esteemed customers and partners. We aren't sorry to lose any business that comes in the way of our values.'
Goyal's tweet did not mention religion but spoke about values.
The company also replied to its original quote tweet with a statement explaining its position on restaurants serving Halal meat.

ALSO READ: Zomato Says, 'Food Has No Religion' After Customer Refuses Food From Muslim Rider
Claim Review :
Zomatos owner said that the company doesnt want to do business with Hindus
Claimed By :
Facebook pages and Twiter handles