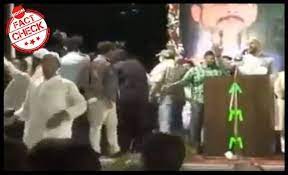 A video of an old man being beaten by a mob in Rajasthan is viral with two false claims that a person from the Sikh community was beaten by Bharatiya Janata Party (BJP) workers and another false claim that Muslims beat an old man for chanting Bharat Mata Ki Jai.
In the 2 minutes 20 seconds long video, one can hear the old man shouting "Chowkidar Chor Hai, Main bhi ek chowkidar hu, Bharat Mata Ki Jai", following which men gather around him and beat him.
This is the condition of India right now. Nobody is safe, not even Sikhs. Even when you chant Bharat mata ki Jai. BJP goons beating an old Sikh man in Rajasthan.#BJPKillers pic.twitter.com/P6ZKgweQK5

— Aqib Balouch (@AqibBal0uch) October 23, 2019
Click here to view, and here for an archive.
देखो एक बुढ्ढे सरदार को भारत माता की जय बोलने पर मुस्लिम ईमान वाले 10 से 12 लोग मिलकर पिट रहे है😰😰@aakashgupta146 @narendramodi @hrsp2004 @Pragyahindu @Raghuna80641990 @RajTiwa56444261 @526Nikita @AmitShah @ChouhanShivraj @imAbhishek_20 @Nationalist_RS @Ptshriprakash pic.twitter.com/7PLRVxlUcF

— 🇮🇳मनीराम विश्वकर्मा कट्टर हिंदू🇮🇳 (@I3gnliHw7NV3IGG) October 22, 2019
Click here to view, and here for an archive.
बीजेपी के खिलाफ बोलने वाले इस बुजुर्ग किसी तरह से पिटाई करते हुए ,,,। वाकई में देश बदल रहा है,,, ।
फूल तानाशाही,,,,@LambaAlka @AliSohrab007 @SyedMahiNoor2 @ziddi_zoya_ @BulletRaja8329 pic.twitter.com/fTXKLGt6Jp

— ᏃᎥᎠᎠᎥ jᎪᏟᏦ (@ziddijack007) October 19, 2019
Click here to view, and here for an archive.
FACT-CHECK


We were able to ascertain that the video is from Bhilwara, Rajasthan. Local police told BOOM there no political or commual angle in the incident and five people had been arrested for the same.

At exactly 5 seconds in the video, we noticed the number plate of a car visible in the video. The number plate reads, 'RJ27CH0990' showing that the video is from Rajasthan.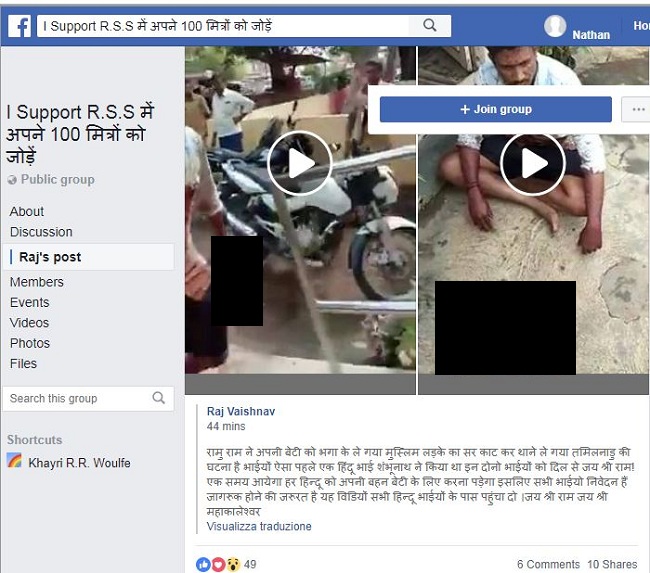 We found that Akali Dal MLA Manjinder S Sirsa replied to a tweet with details about the video.
Hope this report will clarify pic.twitter.com/lSbTRO0gV1

— Manjinder S Sirsa (@mssirsa) October 20, 2019
Click here to view an archive.
Another Twitter user also posted a second part of the viral video, claiming that it showed what happened after the man was assaulted.
nxt video after beating the old man...ye bhilwara ka video h aur yeh halaat hai desh ki pic.twitter.com/87w9HlOtsl

— SAM (@sameerk17355605) October 19, 2019
Click here to view, and here for an archive.
BOOM contacted Bhilwara Police who confirmed that the incident happened on October 15, 2019 at Azad Chowk. They further explained that the victim who was assaulted is 55-year-old Hotchand Sindhi (55).
The police said that Sindhi was assaulted by five accused who were arrested after investigation. Additional Superintendent of Police from Bhilwara, Rajesh Meena said that Sindhi was diagnosed with a mental health issue.
"The victim used to set up a thela (goods stall) in the same chowk and had previously argued and passed remarks with other traders in the market," said Additional Superintendent of Police from Bhilwara, Rajesh Beena told BOOM.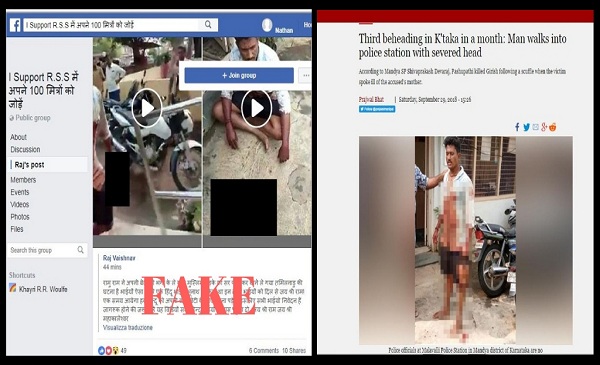 The Police statement accessed by BOOM states that Sindhi had been previously jailed in connection with his wife's murder.
CLAIM 1 : SIKH MAN BEATEN BY BJP WORKERS

According to the Bhilwara police, the victim is a Sindhi and not from the Sikh community.
Additional SP Meena said, "The five arrested accused are traders and have shops in the area. They have previously argued with Sindhi as they claim that he used to abuse them."

"There is no political angle in this case," Meena said.
CLAIM 2 : MUSLIMS BEAT UP MAN FOR CHANTING BHARAT MATA KI JAI
Bhilwara police denied all claims that the victim was beaten because he was chanting Bharat Mata Ki Jai. Meena said that the victim and the accused knew each other and had also got into arguments previously. He explained that the accused who also had shops near the victim's stall were annoyed as he would frequently hurl abuses at them.

"There is no communal angle in the incident. Anything saying the victim was beaten for not chanting Bharat mata ki jai is incorrect."
The five accused who have been arrested in the case are Manoj alias Mulla Sindhi (39), Hemant Nathani (45), Bhagwan Das (37), Majoor Sheikh (31), and Irfan (34). The arrested accused have been booked under Section 151 of the Indian Penal Code (IPC).
Claim :
Old Sikh Man Beaten In Rajasthan
Claimed By :
Facebook Posts
Do you always want to share the authentic news with your friends?
Subscribed Successfully...
Enter Valid Email Id