Video From Jharkhand Viral As Rajasthan, Police Call Out Twitter User
A video from an incident in Ranchi is viral as communal violence in Rajasthan. Jharkhand police confirm to BOOM that the video is not from Rajasthan.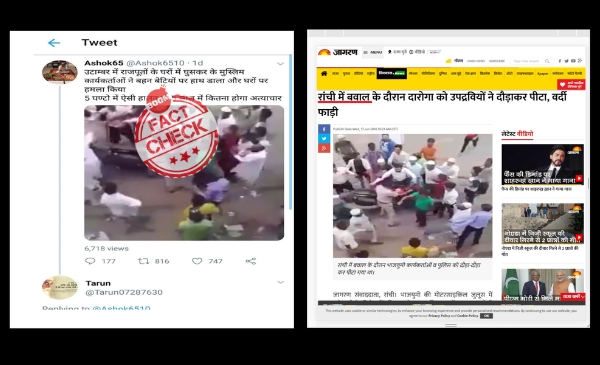 A six-month-old video from Ranchi showing a crowd thrashing a police officer is viral with a misleading caption that claims Muslims are beating up people in Rajasthan after Congress's electoral victory. The viral posts insinuate the incident happened after Congress came to power in the recently held elections in Rajasthan.
The post is viral with text in Hindi that loosely translates to, "In Utambar Rajasthan, Muslim workers entered Rajput households and molested sisters and daughters (women) and attacked homes. If this the case in five hours, then how will it be in in five years?"
(Hindi – उटाम्बर राजस्थान में राजपूतों के घरों में घुसकर के मुस्लिम कार्यकर्ताओं ने बहन बेटियों पर हाथ डाला और घरों पर हमला किया | 5 घण्टो में ऐसी हालत तो 5 साल में कितना होगा")
A Twitter user by the handle @Ashok65 tweeted the video on December 15, 2018 with the same caption but deleted it soon after many netizens pointed out that the video was not from Rajasthan. BOOM was able to get a screenshot of Ashok's tweet.
The above tweet went viral compelling Rajasthan police to verify the claim who confirmed that the video was not from Rajasthan.
हेलो @Ashok6510

राजस्थान पुलिस आपको watch कर रही है। ये एक पुरानी वीडियो है जो झारखंड के रांची की है। आप तुरंत इसे delete करें अन्यथा Cyber Unit को यह case सौंप दी जायेगी।

आइंदा इस तरह के अफवाह न फैलाएं।#FakeNews #KillFakeNews@PMOIndia @HMOIndia @RajCMO pic.twitter.com/lXsPvayHQN

— Rajasthan Police (@PoliceRajasthan) December 16, 2018
FACT-CHECK
BOOM analysed the video and ran a reverse image search of keyframe from the video and found the same photo used in a new article published in the Hindi daily Jagran. The article in Jagran was published on June 13 and had screenshots from the same video that was viral.
According to the article published by Jagran, the incident happened after protests broke out during a motorcycle rally organised by the Bharatiya Janata Yuva Morcha (BJYM) workers in Ranchi in June this year to mark the completion of four years of Bharatiya Janata Party coming to power in the centre.
BOOM contacted Ranchi police who confirmed that the video was from an incident from June in the Daily Market area of Ranchi city. Sujata Kumari Veenapani, Superitendent of Police, Ranchi city told BOOM that it was an old incident. "There were clashes between two groups about a motorcycle rally being organised in the city. On the day of the rally, a police officer from the Lower Bazaar police station who was passing by was caught in the protests and beaten up by the crowd. We had also registered an FIR in the case," Veenapani said.
BOOM also spoke to Santosh Kumar, Station House Officer (SHO) of the Lower Bazaar police station who confirmed the incident and said that the attacked police officer was one Anil Kumar Gupta, Sub-inspector. "The incident broke out due to some sloganeering at the motorbike rally but soon turned communal. SI Gupta was not the only policeman to be attacked. Many civilians and uniformed policemen from various police stations who were trying to control the crowd were attacked by the unruly mob. At least three to four FIRs were registered and many people questioned,"Kumar said.
Meanwhile, the website Op-India, published a story claiming that the Rajasthan police had "declared a true incident as 'fake news' on Twitter".
Rajasthan Police declares a true incident as 'fake news' on Twitterhttps://t.co/wifo3WZC0u

— OpIndia.com (@OpIndia_com) December 17, 2018
This story was later updated by OpIndia to say, "The Twitter user who had deleted his tweet appeared to have attached a wrong video, however, the screenshot used by Rajasthan police in their warning did not include thumbnail of the video, in absence of which, a real incident (as seen in the text part of the screenshot used by Rajasthan police) was being tagged as 'fake news' by Rajasthan police and believed so by many users."
BOOM checked Rajasthan police's tweet to ascertain whether Rajasthan police had indeed "declared a true incident as false" and found OpIndia's claim to be misleading. Genuine images or visuals shared with a false or incorrect context comes under the definition of fake news.
On the left is the viral now deleted tweet and on the right is Rajasthan Police's tweet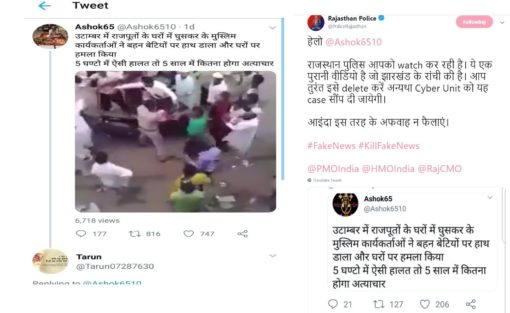 We are glad to bring you this fact check. If you are happy with our mission to keep the internet safe of disinformation, do support us by clicking on the link
Claim Review :
Muslims Are Beating Up People In Rajasthan After Congress's Electoral Victory
Claimed By :
Social Media