Uttar Pradesh Dangal – Through Maharashtra's eyes!
BJP's main rivals - SP & BSP, to prevent a repeat of 2014 in UP, will have to snatch 75% of the 100 seats where BJP lead was below 25,000 votes.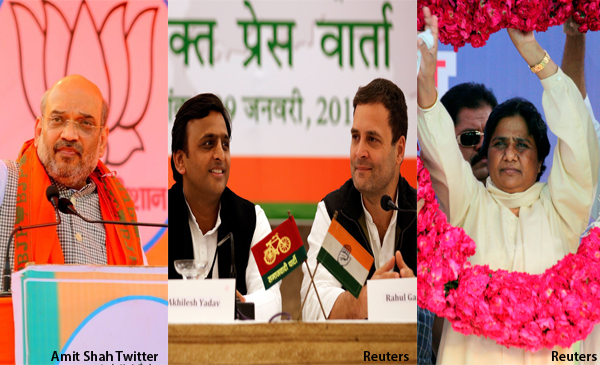 A lot has been said about BJP being odds on favourite to sweep the UP elections, considering the magnitude of their victory in the Lok Sabha elections. They not only won 73 of the 80 seats in the largest state of India but won so quite decisively. Sample this – Of these 73, BJP won 32 seats with a margin of over 2 lac votes and 26 seats with a margin of between 1 & 2 lac votes! So the marginal seats at the Lok Sabha level were barely 15!
Now lets drill down to the assembly segments within the 80 Lok Sabha constituencies of Uttar Prades. BJP won a jaw dropping 327 of the 403 assembly seats in 2014 LS elections. So the first reaction on seeing this number, is how on earth can BJP not win atleast 202 seats in the assembly elections due next month? But we will put these numbers through more rigorous scrutiny.
Of the 327 seats where BJP won, I have divided them into four categories based on the size of the BJP lead.
BJP victory margin (assembly segments – 2014 LS )
| | | | |
| --- | --- | --- | --- |
| Below 25k | Between 25-50k | 50-75k | Over 75k |
| 102 seats | 133 seats | 60 seats | 32 seats |
The Case Of Maharashtra
Now let us flashback to Maharashtra that within a gap of 5 months, voted for both Lok Sabha & assembly elections and where the Cong NCP did much better in terms of number of seats as compared to Lok Sabha elections.
I have taken Maharashtra for comparison for 2 reasons – it is a big state and has significant rural population ( though urban seats in Maharashtra much more than Uttar Pradesh ) and hence will give us a good peak into how voters shift their vote between Parliament and assembly polls. A big Caveat though : Maharashtra assembly elections took place with the Modi wave intact, barely 5 months after Lok Sabha elections; also Congress-NCP state government was facing triple anti-incumbency having been in power for 15 years straight!
The BJP-Sena decimated the Congress NCP in Lok Sabha polls, winning 42 of 48 Lok Sabha seats and leading in almost 220-230 of the 288 assembly seats. But over 50 seats where BJP & Shiv Sena had a lead, swung to Congress – NCP in the assembly elections in October 2014. The swings are interesting and could be an indicator, even if an inaccurate one, for UP polls.
Swing towards Congress/NCP in 2014 Maharashtra assembly elections vs LS poll
| | | | |
| --- | --- | --- | --- |
| Less than 25k | 25-50k | 50-75k | Over 75k |
| 10 seats | 23 seats | 8 seats | 8 seats |
It is instructive to note most of the above seats (50%) that BJP/Sena lost, were those where their leads in Lok Sabha polls were tenous , i.e. below 25,000 votes ! Circa back to UP and the first table above assumes lot of significance.
BJP's main rivals - SP & BSP, to prevent a repeat of 2014 in UP, will have to snatch 75% of the 100 seats where BJP lead was below 25,000 votes; these are the seats which will be the easiest to swing. The 133 seats where BJP lead was between 25,000 and 50,000 will be decisive. As per my calculation, SP & BSP will have to peel away 50% of these 133 seats and which is doable. If they do that, then BJP is likely to be restricted to a tally of around 150 seats ( assuming BJP loses 25% of the 60 seats where its lead margin in Lok Sabha was between 50 – 75,000 votes ). It may not be easy for SP/BSP, but Maharashtra should certainly give them a ray of hope!