Thousand-Hand Bodhisattva Dance Performance Shared As Tribute To Hindu God
BOOM found that the original video is of 'Dance of the Thousand Hands' a performance that was staged by Chinese women at the UN headquarters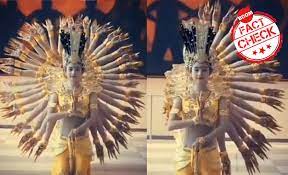 An edited video of a dance performance dedicated to a Buddhist deity is viral on social media with false claims that it is a devotional performance from India. The video has been overlaid with a Ram bhajan, sung by Baby Niranjana and Baby Bhakti Hiranmayi, students of classical musician Kuldeep M Pai.
The 2 minute 19 second long video shows a group of Chinese woman staging a well coordinated and meticulous dance performance. It has been captioned, "Magical performance to the tune of a bhajan sung by two tiny tots–pupils of the one and only…"
Click here for the archive of the Facebook post.
The same video was tweeted by journalist and academic Madhu Kishwar, with the same caption.
Kishwar had been called out earlier on multiple occasions for peddling fake news and misinformation.
ALSO READ: Madhu Kishwar's Never-Ending Tryst With Fake News
Madhu Kishwar Does It Again; Tweets Old Video Of Rahul Gandhi With Misleading Context
Kishwar's tweet garnered more than 1.8 lakh views at the time of writing the article.
The video was also shared by Pakistani-Canadian journalist, Tarek Fatah. Fatah tweeted the video with a similar narrative – "The magic that is Hindustan."
Fact Check
Multiple netizens pointed out that the video has been edited and is not from India.
BOOM then ran a relevant keyword search and was directed to the same video tweeted by China Xinhua News' official Twitter handle in November, last year. The dance performance was described as the thousand-hand Bodhisattva dance.
Furthermore, the audio of Ram Ram Bhajan, a performance by Baby Niranjana and Baby Bhakti Hiranmayi, was overlaid on the performance. Below is the video of the same.
The troupe from China Disabled People's Performing Art presented the dance at the United Nations headquarters in New York last year.
The longer clip of the performance was uploaded to YouTube as well.
According to research, the Dance of The Thousand Hands is related to Goddess Guanyin, or the Goddess of Mercy. Master dance choreographer Zhang Jigang is said to be the promoter of this dance form. The Dance of a Thousand Hands features 63 hearing impaired dancers from the China Disabled People's Performing Art Troupe. This dance describes the legend that Bodhisattva Guan Yin has one thousand hands.
Below is a video of another Dance of the Thousand Hands performance by the troupe.
We are glad to bring you this fact check. If you are happy with our mission to keep the internet safe of disinformation, do support us by clicking on the link
Claim Review :
Magical performance to the tune of a bhajan sung by two tiny tots--pupils of the one and only...
Claimed By :
FACEBOOK POSTS, Madhu Kishwar and Tarek Fatah on Twitter