Fact Check
Madhu Kishwar's Never-Ending Tryst With Fake News
Kishwar's reluctance at verifying the information she puts on public domain appears to have taken a toll.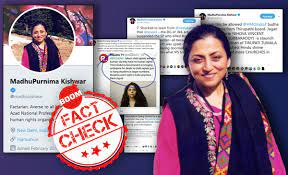 Writer, journalist and academic Madhu Purnima Kishwar has courted fresh controversy after tweeting out a fake quote by journalist Rana Ayyub, to purportedly portray her as defending child rapists.
Following Kishwar's tweet, a feud ensued between the two on Twitter, ending with Ayyub threatening to take her to court, despite Kishwar deleting the tweet and issuing an apology over Twitter.
This comes a day after Kishwar posted a tweet about YV Subba Reddy, the newly appointed chairman of Tirupati Balaji Temple, being a Christian who "works to spread more CHURCHES (sic) in Andhra". This turned out to be a false claim as well.
This is not the first time that the contents of Kishwar's posts have turned out to be misleading or outright fake. BOOM investigated her claims and got in touch with her to understand the reasons behind her posting such content on Twitter in the last few days, and on several instances in the past.
Revival Of An Old Photoshopped Image
On June 12, 2019, Kishwar tweeted out a photo, that falsely showed a quote by Rana Ayyub to Republic TV, where she spoke about upholding human rights of child rapists.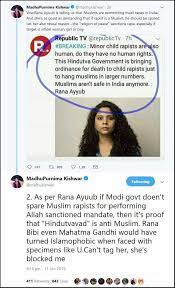 Kishwar has over 2 million followers - including Prime Minister Narendra Modi - which made her tweet instantly viral, garnering over a thousand likes in mere hours.
The false quote she tweeted was part of a photoshopped screenshot of a another tweet by a parody handle called @republictv. The screenshot, which had gone viral on several instances, has turned out to be fake and has been fact checked earlier by Alt News.
In response, Ayyub, who had faced rape threats and other forms of online harassment due to the fake news spread against her, has decided to take Kishwar to court in order to "bust her fake news factory".
Kishwar was quick to delete her tweet and post an apology for the fake tweet and claimed she "would not use any fake information against the #BreakUpIndiaBrigade (sic)".
BOOM got in touch with Kishwar to find out why she had posted a fake screenshot, to which she replied that she was not aware that it was fake and was informed about it by "a trustworthy friend".
"I went with what my friend told me as he's trustworthy, and deleted my tweet and apologised with unconditional regret," Kishwar told BOOM.
However, Ayyub believes that it was a deliberate attempt on Kishwar's part to spread misinformation against her.
"In the past Madhu Kishwar has tweeted out fake content despite known it is fake, it is a mischief on her part and was deliberately done," claimed Ayyub.
Rana further added that Ashok Pandit, the current president of Indian Film & Television Director's Association, had also tweeted out the same photo and was also culpable of spreading fake news.
"I already have a case registered with the Delhi Police over the fake tweet and plan to send an email to the authorities with screenshots of tweets by Kishwar and Pandit, to club it in the same case," she said. "Her tweet has enabled rape threats against me. If Delhi Police does not act, I will go to court."
Kishwar retorted by saying that Ayyub was "welcome to to do so". She explained to BOOM that her apology is an indication of the fact that she is taking up responsibility for what she puts in the public domain.
Furthermore, she hit back by stating that "Ayyub herself had put misleading content in the public domain", referring to Ayyub's book Gujarat Files and an opinion piece written by her on a 2015 gang rape case of a nun at Ranaghat in West Bengal.
"Would Rana Ayyub apologise for the misinformation that she had spread?" asked Kishwar.
While the feud between Kishwar and Ayyub is on hold until action by Delhi Police based on Ayyub's complaint, or Ayyub actually taking her to court, Kishwar's personal history with fake tweets goes much further.
Yet Another Blunder
A day before the row between Kishwar and Ayyub erupted, Kishwar claimed in a tweet that YV Subba Reddy, maternal uncle of Andhra CM Jagan Mohan Reddy and newly appointed chairman of Tirumala Tirupati Balaji Temple, was a staunch Evangelist and that his full name was 'Yehova Vincent'.
The tweet also claimed that Reddy "works to spread more CHURCHES in Andhra".
The claim became viral on Twitter, to the point that BJP lawmaker Subramanian Swamy had to intervene to counter the claims by stating that "Subba Reddy is a Pucca Hindu".
Thus, Kishwar made another gaffe with the tweet on Reddy, whose full name turns out to be 'Yarram Venkata', according to the electoral candidate affidavits filed by him.
BOOM got in touch with Reddy, who confirmed Swamy's statement about him being a practicing Hindu.
"My whole family is Hindu, including my father, my mother and my wife. We are all practicing Hindus. All these people are trying to spread unnecessary malicious rumours," claimed Reddy.
However, when asked about why she had posted this tweet Kishwar replied, "It's a known fact that YSR has carried out massive conversion drives."
The confusion around Subba Reddy's religion started from the simple fact that Jagan Mohan Reddy himself is a Christian, which led many people to believe that Subba Reddy - being his uncle - should also be a Christian.
While, Jagan Mohan Reddy's father, YS Rajasekhara Reddy was born in a Christian household, his mother YS Vijayalakshmi was born Hindu, who converted to Christianity during her marriage.
However, Vijalakshmi's side of the family - of which YV Subba Reddy is a part of - remain devout Hindus.
Also Read: "Will Always Be A Hindu": Tirupati Temple Board Chairman Refutes Claims About His Religion
Serial Offender Or A Victim?
There have been several instances in the past, when Madhu Kishwar was found posting content on Twitter that has turned to be outright fake.
She once claimed that the police officer responsible for killing Kashmiri militant Burhan Wani was suspended by the Director General of Jammu and Kashmir police, as "Mehbooba Mufti was upset at the killing of Burhan".
J&K police responded to her tweet by stating that no SP had been suspended.
Also Read: J&K Police Slams Madhu Kishwar, Calls Her Tweet On Burhan Wani 'Concocted'
Kishwar had also claimed in a tweet that the people involved in attacking a school bus in Gurugram last year, during protests by Karni Sena against Sanjay Bhansali's film Padmavat, were Muslim youths named " Saddam, Aamir, Feroze, Nadeem and Ashraf ".
Yet again, Gurugam police intervened by stating that "no Muslims boys have been detained in relation to the recent acts of vandalism on a Haryana Roadways bus and a school bus in Gurugram".
Also Read: Police Refute Social Media Claims That Muslims Youths Were Behind Gurugram School Bus Attack
While conversing with Kishwar, BOOM asked her why she had posted such misleading information on social media, to which she claimed ignorance of the fact that they were misleading.
"If a person like an IAS officer provides you some information, wouldn't you believe it? This one time, a senior IAS officer based in Chandigarh sent me a report about a bus being attack, aren't you likely to believe it?", she explained.
Regarding the tweet about Subba Reddy, she claimed that she had received the information from a senior TV journalist, which was good enough for her to believe it.
BOOM inquired about why she did not verify the information before posting it on Twitter, to which Kishwar - who describes herself as a 'factarian' in her Twitter bio - replied, "If you can't trust a senior journalist of a leading media channel, then whom can you trust? None of us can be checking everything full time."
Additional reporting by Nivedita Niranjankumar.

Claim :
Image shows a screenshot of a quote by Rana Ayyub, where she defends child rapists.
Claimed By :
Madhu Kishwar's Twitter handle
Do you always want to share the authentic news with your friends?
Subscribed Successfully...
Enter Valid Email Id