The Truth Behind This Gruesome Photo Shared By Hindus, Muslims And Christians: A FactCheck
A horrific photo of a mob lynching goes viral in different parts of the world as something else.
Warning: The image below is extremely graphic in nature. Reader discretion is advised.
A shocking picture of two young men engulfed in flames lying on a street as an angry mob watches on, is once again being shared on social media in India.
A BOOM fact check revealed that not only is the picture almost nine years old but that over the years individuals belonging to Hinduism, Islam and Christianity have shared it several times claiming a conspiracy by the media to hide the truth and alleging that the two young men in the photo belonged to their respective religious communities.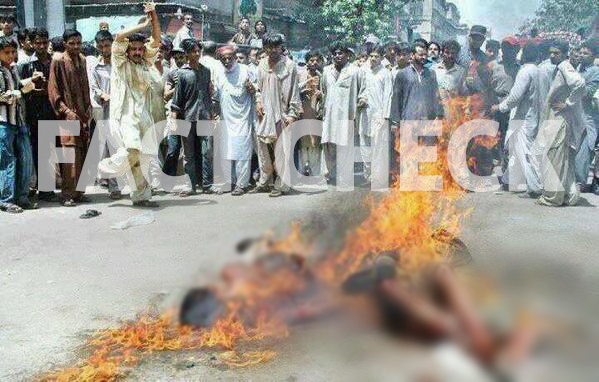 Furthermore, the same picture has been used to depict atrocities committed towards ethnic minorities in different parts of the world, like the Rohingya Muslims in Myanmar and persecution of Christians by militant Islamist group Boko Haram in Nigeria.
The image has once again resurfaced in India with a variation of Twitter posts that claim 'Hindus killed in Pakistan' or 'Hindus killed in Jammu'.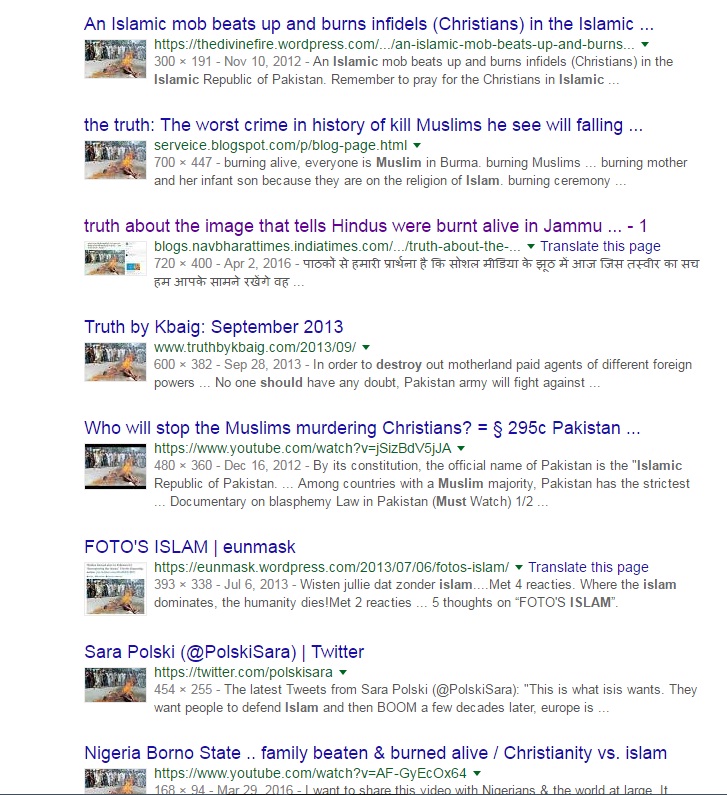 The story behind the photo:
It was Hindi newspaper NavBharat Times in April 2016 that debunked the viral forward and reported the story behind the image.
The picture was shot in Karachi, Pakistan on May 14th, 2008. A mob lynched three alleged robbers, though the bodies of only two can be seen in the photograph. BOOM cannot independently verify details of the incident that took place in 2008.
News outlets in Pakistan such as All Things Pakistan, The Daily Times, The News reported the gruesome incident in 2008. (This is not an exhaustive list)
BOOM was able to trace back the original picture shot by AP's Iqbal Swati. Below is the verbatim description that AP provided for the photo which describes the lynching.
[blockquote width='100']
"Residents stand around the burning bodies of three alleged robbers in a street in Karachi, Pakistan, Wednesday, May 14, 2008. Residents of a Pakistani apartment building attacked and set fire to three alleged robbers Wednesday, killing them all, police said. Police officer Amir Shaikh said residents of the building in the southern city of Karachi heard gunshots from an apartment where a neighbor had resisted robbers trying to steal his possessions. A mob of residents confronted the thieves and beat them with burning wood from the oven of a nearby bakery, setting them on fire. Shaikh said two of the men were dead when police arrived and the third died later. It was unclear if they died from the beating or the burns."
[/blockquote]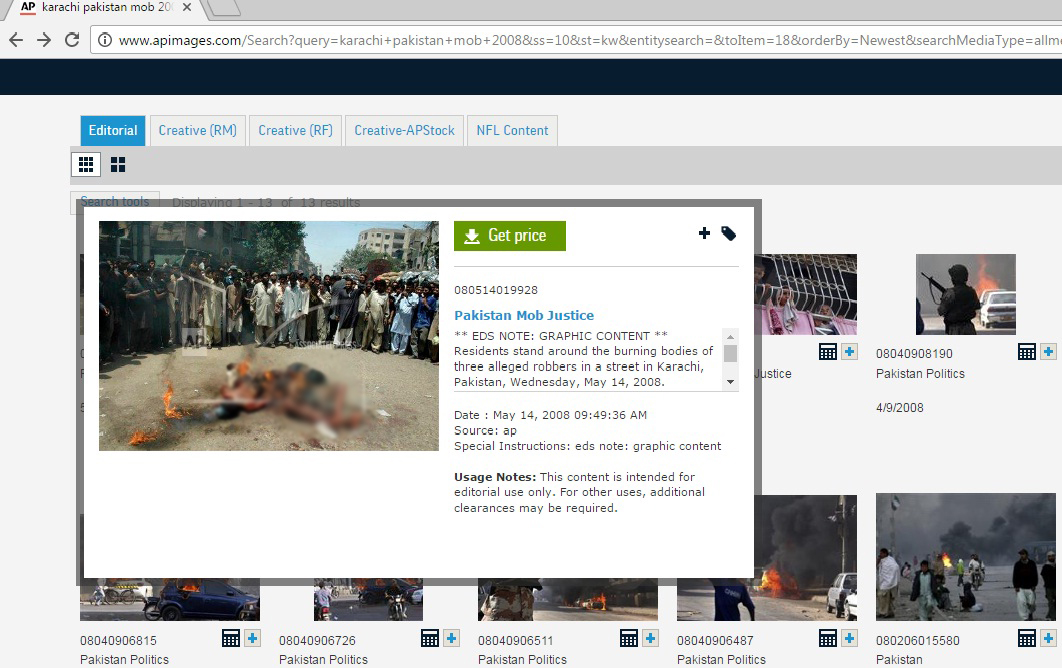 (screenshot of AP's photo archive)
Sources:
NavBharat Times' story on the photo:
https://blogs.navbharattimes.indiatimes.com/socialmedia/truth-about-the-image-that-tells-hindus-were-burnt-alive-in-jammu/
AP's Picture Archive:
https://www.apimages.com/Search?query=karachi+pakistan+mob+2008&ss=10&st=kw&entitysearch=&toItem=18&orderBy=Newest&searchMediaType=allmedia
All Thing Pakistan's story on the incident:
https://pakistaniat.com/2008/05/16/vigilante-justice-burnt-alive-karachi/
If you value our work, we have an ask:
Our journalists work with TruthSeekers like you to publish fact-checks, explainers, ground reports and media literacy content. Much of this work involves using investigative methods and forensic tools. Our work is resource-intensive, and we rely on our readers to fund our work. Support us so we can continue our work of decluttering the information landscape.
BECOME A MEMBER