Strategy And Swag: One Year Of Foreign Policy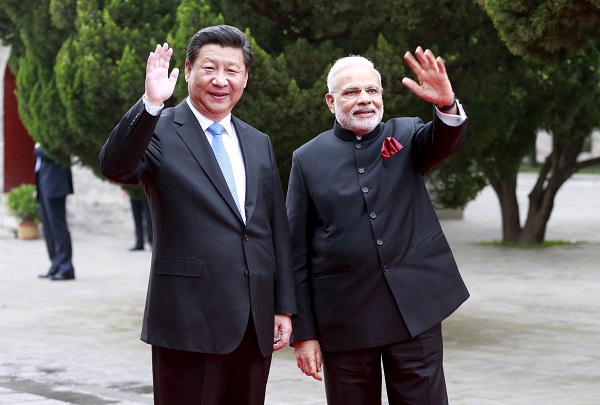 International relations were a crucial aspect of the first year of the Modi government. What did the PM's foreign visits to 18 nations accomplish?
A year ago, when Narendra Modi was sworn in as India's Prime Minister, it was attended by leaders of nearly all the SAARC nations. The invitation extended to them was the first of its kind. This symbolic gesture of engaging with neighbours has gone on to become a key hallmark of Narendra Modi's first year in office.
The former Chief Minister has followed that up with a proactive reaching out to nations across the globe. 53 out of his first 365 days in office were spent on foreign visits to 18 countries across four continents. His agenda has been to increase India's global footprint, and improve India's image both regionally and globally as a growing industrial economy. From the awkward Obama hug to the iconic Li Keqiang selfie, Modi's unconventional approach has set a new tone for India's foreign policy strategy.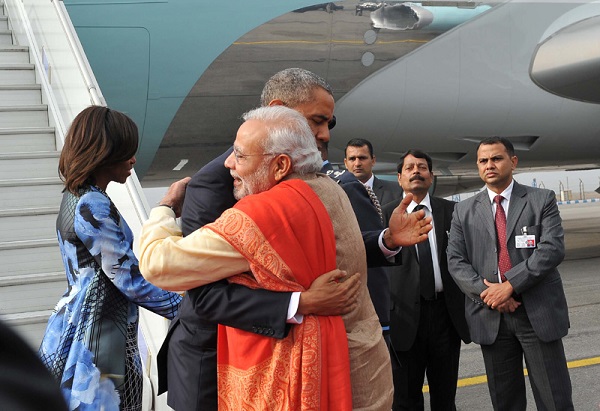 Modi's neighbourhood first approach has been welcomed by regional leaders. Barring Pakistan, the Maldives and Bangladesh, Modi has managed to visit almost all the neighbours. A visit to Bangladesh is on the cards and ties with Sheikh Hasina's government have vastly improved, especially with the ratification of the land boundary agreement, ending years of border mismanagement and an overwhelming refugee crisis.
The Maldives miss may have consequences going forward. A rise in religious fanaticism and a major political upheaval has gripped the island nation in the past year, and Narendra Modi's apparent apathy to former President Nasheed's plight may prove counter-productive to India's security interests in the region.
However, ties with the Himalayan countries of Nepal and Bhutan have definitely improved. India's front footed response to the devastating April 25 earthquake, delivering over 300 tonnes of supplies including food, medicine and water was instrumental in helping Nepal cope with the calamity. Over the last year, Nepal has signed agreements for India to build 1800 MW of hydropower dams in Nepal, making India the country's largest hydropower developer. India's capacity building in Bhutan's hydropower sector has enabled Bhutan to export electricity to India, a source of revenue.
Modi's visit to Sri Lanka, coming barely a month after President Sirisena visited India, could have been timed better. Experts state that Modi could have waited until the Sri Lankan government completed the impending parliamentary elections, so that the political situation in Sri Lanka could have settled, providing a clearer picture of what role the island nation can play in India's world view. However, China having moved away from sensitive projects in the Indian Ocean region with Sri Lanka is definitely a positive outcome.
The much anticipated China visit, saved for last, has been hailed as a landmark achievement in improving Sino-Indian ties. However, experts believe that Modi has repeated the traditional Indian mistake of unilateral magnanimity. According to Bhrama Chellaney, referring to Tibet as the 'Tibet Autonomous Region of the People's Republic of China' in the joint statement issued in Beijing contravenes India's revised policy of 2010 that refrains from using such nomenclature as long as China continues its policy on Arunachal Pradesh. By announcing the decision to issue e-visas to Chinese tourists, while China continues its policy of issuing stapled visas to Indians from "disputed territories", Modi conceded a very sensitive point to Xi Jinping. The move also caught Foreign Secretary S Jaishankar off guard who in a statement earlier that day said that no decision was made yet on the issue of e-visas.
In Europe, meanwhile, partnering up with Germany's annual Hannover Messe was a push for the 'Make in India' campaign, a major policy initiative of Modi's first year in power. A major development during the France visit was converting the Rafale fighter jet deal to a government to government deal. The 36 aircrafts, which are to be procured in a ready to fly condition, will boost India's ailing air defence capabilities. The deal had been deadlocked due to increasing cost projections made by the French. Modi's gestures were welcomed by French President Hollande as it meant significant investment for Dassault's ailing aviation wing.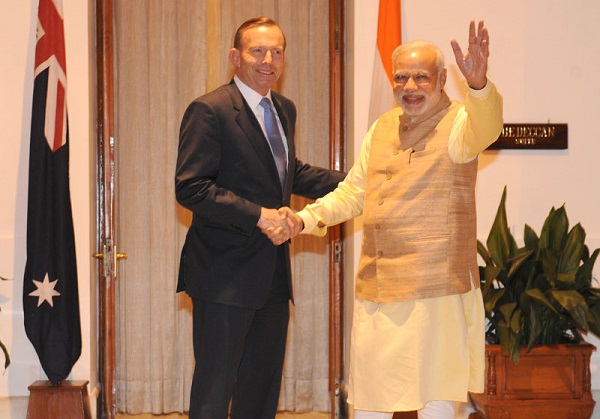 After Modi's visit, both Australia and Canada agreed to supply Uranium to fuel India's growing fleet of nuclear reactors. The deal is significant because India will be the first country to procure Uranium from Australia despite being a non-signatory of the Nuclear Non Proliferation Treaty. The Canada deal was a major move forward as it made Canada the first western country and the third overall to supply nuclear fuel to India.
The government's foreign policy has also adapted India's long standing principle of non-alignment to emerging global politics. India refrained from joining the global sanctions against Russia's aggression in Ukraine. India has also continued its engagement with Iran on the Chabahar Port construction which is due to be operational by 2016. Despite these actions, India and the US have increased co-operation on various levels including defence and infrastructure. Under the UPA, India put on hold a project to explore oil and gas fields off the coast of Vietnam, largely due to disagreements with the Chinese. In October last year, India and Vietnam signed agreements for oil exploration as well as to increase naval co-operation. Last year, Japan reversed its age old policy of restricting all arms exports on principle, in a move to fortify its defence, an alarming move for the Chinese. India was one of Japan's first customers lined up to purchase its US2 amphibious patrol aircraft. By simultaneously engaging with countries which have contradictory and sometimes confrontational world views, India has adapted to a new strategy of multi-alignment.
In the last year, India's foreign policy has been focused on bilateral agendas, as opposed to the UPA2 tenure where PM Manmohan Singh had focused primarily on multilateral diplomacy. India's soft power projection has been the highlight of this year in foreign policy, as was evident with the UN declaring June 21 as world yoga day. Though the immediate neighbourhood has been Narendra Modi's focus in his first year in power, there are more areas of co-operation with these countries that need to be addressed. An interesting point to note is that ISRO has launched several satellites for European and East Asian nations, but is yet to do so for any SAARC country, who still depend upon China for these commercial services.
The last one year has significantly improved India's image in global politics. However, Modi's ad-hoc statements such as the one in South Korea, as well as the e-visa issue with the Chinese, have drawn severe criticism from home as well as abroad. Despite his social media engagement and his 'selfie diplomacy', these incidents indicate that while straying from protocol may project significant power and control, it may also prove to be counterproductive. Nonetheless, Narendra Modi's projection of himself as a strong leader has been the highlight of India's diplomatic engagements over the last year. What substantive gains this delivers to India in the coming years will be the true test of Modi's foreign policy strategy.