Fact Check
Spam WhatsApp Forward Claims Modi Government To Distribute Free Cycles On Aug 15
No, the Indian Government is not distributing free cycles to students as claimed by this WhatsApp forward.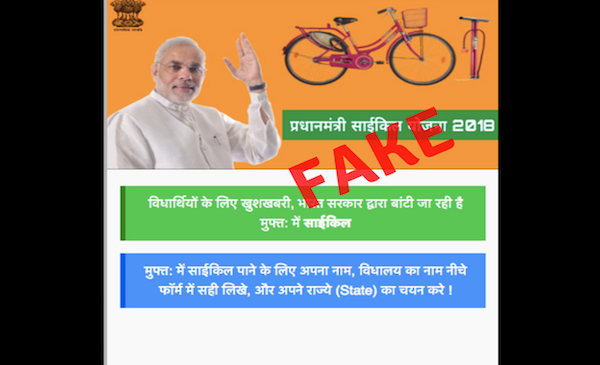 A WhatsApp forward claiming the Indian government will distribute free cycles to students on Independence Day, under the Free Cycle Distribution Yojana (scheme) Government of India 2018, is a hoax. No such scheme exists.
The hoax message contains a dubious URL https://bharat-sarkar.com/. It is important to note that most official government websites in India usually end with gov.in.
On clicking the link, the URL leads you to page which has a picture of Prime Minister Narendra Modi along with a bi-cycle and cycle pump in the background.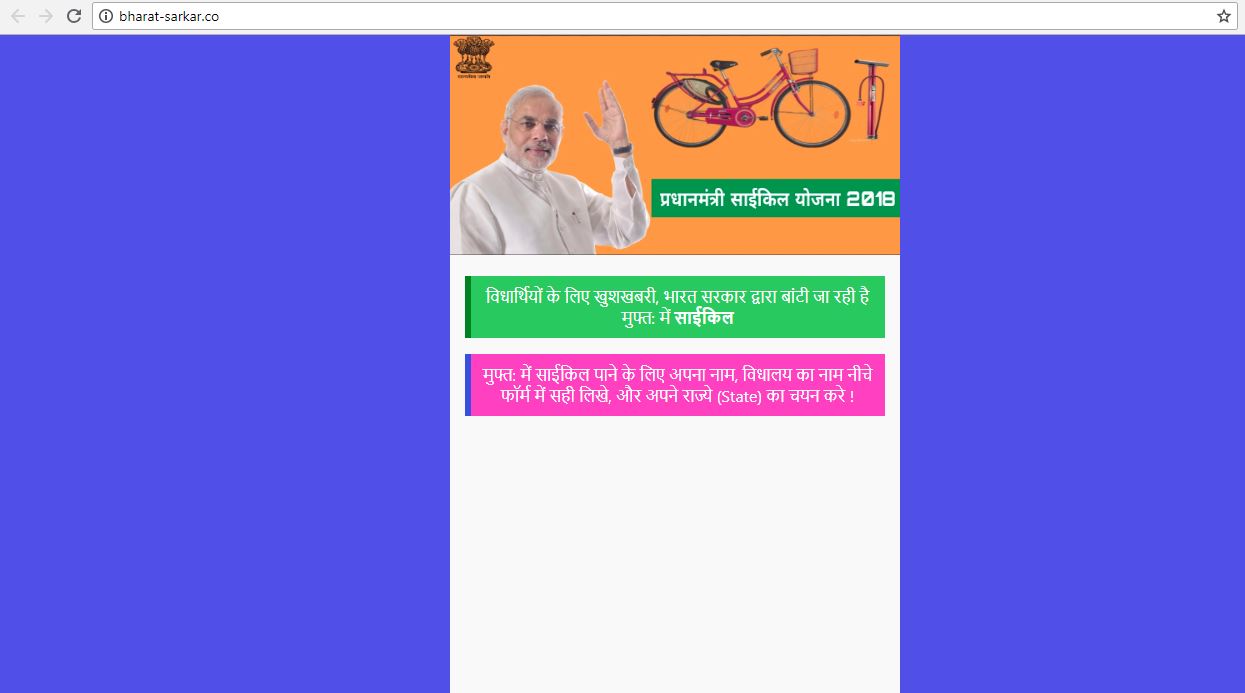 The page asks visitors to submit information such as their name, father's name, school name, class (grade), address and state. Interestingly the page also lists its 'Terms and Conditions' at the bottom of the page.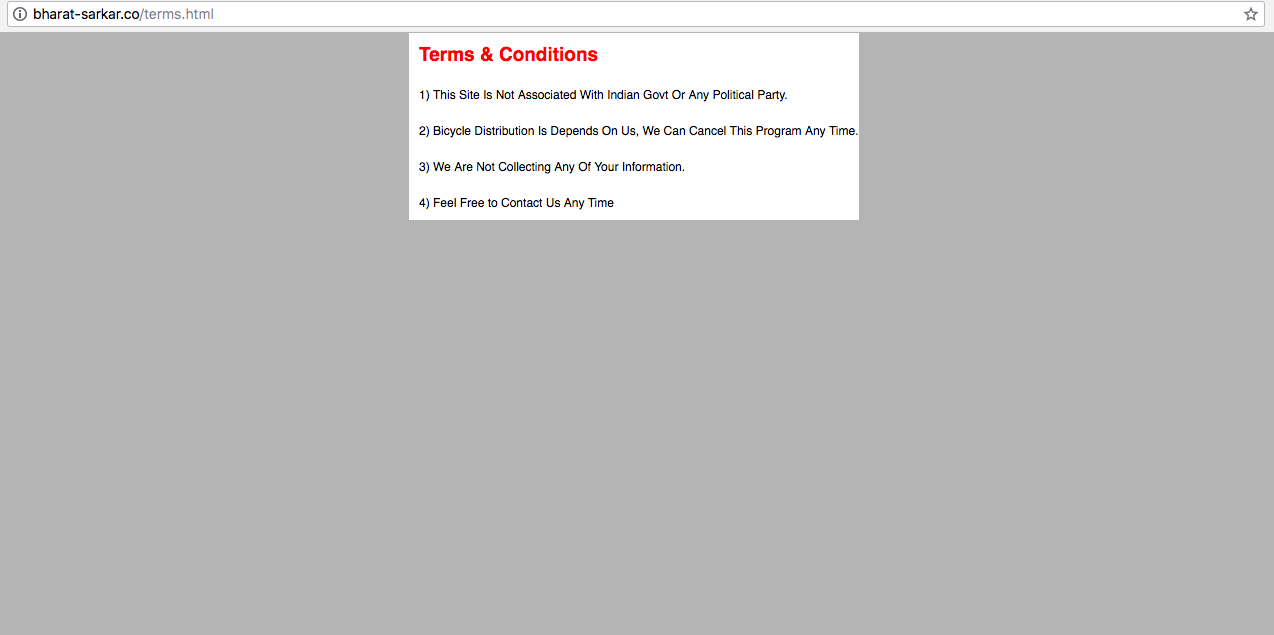 BOOM decided to investigate the same. The page admits it is not connected to the Indian government or any political party. It says the bicycle distribution is according to its discretion and it can cancel the program at any time. The page also claims that it does not collect any information and urges visitors to contact the people behind it though no contact details are listed.
The hoax message is a rehash of another spam message in Hindi which promised free school bags to students on August 15. The forward copies the same format of the message. Both messages urge people to forward the message to as many people as possible, a hallmark characteristic of every viral hoax.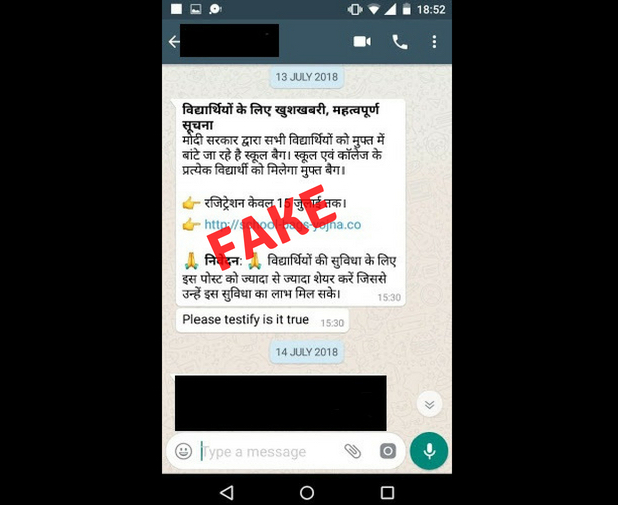 BOOM decided to look up the URL bharat-sarkar.com on Whois.com but apart from the detail that it was created in Delhi not much else is discernible. It is not clear if both sites are somehow related. While the URL promising school bags has ads that would earn its admin revenue the URL for cycles does not contain ads.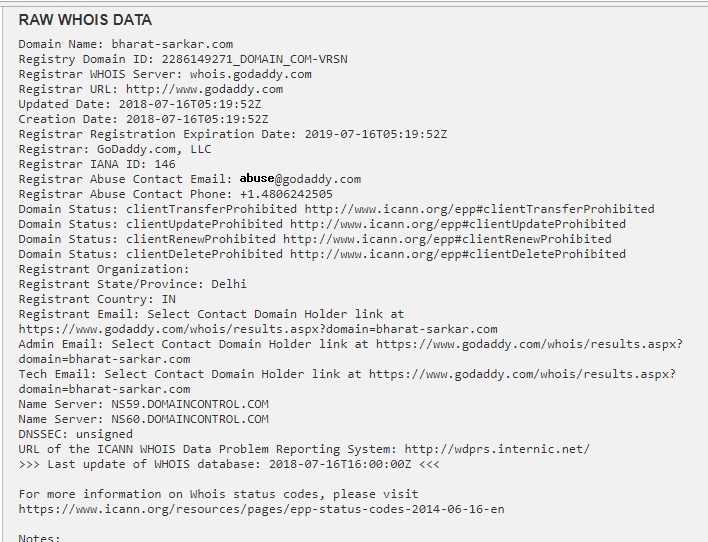 WhatsApp is currently beta testing a feature that would display a 'suspicious link' label on a message which contains a dubious URL. However, it remains to be seen whether the feature can detect fake/spam websites which do not impersonate genuine businesses.
ALSO READ: WhatsApp Rolls Out 'Suspicious Link' Label In Bid To Crack Down On Spam
https://www.sharethefacts.co/share/5e208826-a8cb-4551-af2c-68cc371c6de1
Do you always want to share the authentic news with your friends?
Subscribed Successfully...
Enter Valid Email Id