Fact Check
RSS Vs Pakistan: 2016 Video of Indian Wrestlers Kavita Devi & Bull Bull Goes Viral
A wrestling video of Indian wrestlers Kavita Devi and Bull Bull gets an RSS Vs Pakistan twist.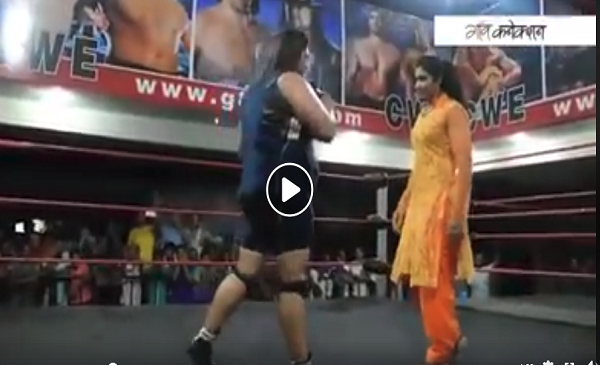 A wrestling video of a free style wrestler and a woman wearing a saffron color salwar kameez, is being shared on social media as that of a Pakistani wrestler against Sandhya Phadke of Durga Vahini, RSS.
However, neither is any of the wrestlers from Pakistan nor is the lady in saffron Sandhya Phadke of RSS. Both are Indians - B B Bull Bull, India's first professional wrestler and the lady in salwar kameez is Kavita Devi, a former police officer from Haryana, power lifter and a mixed martial arts (MMA) fighter.
The message along with the video says, "मुम्बई मे एक पाकिस्तानी लेडीज फ्रीस्टाइल कुस्तीबाज महिला रिंग मे खडे हो कर भारतीय महिला ओ को गाली देते हुये रिग मे आने के लिये चैलेन्ज करने लगी इसके चैलेन्ज को स्वीकार करते हुये RSS की दुर्गा वाहिनी की महिला संन्ध्या फडके नाम की महिला रिंग मे उतर कर आई आगे क्या हुआ इस वीडियो मे आप खुद देखे 👇" (A Pakistani female free style wrestler, in Mumbai standing in a wrestling ring, started abusing Indian women and challenging them to come to the ring. Sandhya Phadke, a member of the Durga Vahini, RSS accepted the challenge and entered the wrestling ring. Watch the video to see what happened next.)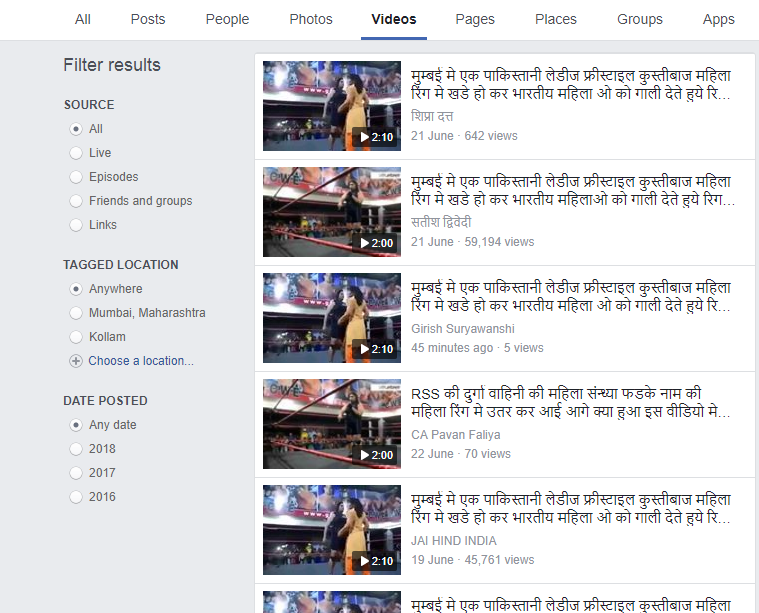 Twitter user Rishi Bagree with a large following of right-wing sympathisers had also shared the video with the same narrative back in 2016. BOOM has exposed Rishi Bagree for sharing videos/images with fake narratives in the past. Click here and here.
A Pakistani female wrestler abused & challenged Indian spectators to Fight.

Her Challenge was accepted by a spectator by name Sandhya Phadke pic.twitter.com/rdU8J4ywvm

— Rishi Bagree 🇮🇳 (@rishibagree) December 12, 2016
The video is from 2016 of Continental Wrestling Entertainment in Jalandhar according to a DNA report. It says that Bull Bull challenged the crowd, following which Kavita Devi accepted the challenge and stepped into the ring. CWE is a professional wrestling school started by The Great Khali and these videos are meant for entertainment purpose.
BOOM spoke to Anil Rana, Continental Wrestling Entertainment Office In-charge who said, 'They are professional wrestlers and have no connection to Pakistan. The name of the lady is not Sandhya Phadke but Kavita Devi and she has also gone to WWE from our organisation. As far as I know, she doesn't have any connection with RSS. The other lady in the video challenging the crowd is BB Bull Bull who is going to have a fight soon in Himachal.'
We also found the same video on the YouTube channel of Continental Wrestling Entertainment.
In a different video Bull Bull is seen taking revenge on Kavita Devi.
https://www.sharethefacts.co/share/0a2558de-cfd4-49fb-a0d7-0f18530e419e
Claim :
RSS Member Sandhya Phadke Defeated Pakistani Free Style Wrestler
Claimed By :
Facebook Posts
Do you always want to share the authentic news with your friends?
Subscribed Successfully...
Enter Valid Email Id