Pulwama Attack: Army Battle Casualties Fund Exists But Not To Buy Weapons
Viral message appealing people to donate to army welfare fund for purchasing weapons for army and providing facilities for war casualties makes a comeback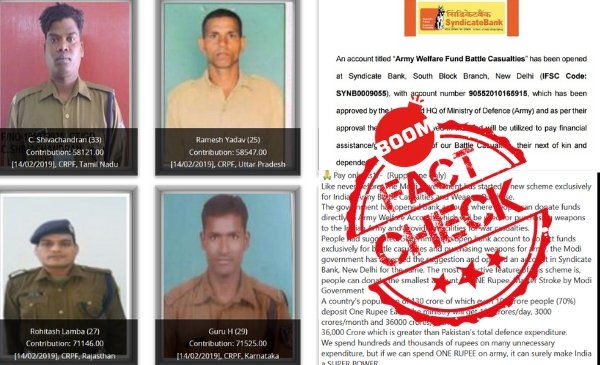 An old message regarding making donations to an army welfare fund has resurfaced after the Pulwama terror attack on Central Reserved Police Force personnel on February 14.
The viral message is in the form of an appeal to citizens to donate funds directly to an army welfare account, which in turn, 'will be used for purchasing weapons to the Indian army and providing facilities for war casualties (sic)'.
While the message is partly true i.e. when it comes to stating that the donations received will be used to support the next of kin/widows/dependents of soldiers killed in battles, the purchasing of weapons portion is false.
The viral message also provides a Syndicate Bank account number and other details where money can be deposited, and appeals the citizens to 'show solidarity to defense force, paramilitary force and CRPF'.
The post, which had been fact-checked by BOOM earlier too, has been shared widely from several pages on Facebook as well as various Twitter handles.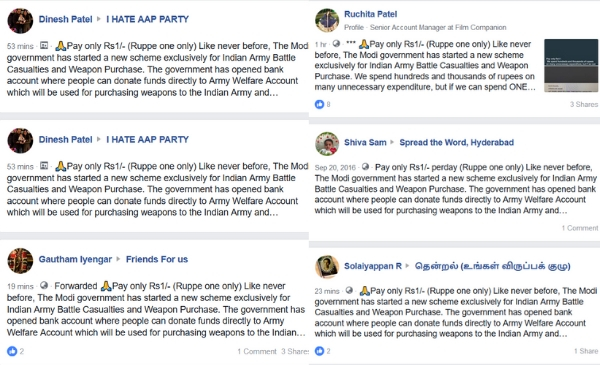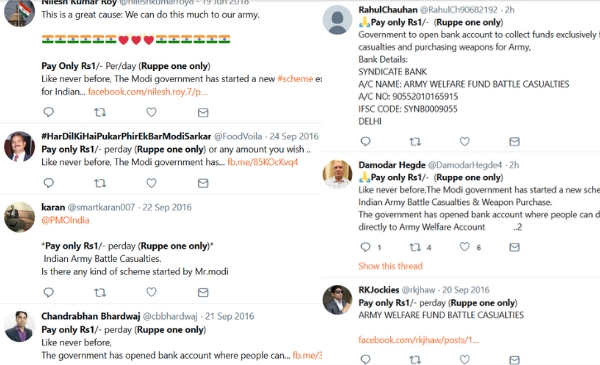 Even Syndicate Bank had issued a press release regarding the fund.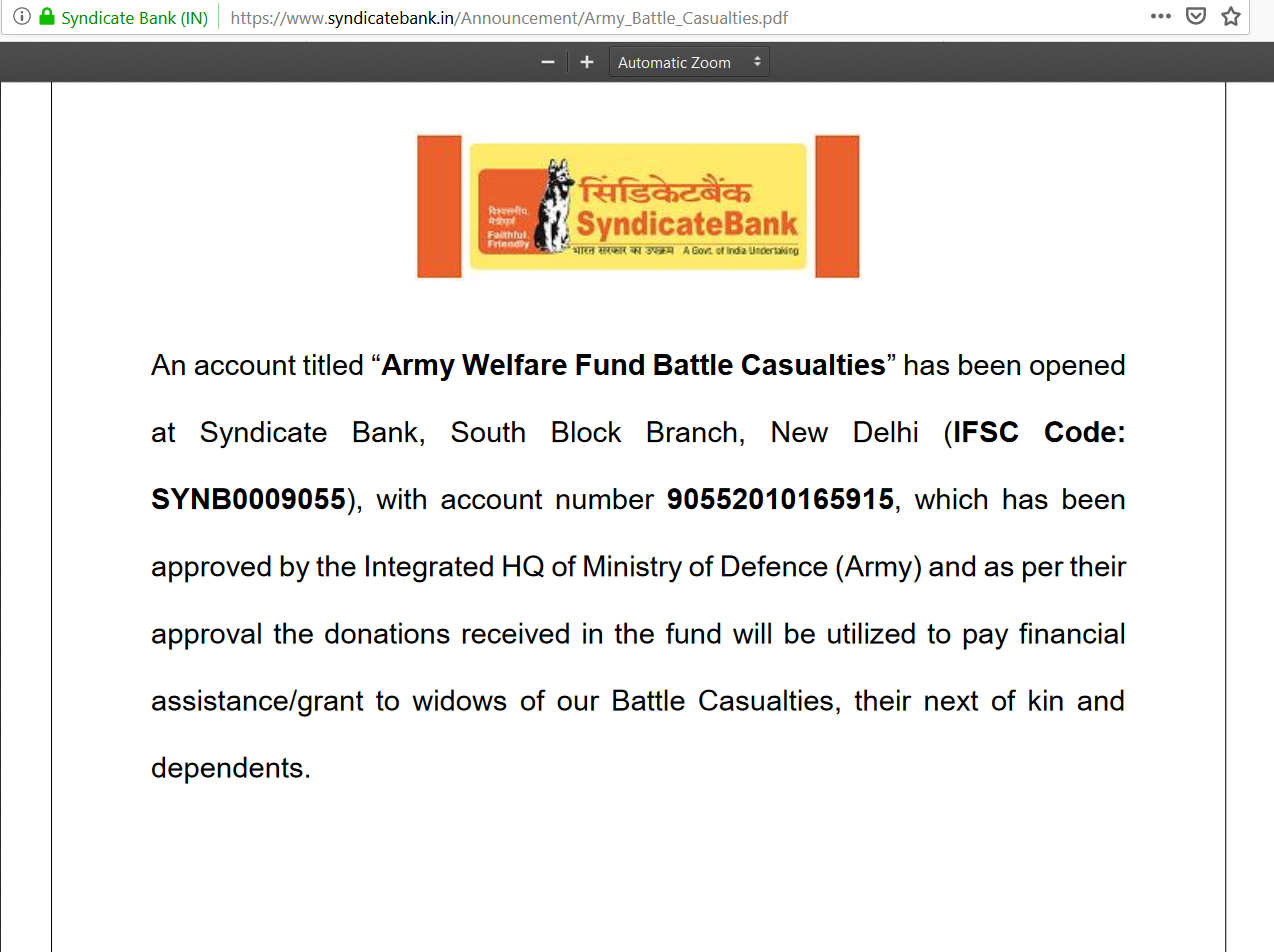 FACT CHECK
BOOM had, on April 22, 2017, debunked similar claims made in several posts shared on Facebook. That report can be accessed here.
Back then, we had found out that in September 2016, the Indian Army on its official Twitter page posted a clarification that said it would create a new bank account called the Army Welfare Fund Battle Casualties (AWFBC).
Donations received will be used to support the next of kin/widows/dependents of soldiers who have been killed in battle. This was done in the aftermath of a deadly avalanche in Siachen in 2016 that claimed the lives of many soldiers and the subsequent outpouring of support from citizens who wished to contribute.
IS THE ACCOUNT STILL OPERATIONAL?
BOOM received several messages from readers on our WhatsApp helpline (7700906111) asking if the Army Welfare Fund Battle Casualties account is still operational.
BOOM called Colonel Aman Anand, PRO (Army), to know the truth.
Colonel Anand told us that this is a voluntary arrangement. "People who want, they can contribute. There is an account like that but it hasn't been forwarded officially asking people to donate. It's voluntary," he added.
When we asked him if the account was still operational, he replied in the affirmative.
The Colonel also said actor Akshay Kumar's initiative Bharat Ke Veer is also raising funds for the kin of the CRPF martyrs.
Kumar had, in January 2017, posted a video on Twitter pitching an idea for a website or a mobile app that could accept voluntarily contributions for the families of martyred soldiers. The Bharat Ke Veer website was subsequently created with the help of Ministry of Home Affairs.
The website has been updated with the names of CRPF personnel who had lost their lives in the February 14 terror attack.
Claim Review :
Funds donated to army welfare fund will be used for purchasing weapons for the Indian army & facilities for battle casualties
Claimed By :
Social Media