Fact Check
Pray For NDTV's Prannoy Roy: How Fake Messages Are Stirring Religious Propaganda
WhatsApp messages bringing up Prannoy Roy's religion are going viral. BOOM asks, why should it matter?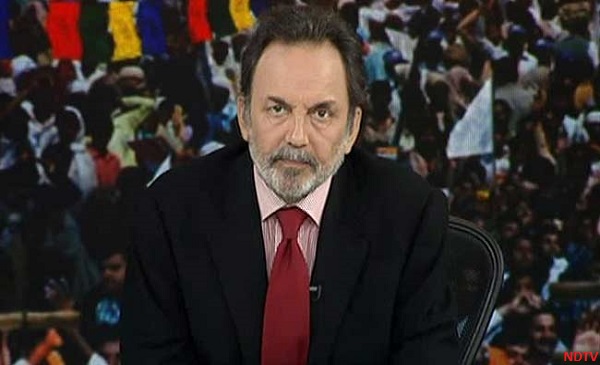 A WhatsApp message titled 'Urgent Prayer Request' asking people to pray for Prannoy Roy, founder of New Delhi Television (NDTV) for being targeted by the ruling Bharatiya Janata Party (BJP), is going viral.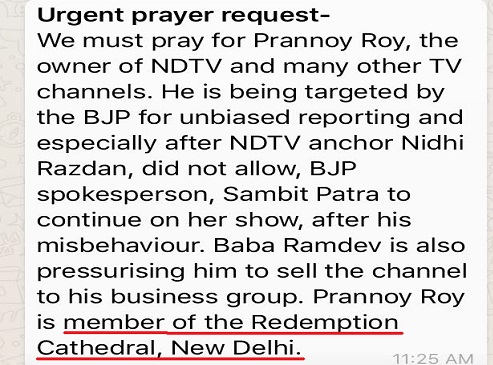 The message alleges that Roy, who is born to a Bengali Hindu father and an Irish mother, is a member of the Redemption Cathedral in New Delhi.
However, the office of The Cathedral Church of the Redemption categorically denied that Roy was a member.
"It is utter nonsense. Don't know where the message has come from," Reverend Paul Swarup, Presbyter in Charge told BOOM.
The church, located at Church Road, North Avenue, New Delhi, has been receiving many phone calls lately from people asking about Roy's religion, Swarup said.
The interest in Roy's personal life has spiked after the Central Bureau of Investigation (CBI) conducted raids earlier this week at residences and offices belonging to him and his wife Radhika Roy in a case of an alleged Rs. 48 crore loss to ICICI Bank.
The private broadcaster has denied any wrongdoing and has called the action a witch hunt, a charge the investigative agency has denied.
Messages about Roy, drawing links to his cousin author and activist Arundhati Roy who is seen as being critical of the government, are going viral on WhatsApp.
Postcard.news, a repeat offender when it comes to fake news, referred to Roy as 'James Prannoy Roy' in its story - 'The Hidden Relation of NDTV-Congress-Bureaucracy-which lead to massive loot and corruption'.
Postcard, which calls itself a news and current affairs portal, is known for its pro-right and anti-mainstream media bias and its reference to Roy as 'James Prannoy Roy' comes across as malicious.
While the name 'James' may seem as a one-off reference, BOOM found a comment from a reader named 'Sam' on Deccan Herald's website that rakes up the issue.
[blockquote width='100']
"Prannoy Roy's first cousin is the famous far-leftist- pro-Maoist- pro-Naxalite pro-Kashmiri-terrorists "intellectual" Arundhati Suzanna Roy. Who is said to be funded by foreign groups to unsettle focused developmental efforts and firm actions by the government. Both Arundhati Suzanna Roy & Prannoy James Roy are christians who have retained their Hindu names..."
[/blockquote]
Postcard.news was also responsible for publishing the fake story about Arundhati Roy which prompted actor Paresh Rawal's outburst against her, on Twitter.
While Arundhati's full name is indeed Suzanna Arundhati Roy, Wikipedia states Prannoy's full names as 'Prannoy Lal Roy'. His paternal grandfather Paresh Lal Roy was called the 'father of Indian Boxing', according to the site. We contacted Prannoy Roy by email seeking clarification but are yet to receive any reply.
NDTV has a long history of animosity with the BJP ever since it took a strong stand against the party for its poor handling of the 2002 Gujarat riots. Prime Minister Narendra Modi, the then chief minister of the state has since then had a frosty relationship with the channel. The channel's reporters and editors are frequently targeted by BJP supporters on social media.
BOOM Opinion:
To bring up Prannoy Roy's religion is not only malicious but it also insinuates that minorities in India especially Indian Christians are not patriotic or are anti-India as such. Roy's religion should not matter. Whether Roy is a Christian, Hindu, Muslim or an atheist is irrelevant and should not have any bearing on CBI's investigation or a layman's opinion of his perceived innocence or guilt.
Do you always want to share the authentic news with your friends?
Subscribed Successfully...
Enter Valid Email Id