CBI Raids NDTV: Valid Or Witch Hunt? Ravish Kumar Calls For Live Debate
While the government denied any witch hunt, several senior journalists claimed the channel was being targeted for speaking out against the BJP government.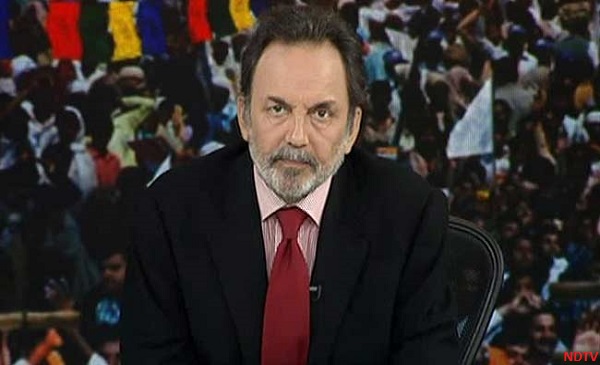 The Central Bureau of Investigation raided several residences and offices connected to Prannoy and Radhika Roy, founders of NDTV. While the agency did not share much details, the agency confirmed the raids were in connection with an alleged loss of around Rs. 50 crores caused to ICICI Bank by NDTV.
Terming the raids as a witch hunt by the investigating agency, NDTV published this statement on its website. "It is shocking that the CBI conducted searches on the NDTV offices and residence of the promoters without even conducting a preliminary inquiry. This is a blatant political attack on the freedom of the press...," said NDTV in its statement.
In 2008, ICICI Bank had given a loan of Rs. 370 crore to NDTV, which the channel claims was repaid in full. But reports quoting CBI sources claim that the company and the bank settled the matter a year later for Rs. 50 crore less. It is not clear why the CBI chose to investigate the case if the terms of settlement involved a write-off by the private bank, a valid tool used by banks to recover loans to prevent further impairment.
But is this a case of political witch hunt as NDTV claims it to be? Denying claims of any witch hunt, Information and Broadcasting Minister Venkaiah Naidu said, "This government doesn't believe in interfering. They (CBI) must have some information, that's why they might have taken steps. Law is taking its own course, there is no witch-hunting at all, " The Indian Express reported.
Meanwhile NDTV India's Ravish Kumar, a well known anchor threw an interesting challenge to his opponents. While he did not name anyone, it was clear he was challenging the Narendra Modi led government to an open debate. Writing a tongue-in-cheek post on his Facebook page, Ravish Kumar wrote, " If you are so happy to destroy us, kindly be seated in front of us on a chair. We will be there, you will be there and the camera will go live."
NDTV has a long history of animosity with the BJP ever since it took a strong stand against the party for its poor handling of the 2002 Gujarat riots. Narendra Modi, the then chief minister of the state has since then had a strained relationship with the channel and its editors. The channel and its editors are also widely trolled by BJP supporters on social media. A few days back, NDTV's Nidhi Razdan had asked BJP spokesperson Sambit Patra to leave her show after he accused the channel of misleading its viewers while debating an issue about Meghalaya. This had led to more animosity as Patra's supporters accused NDTV of being intolerant on facing criticism.
Twitter was buzzing with reactions from NDTV editors and those working with other publications who came out in support of the channel and its promoters.
Unheralded success of this govt -- remaking Indian news TV in the image of RW Twitter. Bigoted, craven, and for most part unintelligent.

— Sreenivasan Jain (@SreenivasanJain) June 5, 2017
Will professional bodies like NBA & Editors Guild & working journalists' organizations come out against this attack on media independence?

— N. Ram (@nramind) June 5, 2017
Caged parrot flaps its wings. As big defaulters sit pretty, CBI raid on @NDTV is attack by Modi govt on media that won't play cheerleader.

— Siddharth (@svaradarajan) June 5, 2017
Today's CBI raid on @PrannoyRoyNDTV is a defining moment: the last time this sort of thing happened was during the Emergency

— Praveen Swami (@praveenswami) June 5, 2017
Raid on @PrannoyRoyNDTV for a 2010 case in 2017? CBI/IT must put details in public fora else will face charge of vendetta against media.

— Rajdeep Sardesai (@sardesairajdeep) June 5, 2017
And several others pointed out the irony of the country's premier agency going after the channel in a loan case even as several public sector units are reeling under a mountain of debt from unpaid loans of leading giants of Corporate India.
Historian Ramachandra Guha wondered if the next CBI raids will be on Gautam Adani who owe banks Rs. 72,000 crore by way of loans taken for various projects.
Alleged that Roys owe banks Rs 48 crore. Adanis owe banks 72000 crore:https://t.co/Nhb6ru4BkV

May we expect Gautam bhai to be raided next?

— Ramachandra Guha (@Ram_Guha) June 5, 2017
The channel also had its fair share of detractors on Twitter, prime among them being senior BJP leader Subramanian Swamy and RSS ideologue and editor of Thuglak, S Gurumurthy. They want the CBI to prosecute the company for money laundering with their Twitter feed raising several charges against the Roys.
Unending saga of NDTV frauds – Prannoy Roy & wife granted Rs.92 crores interest free loan to themselves https://t.co/tZvYRrKy81 via @PGurus1

— Subramanian Swamy (@Swamy39) June 5, 2017
The NDTV had been having a nice time with PC supporting them and UPA silent. Now with law catching up NDTV moved courts but got rebuff.

— S Gurumurthy (@sgurumurthy) June 5, 2017