Posting Picture of Buddha On Mahavir Jayanti, The Shashi Tharoor Way
It wasn't just Shashi Tharoor who posted a picture of Buddha on the occasion of Mahavir Jayanti but several news websites as well.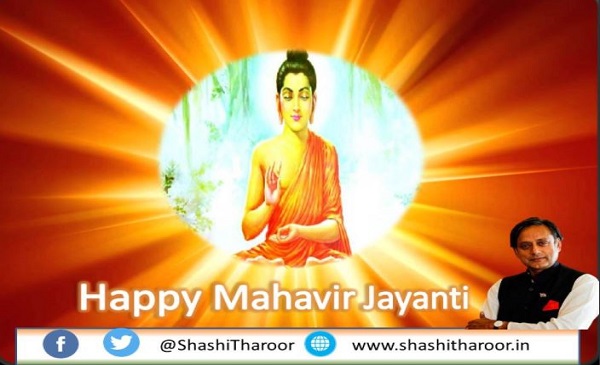 Congress MP Shashi Tharoor got schooled on Twitter on Thursday when he tweeted a picture wishing everyone for the occasion of Mahavir Jayanti. Tharoor known for his English vocabulary was trolled by the Twitteratis as he posted a picture of Buddha instead of Mahavir.
While no one doubted Tharoor's intentions, it gave an opportunity for Twitteratis to have some fun at the Congress MP's expense.
It's Mahavir's Jayanti not Gautam Buddha Jayanti. This is what happens when you become Hindu due to party pressure. pic.twitter.com/M8dJIktbNW
While Tharoor first defended his choice of the picture but later accepted the mistake without deleting the tweet.
He was not the only one who went wrong. There were others as well.
आप सभी को भगवान महावीर जयंती की हार्दिक शुभकामनाएं। अहिंसा, करुणा और शांति के पथ प्रदर्शक भगवान महावीर जी के उपदेश और उनके विचार सम्पूर्ण मानवता के लिए मार्गदर्शक हैं। pic.twitter.com/ah7J98naMh

— Dimple Yadav (@dimpleyadav) March 29, 2018
But trust Tharoor to turn a bad day into an opportunity. Tharoor tagged news websites who had made the same mistake of using the picture of Buddha for Mahavir Jayanti.
Mahavir Jayanti
Mahavir Jayanti is celebration of the Lord Mahavir's birthday. According to the Jain texts as reported by The Indian Express, Lord Mahavir was born on the thirteenth day of the bright half of the moon in the month of Chaitra in the year 599 BCE. The festival is celebrated in the memory of the last spiritual teacher of the religion. The idol of Mahavira is carried in a procession called Rath Yatra.
Updated On:
2020-05-28T13:56:17+05:30