Fact Check
Photo Shoot Image Shared As Police Action Against Sabarimala Devotee
Rebel AAP MLA Kapil Mishra was among those who shared the image as that of police action against an Ayyappa devotee.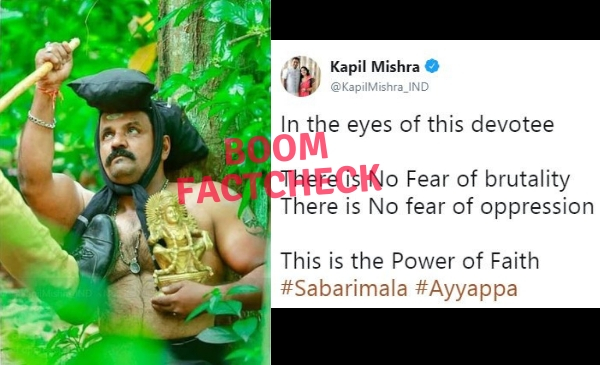 An image of a photo shoot is being shared on social media as that of police crack down on Ayyappa devotees in Sabarimala.
The image shows a devotee holding an Ayyappa idol and police stepping on his chest.
Kapil Mishra, rebel AAP MLA was among those who shared the image. His tweet said, "In the eyes of this devotee, There is No Fear of brutality, There is No Fear of Oppression." His tweet has got over 1400 retweets.
In the eyes of this devotee

There is No Fear of brutality

There is No fear of oppression

This is the Power of Faith#Sabarimala #Ayyappa pic.twitter.com/F1MNrRVAvw

— Kapil Mishra (@KapilMishra_IND) November 2, 2018
However, this is not the first time that Mishra has posted fake news on Sabarimala. Two days back he shared a video of police action against Sabarimala protestors and linked it to the death of a man reported in the same district. Click here to read the story.
केरल की वामपंथी सरकार के भगवान अयप्पा के भक्तों के साथ व्यवहार की एक झलक...

और इस दमन के विरोध में भक्त का दृढ़ आत्मविश्वास...

जबरदस्त लगे तो रिट्वीट कीजियेगा pic.twitter.com/pkhhB9PBym

— Dinesh Raheja (@DKR1977) November 2, 2018
Twitter user @Advaidism pointed out that the image is of a photo shoot and claimed the person in the photo is one Rajesh Kurup.
Today's fake news by Sangh Parivar is out.

A Malayali Sanghi named Rajesh Kurup (രാജേഷ് കുറുപ്പ് ശ്രീകല്യാണി) did a photoshoot few days ago with an Ayyappan Idol. Photo shows him getting attacked.

Now North Indian Sanghis including rebel AAP MLA Kapil Mishra are peddling lies. pic.twitter.com/1VEgvQxhUH

— Advaid (@Advaidism) November 3, 2018
BOOM found Rajesh Kurup's Facebook profile but did not find the image on his account.
A second image was also being shared which shows Kurup posing with the idol and someone holding a knife against his neck.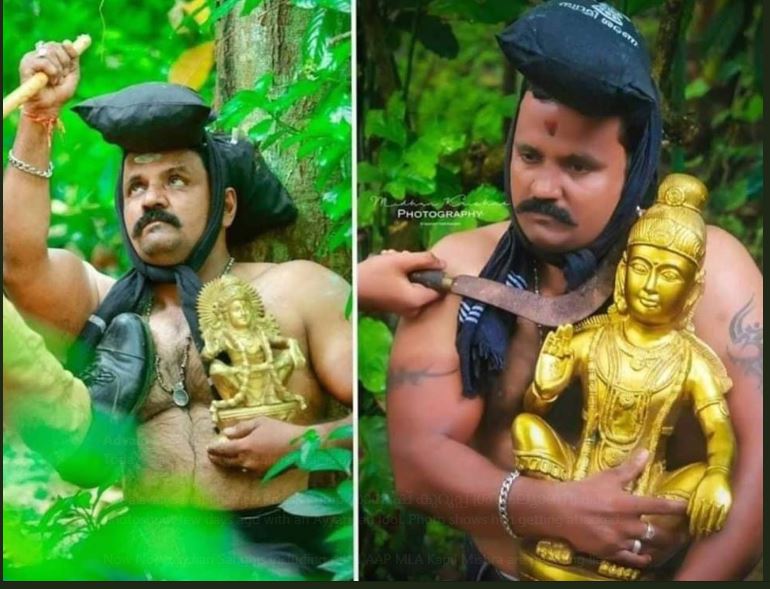 The second photograph has a watermark of Midhun Krishna Photography on it.
BOOM contacted Midhun Krishna who confirmed that these images are not real ones of the protest but of a photo-shoot. He confirmed that the man in the image is his friend Rajesh Kurup. Kurup is a staunch Ayyappa devotee.
Post the Supreme Court verdict allowing women of all ages to enter Sabarimala, Kurup had approached Krishna with this theme to express his protest against the verdict.
On October 6, they clicked the photo of Kurup posing as a devotee and someone holding a knife against his neck. The other image of Kurup facing the police was shot on November 1 showing his protest against the police crackdown in Sabarimala.
These images were taken down by Kurup from his Facebook profile as he started receiving abusive comments on his photo.
Kurup has also posted pictures of him in the RSS uniform and holding the BJP flag in the past.
Claim :
Image Of Sabarimala Devotee Holding An Ayyappa Idol And Police Stepping On His Chest
Claimed By :
Rebel AAP MLA Kapil Mishra
Do you always want to share the authentic news with your friends?
Subscribed Successfully...
Enter Valid Email Id