Sabarimala Row: Did Kerala BJP Call For A Hartal Based On Fake News?
The Police crackdown was held on October 16-17 in Nilakkal and Pamba. The body of Sadasivan was found in Laha which is 16 km from the protest site at Nilakal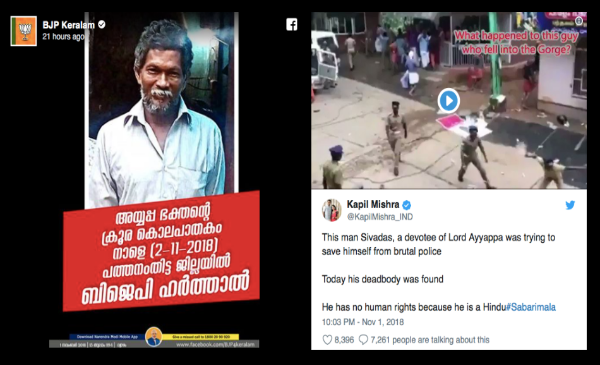 Bharatiya Janata Party's (BJP) Kerala unit held a hartal (shutdown) today November 2, 2018 in Pathanamthitta district, where the Sabarimala shrine is situated, to protest against the alleged murder of an Ayyappa devotee, which police refuted a day earlier.
In its official Facebook post on November 1, announcing the shutdown, BJP Kerala alleged that an Ayyappa devotee named Sivadasan was killed in the brutal police crackdown.
Meanwhile, Kerala Police on its official Facebook page announced that the story is not as claimed by others.
According to the police's Facebook post, a man named Sivadasan Nair from Pandalam had gone to Sabarimala on October 18 and had made a phone call to his home on October 19 at around 8:30 am after Darshan at Sabarimala.
Later on, he went missing and a complaint regarding the same had been lodged at the Pandalam police station. Sivadasan's body was later found near Laha, 16 kms from the protest site at Nilakal. His motorcycle was also found near his body.
The Kerala BJP FB post claims that Sivadasan was killed in a brutal police crackdown.
Meanwhile, talking to BOOM, Pamba Circle Inspector KS Vijayan, said that the body was found by women who were cutting shrubs on the road side.
"They found a motorbike and later the body. They informed us and we rushed to the scene. We recovered the body and have sent it for post-mortem. We suspect that this would be a road accident," the police official said while brushing aside the claims of BJP that Sivadasan was killed in a crackdown by policemen in Pamba and Nilakkal on October 16 and 17.
"There is a man missing case registered in Pandalam police station. The family of Sivadasan has claimed in the complaint that he had called home on October 19 morning. The police action happened only on October 16 and 17. The claims by the protestors are baseless," the police official added.
In fact, the police crackdown was held on October 16 and 17 and that too in Nilakkal and Pamba. The body of Sadasivan was found in Laha which is some 36km from Pamba and 16 km from the protest site at Nilakal.
The crackdown was to maintain law and order in Nilakkal and Pamba as many devotees were protesting the entry of women at the Sabarimala shrine following the Supreme Court verdict.
BOOM contacted JR Padmakumar, State Secretary of the BJP, who said, "We are not confirming that Sivadasan died in police crackdown. But there are elements of doubt."
"Sivadasan had gone missing. We agree that. But now we hear that the body recovered is only five-day old. If so, where was Sivadasan after October 19. Moreover, even before the post-mortem report has come, the police seem to be in a hurry stating that there is nothing suspicious in Sivadasan's death. Interestingly, the massive arrests began only after October 19," Padmakumar said.
Kerala police have arrested around 4,000 protestors since October 19. Even though the protestors were driven out from Pamba and Nilakkal forcefully by police, no deaths in the immediate vicinity have been reported post the clash.
Meanwhile, Delhi MLA and rebel AAP member Kapil Mishra posted a video of police action against Sabarimala protestors in which a man can be seen falling into a 'gorge'. Mishra claimed that the man was Sivadasan whose body was found later.
This man Sivadas, a devotee of Lord Ayyappa was trying to save himself from brutal police

Today his deadbody was found

He has no human rights because he is a Hindu#Sabarimala pic.twitter.com/iXGqOYrQHF

— Kapil Mishra (@KapilMishra_IND) November 1, 2018
But on a more careful examination of a news report video by India Today on October 17, it can be seen that the man in the video escaped the police lathi charge by taking cover in a forested area adjoining the site. It does not appear that the man jumped to his death in a 'gorge' as social media posts like Mishra's tweet claim.
Also, it is not clear how Mishra arrived at the conclusion that the man escaping the police action was Sivadasan whose body was found days later several kms away from the protest site.
https://youtu.be/fBPkGSp7NWI?t=60
Claim Review :
BJP Kerala Alleged That An Ayyappa Devotee Was Killed In Kerala Police Crackdown