Phase 3 Polls: Big Faces Battle It Out As 116 Seats Up For Grabs
BOOM gives you a criminal and financial overview of the largest phase of the 2019 Lok Sabha election, based on an intensive report by the Association for Democratic Reforms.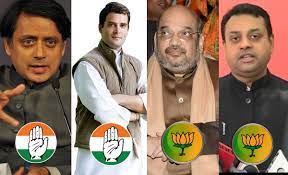 India advances to Phase 3 of the ongoing general elections on April 23, 2019, with 116 constituencies across 14 states and Union Territories going to polls.
The Association for Democratic Reforms analysed the self-sworn affidavits of 1594 out of 1612 candidates contesting in Phase 3, to gain insights into their background details.
Compared to the previous phases, Phase 3 will see a higher percentage of candidates with self-declared criminal cases at 21%. This includes serious crimes as well (14%). In contrast, the next phase will also see a lesser percentage of crorepati candidates (25%) than Phase 1 (32%) and 2 (27%).
Also Read:Phase 1 Analysis: Andhra Candidates Top The List On Crime And Money
Also Read:Phase 2 Goes To Polls: Key Battles And All The Data Points You Need To Know
Crime Data
Phase 3 has a higher number of convicts contesting the third phase of the elections; the convicts contesting the first and second phase standing at 12 and 3 respectively.
Here are a few criminal convictions. While many more convictions exist, BOOM has only included those that carried a jail term.
Also included in the list is K Surendran , BJP candidate from Pathanamthittha constituency in Kerala. The ADR report shows 240 self-declared cases against him, with no convictions.
Across Party Lines
The NCP has the most criminal cases against its candidates.
60% of their candidates have cases against them, whereas 50% of the candidates have serious charges against them.
The CPI(M) and the Samajwadi Party are not far behind.
The CPI(M) has 58% and the SP has 50% of their candidates with criminal records. 40% of SP's candidates have serious criminal cases against them.
While 44% of the TMC's candidates have criminal cases against them, all of them are serious.


ADR defines a serious criminal case as:
Punishments of 5 years or more or it is non-bailable
Electoral offences (such as bribery)
Assault, murder, kidnap or rape
Offences mentioned under the Representation of People's Act, 1951
Offences of corruption, under the Prevention of Corruption Act
63 out of the 116 constituencies in this phase are fielding three or more candidates having criminal charges against them.
Financial Overview
As per the classifications done by ADR, which divides the asset groups of contestants into five categories, 64% of contestants fall into the lower two rungs – with declared assets of less than ₹50 lakhs.
The NCP and the JD(S) have the highest assets per candidate in the third phase of the elections.

The average assets of all candidates contesting this phase is ₹2.95 crores.
However, it must be noted that all parties are fielding an unequal number of candidates.
While the Congress and BJP are fielding more than 90 candidates, the JD(S) is contesting only two.
Meanwhile, Devendra Singh Yadav of the SP has emerged as the wealthiest candidate by asset in this phase of elections.
This phase will also see some prominent political faces squaring off against each other.
The richest in this phase is NCP candidate Chhatrapati Udyanraje of Maratha royalty fame, contesting from Satara.
Supriya Sule, daughter of NCP patriarch Sharad Pawar is contesting from the family bastion of Baramati, whereas BJP president Amit Shah will be contesting elections to the Lok Sabha for the first time from Gandhinagar.
Congress President Rahul Gandhi will be contesting from the Kerala constituency of Wayanad, whereas Shashi Tharoor will be seeking re-election for the third time from his constituency of Thiruvananthapuram.

Also Read: ADR Report On Criminal Background and Money For The Third Phase of The Lok Sabha Elections, 2019.
Big Fights
Phase 3 will see some tough competition between well known candidates across parties.

BOOM listed down a few constituencies that are going to be under the spotlight with big names competing against each other.

Rampur
(1) BJP candidate and popular 80's actor Jaya Prada will contest against former UP cabinet minister and one of the founding members of Samajwadi Party Mohammad Azam Khan for the northern constituency of Rampur in the state of UP.

Puri
BJP's official spokesperson, Dr. Sambit Patra will be contesting against BJD candidate Pinaki Misra for the constituency of Puri, a popular destination for religious pilgrimage in the state of Odisha
Thiruvananthapuram
Congress candidate and former diplomat to the UN, Dr. Shashi Tharoor will be contesting against former Mizoram governor and former president of BJP's Kerala unit Kummanam Rajasekharan for the coastal town of Thiruvananthapuram.