Phase 2 Goes To Polls: Key Battles And All The Data Points You Need To Know
The Association for Democratic Reforms released its second intensive report, revealing the background details of candidates contesting in Phase 2 of the 2019 general elections.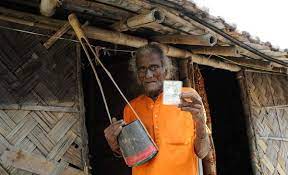 As India approaches its second phase of polling, the Association for Democratic Reforms published their second analytical report on the background details of the contesting candidates, based on the mandatory self-sworn affidavits filed in with their candidature.
It should be noted that candidates from Vellore, one of the 95 constituencies poised to go to polls, will be barred from contesting on April 18, 2019, due to allegations of influence over voters using money, as per the Election Commission.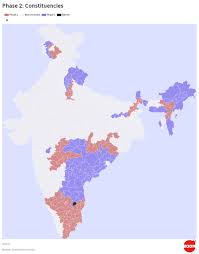 Compared to Phase 1 of the general elections, which was held on April 11, 2019, Phase 2 has relatively lesser percentage of candidates with self-declared criminal cases and assets worth more than Rs. 1 crore.
More Female Candidates
Phase 2 also has a higher number and percentage of female candidates, at 120 and 8%, respectively, while 89 candidates (7%) in Phase 1 were women.
And Youngsters
Another prominent feature of this phase is marked by the fact that there is a candidate under the age of 25, although ADR has not mentioned the details of the young candidate.
With 7.7% of the candidates between the age of 25 and 30 years, Phase 2 trails closely behind Phase 1, which had 8.4% candidates in the aforementioned age group
A significant majority (76.2%) of the candidates lie between the age of 30 and 60 years, with 7 candidates being above 80 years of age.
Wealth In The Southern Parties
Southern parties DMK and AIADMK stands out as the two major parties with the highest percentage of crorepati candidates at 96% and 100%, respectively.
Seizure report
As per the progressive seizure report by the Election Commission dated April 16, there has been an overall seizure of items (liquor, drugs, precious metals etc.) and cash worth Rs. 2604 crore, since the beginning of polls.
Also Read: Phase 2 Polls: DMK, Congress Tops List Of Candidates With Criminal Charges

Following the cash seizure in Vellore, Tamil Nadu is now at the top of the list of states with the highest amount of cash seizure worth Rs. 205 crore.
Big Fights
Several popular faces will contest in the upcoming elections, from actors Hema Malini and Prakash Raj to dynasts Kanimozhi and Nikhil Kumaraswamy facing the litmus test at the polls.
BOOM gathered a few big names to list down the constituencies that are going to be under the spotlight.
Thoothukudi
The port town in Tamil Nadu will see one of the biggest face-offs in Phase 2, with (1) DMK candidate Kanimozhi, daughter of former Chief Minister of Tamil Nadu Karunanidhi, contesting against (2) Tamil Nadu BJP President Tamilisai Soundarajan.
With each candidate having a high level of popularity, one will have to wait to find out in which direction Thoothukudi swings.
Solapur
The Maharashtrian constituency of Solapur will see a threeway fight between three big names:
(1) Congress candidate and former Chief Minister Sushilkumar Shinde, (2) BVM candidate Prakash Ambedkar, who is the grandson of Dr. B. R. Ambedkar - hailed as the father of the Indian Constitution, and (3) BJP candidate Jai Siddheshwar Swami, who enjoys immense popularity among the Lingayat community.
Mandya
The town of Mandya in Karnataka will see a competition between a candidate from a powerful family and another with popularity:
(1) JD(S) candidate Nikhil Kumaraswamy, son of current CM of Karnataka H. D. Kumaraswamy and grandson of former PM H. D. Deve Gowda against (2) Independent candidate and popular actress Sumalatha Ambareesh.
Note: We had previously reported that 96 constituencies are going to polls in Phase 2. However, due to security concerns, polling in Tripura East constituency has been postponed to Phase 3. Thus, Phase 2 will have 95 constituency going to polls.