Orissa Image Misused To Claim Women In Kerala More Upset About LPG Hike
An image of a protest in Orissa was edited and used to claim women in Kerala are upset over hike in LPG price than the Supreme Court order on women's entry in Sabarimala.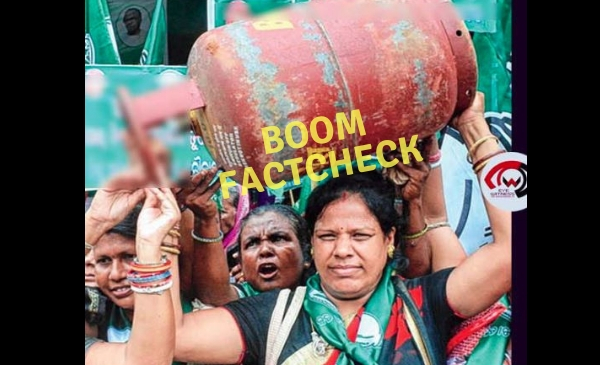 A widely shared article by Malayalam website Eyewitnessnews.in has used a 2017 image from Bhubaneswar to claim that women in Kerala are upset over the hike in LPG price rather than the Supreme Court's order allowing women entry at Sabarimala.
The article has used the image as the lead picture and the headline in Malayalam says, 'Women protest by showing gas cylinder bills to BJP leaders who visited homes in Kottarakara, Kollam to collect signatures on the Sabarimala issue'.
The original text says, "കൊല്ലം കൊട്ടാരക്കരയിൽ ശബരിമല വിഷയത്തിൽ ഒപ്പു ശേഖരണത്തിന് വീടുകളിൽ ചെന്ന ബിജെപി നേതാക്കൾക്ക് നേരെ ഗ്യാസ് സിലിണ്ടർ ബിൽ കാണിച്ചു സ്ത്രീകളുടെ പ്രതിഷേധം"
Eyewitnessnews's Facebook post has received around 5000 shares while left-leaning Facebook page We love CPIM shared the article, drawing over 2000 shares.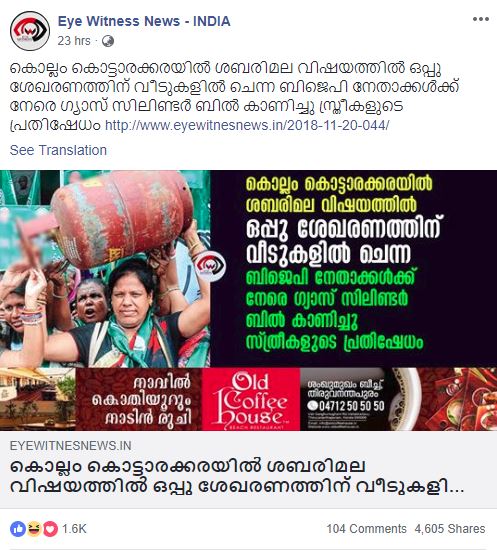 Click here for the archived version of the post.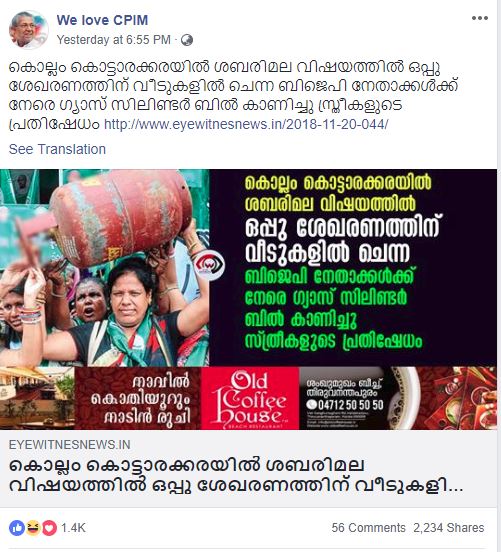 Click here for the archived version of the post.
The story was also shared on Facebook group SDPI Keralam which received around 100 shares.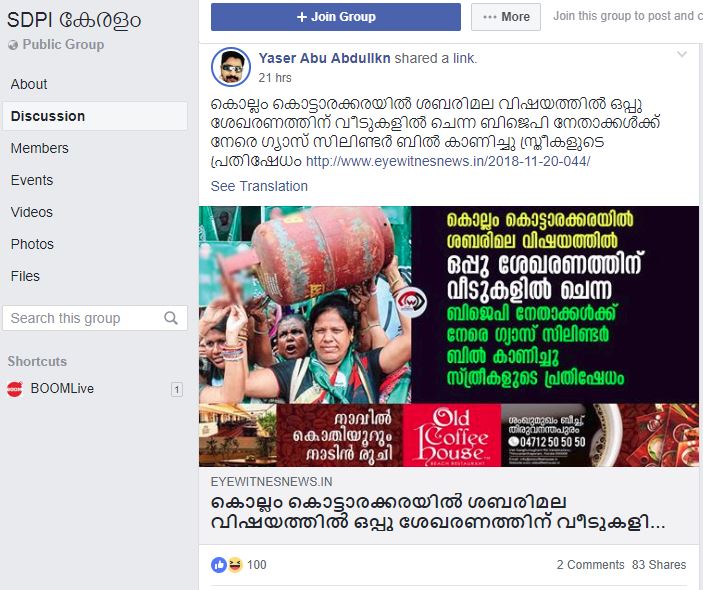 Click here for the archived version of the post.
A Google Reverse image search showed an article by Telegraph India from August 2017. Telegraph's report says that the image is of a protest staged by the women's wing of political party Biju Janata Dal (BJD) in Bhubaneswar, Orissa against the central government's decision to phase out subsidy on LPG cylinders. The image was clicked by their reporter Ashwinee Pati. Click here to read the article.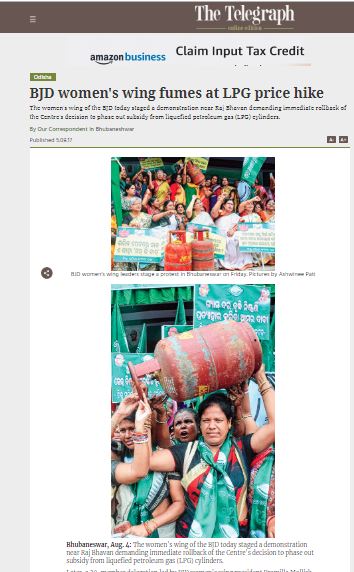 While Eyewitness's article does not say that women protested using gas cylinders, it claimed that some women showed their LPG gas bills when BJP leaders asked them for signatures of support. Citing 'reports' the article claims, women asked them to fix the LPG rates before deciding whether women need to enter Sabarimala. It also says, BJP and Congress are working together to score politically, leaving people confused about their real political intentions.
BOOM did not find other Malayalam dailies reporting the incident. And, though the image of women holding the cylinder was not of Kerala, Eyewitness did not specify that it is a representational image. Moreover, it is evident that there were attempts to hide the fact that the photos are from Orissa.
A comparison of the original image and the image used by Eyewitness shows that it has been edited to cover the Oriya text in the banner behind the women. And, since the image has been cropped, the scarves wrapped around their neck are not fully visible. However, the original picture (see the image on the right) shows that the scarves have the conch, BJD's logo, printed on it.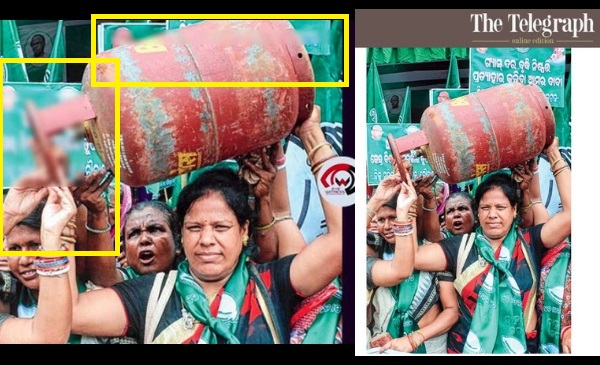 BOOM also found another image of the protest from a website called WomanOdisha filed in August 2017. Below is a screenshot of the article.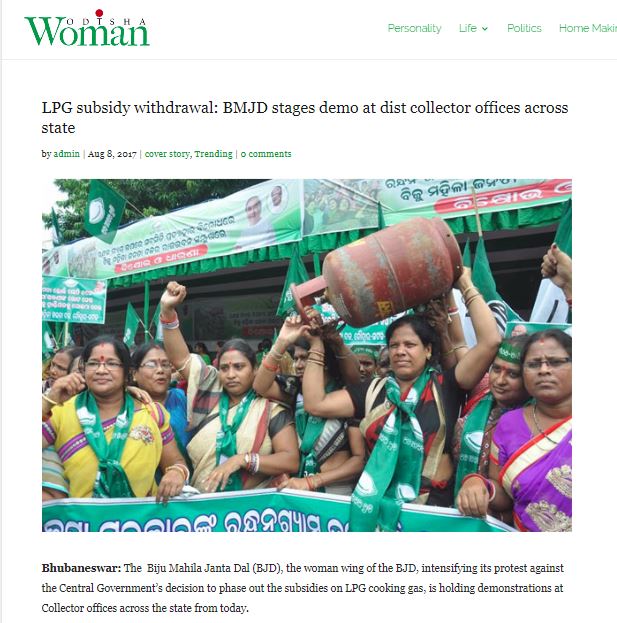 Claim Review :
Women In Kerala More Upset About LPG Hike than Supreme Court Order On Sabarimala
Claimed By :
Eyewitnessnews.in