Old Video Of Priyanka Gandhi Vadra Losing Her Cool Revived With Misleading Claims
BOOM found that the video is one year old when Priyanka Gandhi Vadra got agitated while participating in a candlelight march after a crowd shoved her and her daughter around.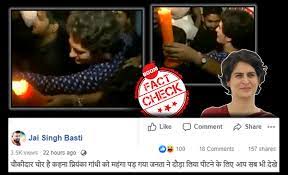 A 2018 video of Priyanka Gandhi Vadra losing her cool while escaping a jostling crowd, is being shared on Facebook with misleading claims.
In the 35-seconds video being shared online, one can spot her with a group of women making their way through the crowd and at the at end elbowing someone in the crowd as she moves ahead.
Claim 1: Pushed around for saying 'Chowkidar Chor Hai'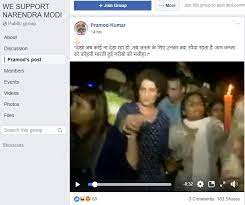 Click here to view the post, and here for an archive.
Facebook user Jai Singh Basti posted the video with a caption that claimed, "Saying 'Chowkidar Chor Hai' proved expensive for Priyanka Gandhi as people chased (her) to beat her up, you should watch it."
(चौकीदार चोर है कहना प्रियंका गांधी को महंगा पड़ गया जनता ने दौड़ा लिया पीटने के लिए आप सब भी देखे)
At the time of writing this article the post had already been viewed around 3,500 times and was shared 160 times.
Claim 2: Priyanka is elbowing poor people when no one is watching
A Facebook user named 'Pramod Kumar shared the same video on a Facebook Group named 'WE SUPPORT NARENDRA MODI' with the caption, ''See when no one is watching, her attitude with the common people, the messiah of poor people hitting them with her elbow."
(देखो जब कोई ना देख रहा हो ,तब जनता के लिए उनका क्या रवैया रहता है आम जनता को कोहनी मारती हुई गरीबो की मसीहा।)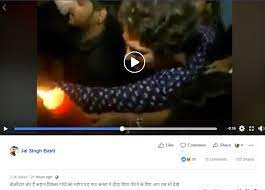 Click here to view the post, and here for an archive.
BOOM had previously reported about the Facebook group 'WE SUPPORT NARENDRA MODI' and how it is a disseminates fake news to its over 2.9 million members. (Read more)
FACT-CHECK
BOOM found that the video being circulated is from April 13, 2018, when Priyanka had participated in a midnight candle march at India Gate, New Delhi, called by Rahul Gandhi over the Kathua and Unnao alleged rape incidents. (Read more here)
She was accompanied along with her husband Robert Vadra and daughter Miraya at the march.
According to an article by an India Today journalist Mausami Singh who was covering the march, a few Congress workers started pushing people around trying to get a selfie with her.

"She was literally sprinting till India Gate tearing through the crowd. Midway she suddenly stopped and looked back enquiring about her daughter. A few steps behind, her daughter Miraya was standing, looking completely petrified by the mob frenzy," Singh reported.
"The mob seized this opportunity to swarm the flimsy cordon around the leader. Priyanka lost her patience. As she started walking towards India Gate, she was seen elbowing her way out of the crowd," further adds Singh on the incident when Vadra elbowed the someone in the crowd.
In this video uploaded by India Today, Priyanka's daughter was pushed and shoved which made her angry.
Claim Review :
Video Shows Priyanka Gandhi chased For Saying Chowkidar Chor Hai
Claimed By :
Facebook Posts