Old Video Of Amit Shah Falling Passed Off As West Bengal
The incident is from 2018 when Amit Shah was campaigning in Madhya Pradesh for the state's Assembly elections.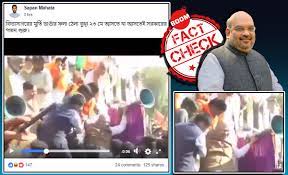 A 2018 video of Amit Shah slipping and falling from a vehicle during an election rally in Madhya Pradesh is being shared with a false claim that it happened during Shah's recent road show in West Bengal.
The video clip shows Shah stumbling and losing his balance while alighting from a vehicle and one of his security personnel offering support.
Shah who is the president of the Bharatiya Janata Party recently took out a road show in West Bengal. The road show made headlines after violence erupted between BJP workers and members of the Trinamool Congress (TMC) party. The clashes resulted in the bust of Ishwarchandra Vidyasagar being desecrated with both parties blaming each other for the same.
The violence and clashes led to the Election Commission cutting short campaigning for the last round of voting in West Bengal. The EC applied Article 324 of the Constitution which allows for "superintendence, direction and control of elections".
The video was shared on a Facebook group Trinamool Cyber Combat Force (TCCF) with a caption in Bengali which translates to, "Result of demolishing Vidyasagar's statue. Serves him right. The government will see a downfall from May 23 onwards." (Bengali text :বিদ্যাসাগরের মুর্তি ভাঙার ফল! ঠেলা বুঝ্! ২৩ মে আসতে না আসতেই সরকারের পতন শুরু ৷)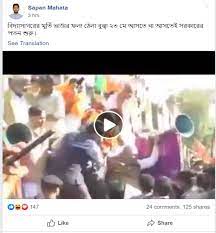 The video is viral on Facebook with the same caption in Bengali
FACT-CHECK
BOOM searched for the key words 'Amit Shah Falling From Vehicle' and found results for news stories from 2018. The news stories stated that on November 24, 2018, Shah slipped from a vehicle he was alighting after finishing a road show in Madhya Pradesh.
According to the news reports, the incident happened while Shah was campaigning in the MP for the state's 2018 Assembly polls.
The incident was widely covered in media reports and the NDTV story on the incident reported that, "BJP president Amit Shah stumbled and fell while alighting from a vehicle after his roadshow in poll-bound Madhya Pradesh on Saturday. One of his bodyguards quickly offered support and Amit Shah managed to get up unhurt immediately. The incident happened at the Tulsi Park"
The clip was also tweeted by a user on November 24, 2018.
Claim Review :
Amit Shah Fell From The Vehicle During West Bengal Road Show
Claimed By :
Facebook posts