Old India Today Video Falsely Shared As Inciting Anti-Modi Slogans In Kashmir
BOOM found that the original video is from January this year and that the reporter was not orchestrating a protest against the prime minister.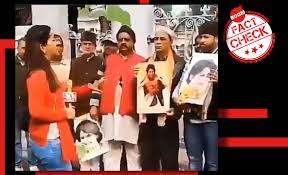 An old video of India Today reporter Mausami Singh allegedly directing a group of Congress workers to raise anti-Modi slogans is being shared with a false claim that the journalist was inciting sloganeering against the prime minister, in Kashmir.
Tajinder Pal Singh Bagga, a spokesperson of BJP Delhi, also tweeted the video.
Bagga tweeted this seven-month old video with a caption that reads 'Journalist or Congress chamchi ? @mausamii2u of @aajtak today started her nautnki at J&K Airport'. The BJP spokesperson has mentioned India Today reporter Mausami Singh's name in his tweet.
You can view Bagga's tweet below and access its archived version here.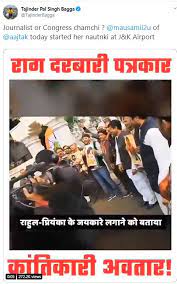 Bagga's tweet comes at a time when Singh is already in news for being manhandled at Srinagar airport on August 24. Singh was covering the Srinagar visit of Rahul Gandhi and other opposition leaders.
An opposition delegation led by Gandhi had reached Kashmir on Saturday to take stock of things in the valley after the abrogation of Article 370 on August 5. However, the delegation was sent back hours after it landed at the Srinagar airport.
The same viral clip has also been shared on several Facebook pages with the same fake claim.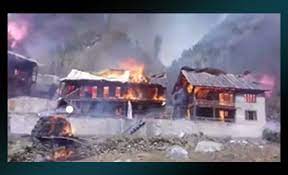 Fact Check
Video From January 2019 And Not After The Abrogation of Article 370

BOOM ran a reverse image search on one of the frames from the viral clip and found a seven month old YouTube link that had the same video on January 24 this year.
The video has been shot in front of Anand Bhavan - the house museum of the Nehru family - in Prayagraj.
The same video was also tweeted by Major Surendra Poonia of the BJP in January. Poonia, in the caption, had accused Singh of planting pro-Priyanka and anti-Modi slogans in the crowd.
Mausami Singh Did Not Direct Congress Workers To Raise Slogans
BOOM listened to the video closely and here is what we found.
Mausami Singh can be heard saying at the beginning of the video 'Uttar Pradesh me Congress party ki sachhi vichardhaara...kamzor logon ki vichaardhara...sabko le kar aage badhne ki baat hai.....aage bhi...ye Rahul Gandhi bol rahe hain.'
(Hindi: उत्तर प्रदेश में कांग्रेस पार्टी की सच्ची विचारधारा, कमज़ोर लोगों की विचारधारा, सबको लेकर आगे बढ़ने की बात है ..आगे भी …ये राहुल गाँधी बोल रहे हैं |)
Here, Mausami takes a momentary break and adjusts her ear piece.
We found the original video clip of the India Today show reporting Priyanka Gandhi's elevation in the party published on January 23 this year, the day Gandhi was appointed as in-charge for UP east. Here, Rahul Gandhi can be heard making the same statement verbatim as was said by Mausami Singh. However, the original footage doesn't include portions from the viral clip which seems to have been recorded by some onlooker before making it viral.
For Rahul Gandhi's byte on Priyanka Gandhi's elevation as party's Uttar Pradesh eat in-charge, watch from 4.56.
For Mausami Singh's reportage from Anand Bhavan, Prayagraj, watch from 6.35.
Later in the video one can clearly hear people sloganeering 'Burn Down Modi's Lanka, Sister Priyanka' as Singh urges them to raise their voices.
(Hindi: दहन करो मोदी की लंका, बहन प्रियंका, बहन प्रियंका |)
If one listens to the video carefully, it becomes clear that the the reporter was not asking the crowd to raise any particular slogan and neither is the crowd repeating the words that she says.
Claim Review :
India Today reporter Mausami Singh orchestrating protest against PM Modi at J&K airport
Claimed By :
Twitter handles and Facebook pages