No, This Is Not One Of The Sri Lankan Suicide Bombers Pictured With Zakir Naik
The man alongside Zakir Naik is a controversial Malaysian Muslim preacher Muhammad Zamri Vinoth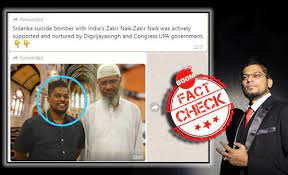 A viral image showing controversial Islamic preacher Zakir Naik pictured alongside a man is being shared online with a false claim that the man is one of the suicide bombers involved in the deadly Easter Sunday bombings in Sri Lanka.
BOOM received the photo on its WhatsApp helpline number (7700906111) from one of our readers.
The message accompanying the photo claims, "Srilanka suicide bomber with India's Zakir Naik. Zakir Naik was actively supported and nurtured by Digvijay Singh and Congress, UPA government."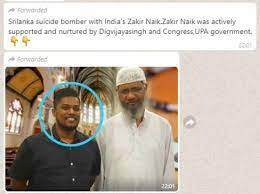 Army veteran and Bhartiya Janata Party (BJP) member Major Surendra Poonia also tweeted the viral image with the caption, "दिल के रिश्ते Pic 1-Srilanka's Suicide bomber with preacher Zakir Naik 2-Zakir Naik with Congress leader Sh Digvijay Bharat Tere Tukde honge/Afzal Premi leader Kanhaiya will campaign for him @digvijaya_28 Sir,Pl ask ur friend Zakir Naik also to address Bhopal rallies via skype"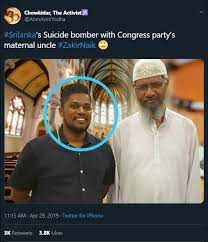 Click here to view tweet, and here for an archive.
The image is also viral on Facebook and Twitter with different captions all which claim the man on the left is one of the suicide bombers.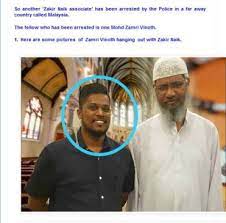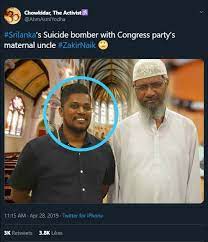 Click here to view tweet, and here for an archive.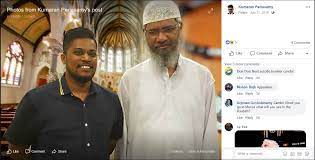 Click here to view the post, and here for an archive.
FACT-CHECK
A reverse image search of the photo led us to a blog which identified the man as Muhammad Zamri Vinoth, a controversial Muslim preacher in Malaysia and a follower of Zakir Naik.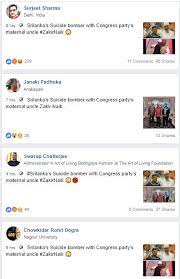 According to Malaysian news reports, Vinoth was detained for questioning in Perlis, Malaysia on April 28, 2019, following several complaints that he made statements deemed insulting to Hinduism during a religious lecture.
KUALA LUMPUR: Controversial Muslim preacher Zamri Vinoth nabbed by Police in Perlis for remarks against Hinduism (VIDEO) @PDRMsia https://t.co/soOmMsJpKd

— Kak Midah (@kakmidah) April 28, 2019
Controversial Malaysian Muslim preacher Zamri Vinoth – a known follower of wanted Indian preacher Zakir Naik – nabbed in Perlis for remarks against Hinduism. https://t.co/GTE8oi4wjA

— Sumisha Naidu (@sumishanaidu) April 28, 2019
Vinoth, who converted to Islam, is a follower of another controversial preacher Zakir Naik who is wanted in India on money laundering and hate speech charges. Naik fled to Malaysia in 2016.
BOOM found that Vinoth has been spotted with Naik previously as is evident from his social media posts.
We also found that the viral image of Vinoth with Naik has been circulating since 2018 on social media.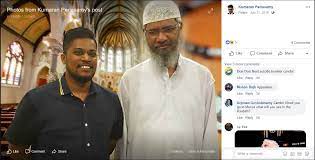 Click here to view the post.
Additionally, nine of the suicide bombers were all killed in the attacks in Sri Lanka (Read more)
(BOOM is now available across social media platforms. For quality fact check stories, subscribe to our Telegram and WhatsApp channels. You can also follow us on Twitter and Facebook.)
Claim Review :
Photo shows one of the suicide bombers in Sri Lanka with Zakir Naik
Claimed By :
Facebook Posts
Related Topics:
BJP, bombings, Facebook, fake news, featured, Hinduism, India, Islam, Major Surendra Poonia, Malaysia, Sri Lanka, terror, terrorism, viral, WhatsApp, Zakir Naik, Zamri Vinoth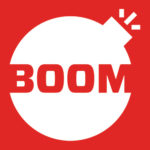 Anmol Alphonso
Anmol Alphonso is a fact-checker with BOOM. He has previously interned at IndiaSpend as a fact-checker and was a reporting intern at Times of India, Indian Express, and Mid-Day. He is a post-graduate diploma holder in journalism from St Paul's Institute of Communication Education, Mumbai.