No, These BJP Ministers Were Not Sleeping During The Budget
An image showing Nitin Gadkari and Dr. Harsh Vardhan with their eyes firmly shut during the speech is entirely misleading. Read our factcheck to know why.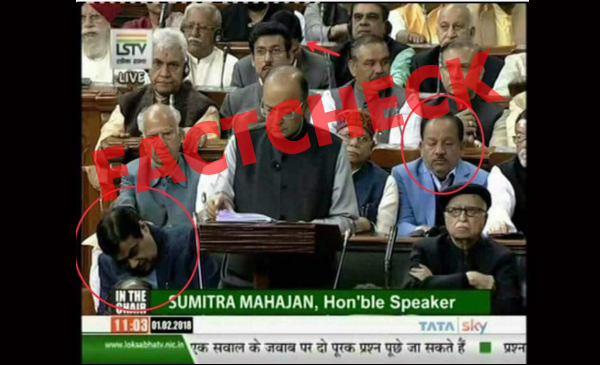 A photograph purporting to show three members of the BJP snoozing during Finance Minister Arun Jaitley's budget speech on February 1st, is misleading.
The still shows two red-circles drawn around union ministers Nitin Gadkari and Dr. Harsh Vardhan. The image was shared by satire Twitter handle 'Aisi Taisi Democracy' and filmmaker Rakesh Sharma.
BJP ministers show their excitement over the path-breaking Union Budget and FM's scintillating speech!

Nah, they aren't napping - merely focussing harder with their eyes closed!#PakodaVikas #JumlaDevelopment #AchcheDin pic.twitter.com/y8HDcK0ieI

— Rakesh Sharma (@rakeshfilm) February 2, 2018
Your own Union Ministers were caught napping live on National TV. Perhaps even they didn't find anything worth wasting their time on in Mr. Jaitlie's rather pedestrian #Budget2018.

Be glad RG was polite enough to keep himself awake.https://t.co/fnAJPxYVZZ pic.twitter.com/mrMkd98Fcd

— 🇪 🇱 🇱 🇮 🇴 🇹 ™ (@fsociety_in) February 2, 2018
However, on viewing the video of the entire speech it is clear that neither Nitin Gadkari or Dr. Harsh Vardhan were asleep at the time. The Lok Sabha clock clearly visible in the photo shows the time as 11:03 am. Finance Minister Arun Jaitley was scheduled to deliver the budget at 11 am; which means the screenshot was taken during the first few minutes of Jaitley's speech.
BOOM examined the video and found that Nitin Gadkari leaned to his side while looking down while Dr. Harsh Vardhan blinked while applauding. The person seated behind Sports Minister Rajyavardhan Rathore seems to be preoccupied with his phone. (Watch the clip below)
[video width="1920" height="1080" mp4="https://www.boomlive.in/wp-content/uploads/2018/02/Bugdet-2018.mp4"][/video]
While BOOM could not find @AisiTaisiDemo's tweet, which seems to have been deleted; Rakesh Sharma apologized and deleted his tweet after BOOM pointed it out.
Thanks for pointing this out.

I'm taking down my tweet-comment.

At 11:13, @AisiTaisiDemo tweeted this pic in a reply to Minister Kiren Rijiju.

At 11:24, I RT-ed (Tweet Photo option), added my comment to it. (See screenshots).

I had no reason to doubt authenticity.

Apology to all pic.twitter.com/bflAc2EanQ

— Rakesh Sharma (@rakeshfilm) February 2, 2018
https://www.sharethefacts.co/share/930c4cf7-bcc4-4c52-9e38-c86c41c06e4f