No, SRK Did Not Say 'I Would Leave India If Modi Becomes PM'
Shah Rukh Khan had clarified in 2014, when a similar tweet from a fake handle was viral on social media.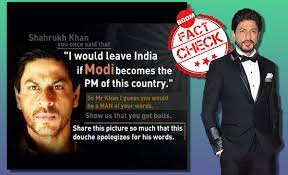 A fake quote that was falsely attributed to actor Shah Rukh Khan in the past has resurfaced on WhatsApp with a demand that the actor should now 'apologise or leave the country as PM Modi is back'.
In an image doing the rounds on WhatsApp, Khan has been falsely credited for saying, "I would leave India if Modi becomes the PM of this country."
The image further goes on to urge users to share it as much as possible so that Khan is compelled to offer for an apology, now that PM Narendra Modi has been voted back to power.
The text reads: Shah Rukh Khan, you once said that "I would leave India if Modi becomes the PM of this country." So Mr Khan, I guess you would be a Man of your words. Show us that you got *****. Share this picture so much that this douche apologises for his words."
This is not the first time that the actor has been attributed with a false quote. In February this year, following a terror attack on a CRPF convoy in Pulwama, Khan had been in the centre of a viral fake post that quoted him as saying, "If Pakistanis are boycotted, then I will leave the country." Read BOOM's debunk here.
Fact Check
BOOM looked up for news reports about Khan's comment on leaving the country 'if Narendra Modi was voted back to power' and was directed to one year old Facebook posts. The posts were supported by a fake tweet and a fake news article. You can read the archived version of the news here.
Below are more examples of the same fake quote circulating in 2018.
We then ran an advanced search and were directed to reports which called out the now deleted tweet by a fake handle of Shah Rukh Khan. The tweet posted by @jamsrk reads, "It is my challenge to entire world that if @narendramod ji will become next PM then I shall not leave only twitter but India also forever." It was posted on May 18, 2014.
The account has been inactive for sometime now, and has also deleted most of its tweets.
Khan had clarified back in 2014 that the tweet in its entirety was fake.
Actor Kamaal R Khan, tweeted asking the genuineness of Khan's tweet too in 2014. However, he later deleted the Tweet and clarified that it was KRK himself who offered to leave the country, had PM Modi come to power.
Furthermore, a host of now deleted posts also shared a news clipping from Sudarshan news, to establish that Khan had made such a statement. Though Sudarshan News' bulletin wasn't traceable independently by BOOM, we found a screen grab of the same.
The same message was viral last year. It was debunked by BOOM's Hindi website.
(BOOM is now available across social media platforms. For quality fact check stories, subscribe to our Telegram and WhatsApp channels. You can also follow us on Twitter and Facebook.)
Claim Review :
Shah Rukh Khan said he would leave India if Narendra Modi became the prime minister
Related Topics:
BJP, Facebook, Fake, fake news, fake twitter, Kamaal R Khan, Leave India, Narendra Modi, shah rukh Khan, Viral Message, WhatsApp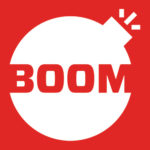 Swasti Chatterjee
Swasti Chatterjee is a fact-checker and the Deputy News Editor of Boom's Bangla team. She has worked in the mainstream media, in the capacity of a reporter and copy editor with The Times of India, The Indian Express and NDTV.com and is now working as a digital detective, debunking fake news.