No, Shah Rukh Khan Did Not Threaten To Leave India If Pak Artists Are Boycotted
Fake news aimed at Shah Rukh Khan continues in the aftermath of the Pulwama attack.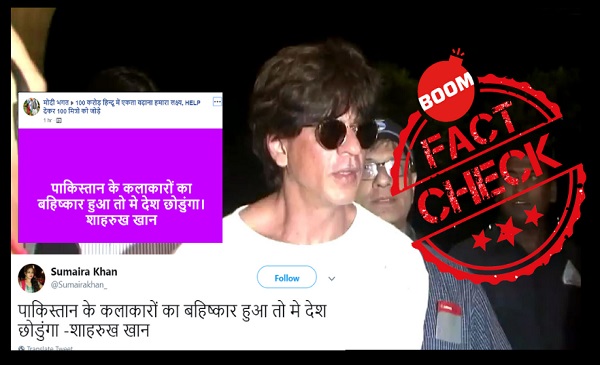 Social media posts claiming actor Shah Rukh Khan threatened to leave India if Pakistani artists were banned from working here, is false. No such statement has been made by the actor.
The fake quote in Hindi ascribed to the actor translates to "If Pakistanis are boycotted, then I will leave the country."
Hindi text - पाकिस्तान के कलाकारों का बहिष्कार हुआ तो मे देश छोडुंगा -शाहरुख खान
Several twitter users also tweeted the fake quote. The tweet had nearly 700 Likes at the time of writing this article.
View the archived tweet here.
The claim has made its way to Facebook as well, with several Facebook users posting it on groups.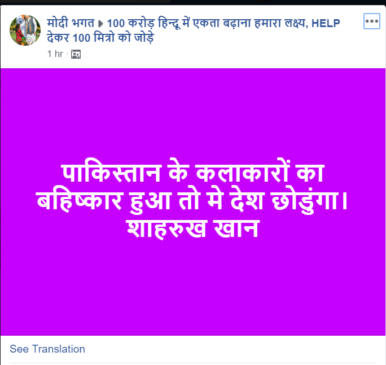 Fact Check
BOOM looked up news reports and found out that no such statement has been made by the actor in the recent past. In fact the actor had also tweeted expressing his condolences to the families of the 40 CRPF soldiers who lost their lives in Pulwama.
BOOM spoke to Gajendra Chauhan, who is on the advisory board of Federation of Western India Cine Employees (FWICE). He said, "No such claims have been made by any Indian actor. The industry stands united against the commissioning of work to Pakistani technicians, musicians and actors."
The All India Cine Workers Association also issued a statement on a complete ban of Pakistani artistes.
This is a second set of fake claims against the Bollywood actor that have gone viral in the past one week, in the wake of the Pulwama terror attacks. Earlier in the week Khan was accused of donating Rs 45 crores to Pakistan after an oil tanker blast and 'not spending a penny' after 40 CRPF jawans were killed on February 14. BOOM debunked the fake posts doing the rounds on Wednesday.
Claim :
Social media posts claim Shah Rukh Khan threatened to leave India if Pakistani artists are boycotted
Claimed By :
Twitter, Facebook posts