No, Pigeons At Srinagar's Jamia Masjid Have Not Starved To Death
BOOM found that the image of the dead pigeons is from the United Kingdom.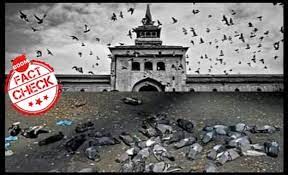 An eight-year-old image of dead pigeons clicked in England is being shared falsely as pigeons in Kashmir dying due to starvation. The image is being shared as a collage with a photo of the Jamia Masjid clicked in 2012. BOOM found that both the images have been taken from image hosting site, Flickr.
The post claims that following the abrogation of Article 370 in Jammu and Kashmir and the restriction on movement, has cause the pigeons in Jamia Masjid in Srinagar to starve and die. Jamia Masjid in Nowhatta is one of the biggest mosques in Srinagar.
The image was shared by a Facebook page, 'Free Kashmir' with a caption, 'This is the first time in the history of the world! Pigeons have died in the Jamia Mosque Srinagar due to starvation. 46th Day of consecutive curfew has paralyzed the life of the oppressed people as well as created the shortage of the food even for the wild birds. The world has seen the black and double face of so called Indian democracy who has pushed back and turned down the decision of its own Supreme Court regarding the lifting of curfew from Indian Occupied Jammu Kashmir and restoration of human rights in the State."
The image has been shared more than 800 times and has garnered 500 reactions on Facebook. Click here for an archived version of the post.
FACT CHECK
BOOM ran a reverse image search on both the images separately and found them on image hosting site Flickr.
1st IMAGE
While the first image of the mosque was of Jamia Masjid, it was clicked in 2012 by a photographer called Wazari Wazir. According to the details on Flickr, the image was clicked on February 7, 2012. Click here to view the photo.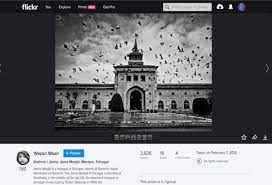 A search for Wazir, led us to his Facebook page and his website which revealed that he is a Malaysian photojournalist working for the government.
2nd Image
A reverse image search showed results on Flickr for an image uploaded on July 2, 2011 by an England based photographer Craig Hannah.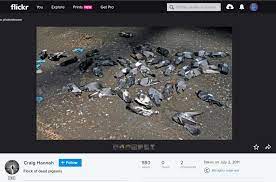 BOOM contacted Hannah via his Facebook page who confirmed that the photo was clicked in United Kingdom and not in Kashmir, India.
"The photo was taken in a derelict cotton mill near Manchester. From what I learnt, the pigeons had died due to natural causes," Hannah told BOOM.
He added that the photo was very old and clicked in 2011.
Additionally, we contacted local journalists in Srinagar via their landline numbers who dismissed any such report of pigeons dying in Jamia Masjid.
"This is such a weird report. Here people are suffering, while fake news is being spread about pigeons who have flown away elsewhere."
Claim Review :
Pigeons in Jamia Mosque, Kashmir died due to starvation
Claimed By :
Free Kashmir - Facebook page