No, Indian Army Jawans Have Not Been Given Free Air Travel
The photo is from 2016, when ITBP personnel were airlifted from Kolkata to Kerala for election duty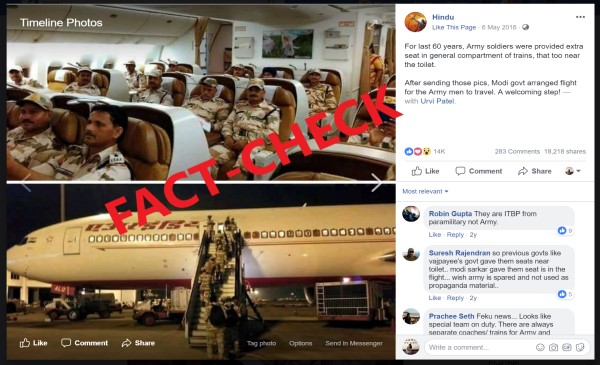 A photo with a caption suggesting that Prime Minister Narendra Modi has initiated free air travel for soldiers of the Indian Army, is false.
BOOM found the soldiers in the photos are are paramilitary forces who were deployed to Kerala in 2016 as part of election duty.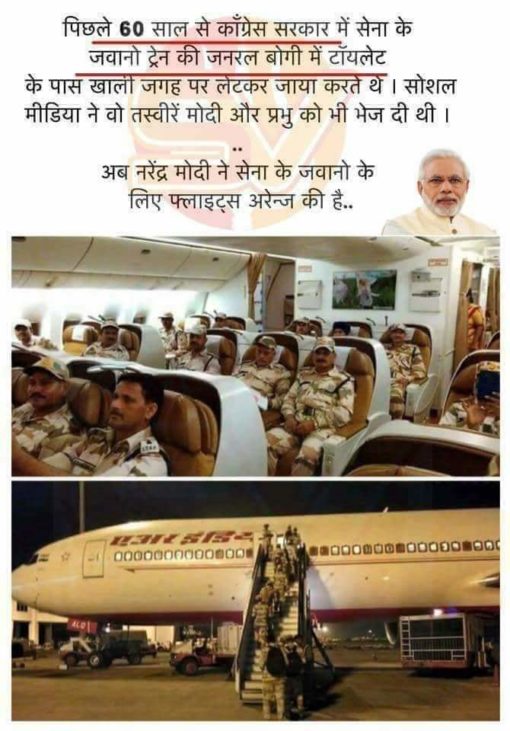 The above photo is viral with a caption that translates to, "For the past 60 years, army soldiers traveled on a spare seat in the general compartment of trains that too near the toilet. After sending those pictures, the (Narendra) Modi government arranged flight for the army men to travel. A welcome step!"
The post has been shared by various Facebook pages since 2016 with the same caption.
FACT-CHECK
BOOM was able to ascertain that the uniformed men in the photo are not from any unit of the Indian Army but are from the Indo Tibetian Border Police (ITBP) Force. Unlike the Indian Army, the ITBP personnel are Central Armed Police Force which in turn fall under the broad umbrella of paramilitary forces. This means the ITBP is managed and headed by the Ministry of Home Affairs and not the Ministry of Defense.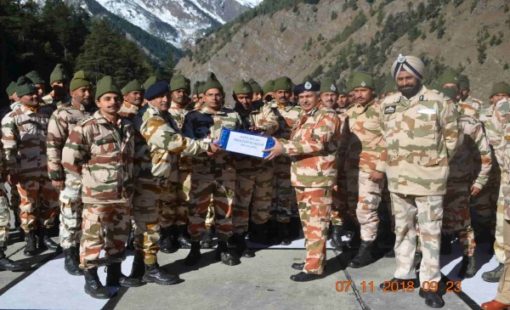 ITBP soldiers in uniform similar to uniform worn by the personnel in the viral post (Pic courtesy - ITBP website)
BOOM contacted Vivek Pandey, spokesperson, ITBP who confirmed that the uniformed personnel in the photo are from ITBP. He further said that the photo is from 2016 clicked during the assembly elections that were held in various parts of the country.
"During elections, the Election Commission requests for companies of ITBP and other paramilitary forces to be deployed to the states which are going to polls to ensure law and order. What you see in the photo is a certain section of the ITBP company which was sent to Kerala during the 2016 assembly elections held in the state. They had boarded the flight from West Bengal and were on their way to Kerala,"Pandey said.
Pandey said flying ITBP personnel for election duty is not a new occurrence. "The ITBP companies are generally sent by train but sometimes due to the large number of personnel train travel becomes difficult and hence a flight is booked. In certain cases, if the matter at hand is urgent or there will be considerable time to reach the place via rail then they are sent by flights," he said.
He also informed that there is "no free flights policy" for ITBP and that the expenses for travel (by air and rail) when ITBP personnel are deployed to various states during elections is borne by a fund with the Election Commission called 'election funds' in common parlance. "The money to these funds are contributed by both the state and the centre since elections are a national event."
BOOM also accessed news reports from May 2016 when elections were held in Kerala which inform that "Air India would be flying 3000 troopers to Kerala from Kolkata for elections"
An unnamed Air India official is quoted in all the stories as saying, "An Air India source told IANS that every day from May 1 to May 5, two Air India 777 flights that can accommodate 320 people each will fly in these para-military force personnel from West Bengal to Thiruvananthpuram. In all, there will be 10 flights that will land in Thiruvananthapuram with these forces and once here, they will be posted in various places of the state." (Read here, here and here)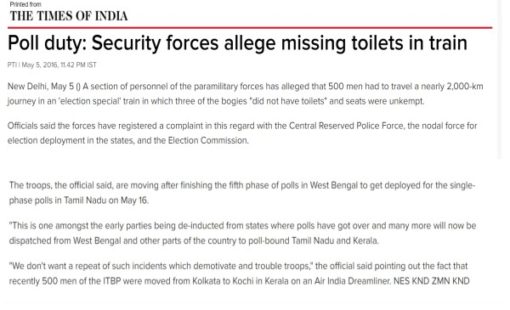 Screenshot of Times of India article from May explaining why troops had to travel by air to Kerala
Claim Review :
Prime Minister Narendra Modi Has Initiated Free Air Travel For Indian Army Soldiers
Claimed By :
Facebook Page