No, India Gate Does Not Have The Names Of 61,395 Muslim Freedom Fighters On It
India Gate is a war monument built to honour those of the erstwhile British Indian Army soldiers who fell in World War 1.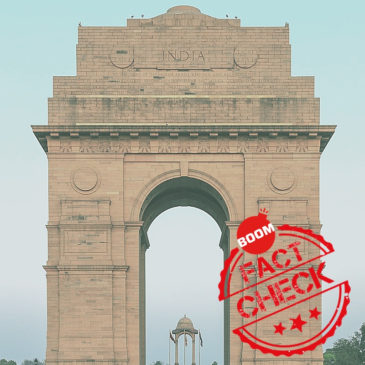 The following claims have cropped up through various pages on groups on Facebook:
There are 95,300 names of freedom fighters inscribed on the India Gate.
Of these, 61,395 are names of Muslims.
These claims have been circulating on Facebook in Hindi, as shown in the images circulated below with a photo of NDTV's Ravish Kumar.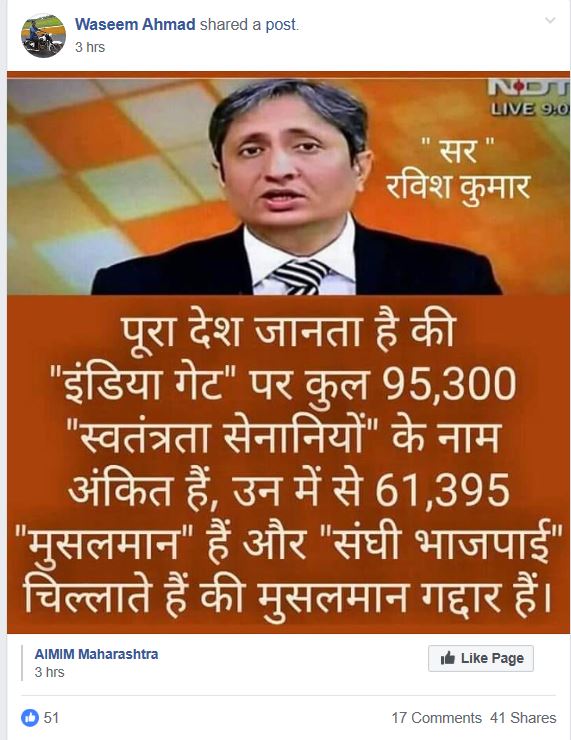 Upon performing a reverse search on these images, BOOM found that this images happens to be circulated in the past too, on various social media platforms.
The claim has also manifested itself to other posts dissecting these numbers:
Figures of names engraved on INDIA GATE don't speak a lie! The whopping numbers of Muslims sacrificing their lives for the freedom of their beloved INDIA, exhibit their sheer humongous pride and lavel of patriotism for India, proudly leading all Indian people by huge margin! pic.twitter.com/X5FO3lOKQd

— MOHD Yahya Ansari (@MOHDYahyaAnsar3) October 16, 2018
63195 Muslims names are written on India Gate out of 95300.... there is not a single name of any Sanghi. @SheeIaS @Ridzi_8136 @iammnisa
@SaraAhm60846360 @alia_sony @Faizakh89581127 pic.twitter.com/XFghkvfcNh

— kausindia (@kausdelhi) November 3, 2018
Fact Check
History To India Gate
Contrary to the claims as above, the India Gate as a monument does not honour those who fell during Indian Independence struggle. It is a war monument built to honour those of the erstwhile British Indian Army soldiers who fell in World War 1.
As written at the summit India Gate itself:
TO THE DEAD OF THE INDIAN ARMIES WHO FELL AND ARE HONOURED IN FRANCE AND FLANDERS MESOPOTAMIA AND PERSIA EAST AFRICA GALLIPOLI AND ELSEWHERE IN THE NEAR AND THE FAR-EAST AND IN SACRED MEMORY ALSO OF THOSE WHOSE NAMES ARE HERE RECORDED AND WHO FELL IN INDIA OR THE NORTH-WEST FRONTIER AND DURING THE THIRD AFGHAN WAR
Additionally, the peak of the monument consists of the words 'India', next to which are the inscriptions:
MCMXIV - roman numeral for 1914 to the left
MCMXIX - roman numeral for 1919 to the right
These are the years associated with World War 1.
Both the inscription quoted above and the the can be viewed in the following image of the inscriptions at the summit of the monument:

The foundation of India Gate was laid by the Duke of Connaught in 1921, and was designed by Edward Lutyens .It was inaugurated a decade after that by then Viceroy Lord Irwin. These events transpired before independence, which was attained in 1947, implying that the monument cannot be dedicated to freedom fighters.
Names Inscribed On The Walls of India Gate
India Gate being a World War 1 era monument means that India was then part of the British Commonwealth. India Gate bears the name of not only Indian soldiers, but also those of the United Kingdom and Australia.
There are 13,216 names inscribed in total. A full database of these names can be found with the Commonwealth War Graves Commission (CWGC), an international organisation responsible for identifying and maintaining the graves of soldiers from Commonwealth soldiers who lost their lives in both World Wars. India provided funding to this organisation in 2015/16, as per their website.
While the CWGC provides holistic information on the names of the soldiers inscribed on the India Gate, it makes no mention of their religion. This is in line with their principles, where they state :
There should be no distinction made on account of military rank, race or creed
BOOM checked the following two sources to debunk what is being circulated through these images:
The official website of Delhi Tourism.
CWGC data, which can be found and downloaded here.
Therefore, there is no evidence to show that 95,300 names are inscribed on the India Gate or that a majority of them inscribed are Muslim.
Claim Review :
There are 95,300 names of freedom fighters inscribed on the India Gate of which 61,395 are Muslim
Claimed By :
AIMIM Maharashtra Facebook page