News
Swara Bhasker Marries Fahad Ahmad And The Trolls Are Already Out
Actor Swara Bhasker married SP youth wing president Fahad Ahmed. But the Internet has a question: Did she change her religion?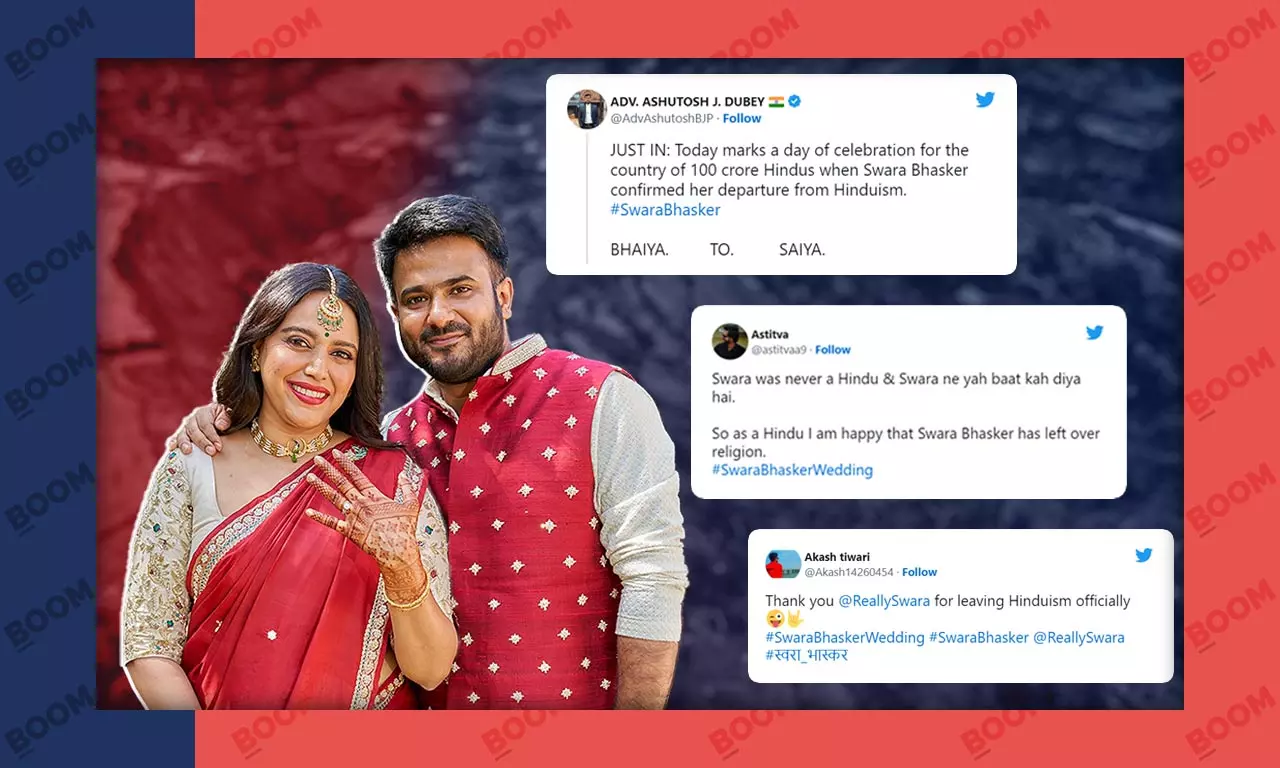 On Thursday, Bollywood actor Swara Bhasker announced her marriage to Fahad Ahmad, a political activist with a video capturing their love story. It took only a few minutes for trolls to start spewing.
"Sometimes you search far & wide for something that was right next to you all along. We were looking for love, but we found friendship first. And then we found each other," the actor, who often gets hate for speaking her mind wrote on Twitter.

Fahad Ahmed is the state president of the Samajwadi Party's youth wing Samajwadi Yuvjan Sabha. The duo met at a protest site.
In another tweet, Bhaskar wrote that they got married under the Special Marriage Act.
"Three cheers for the #SpecialMarriageAct (despite notice period etc.) At least it exists & gives love a chance… The right to love, the right to choose your life partner, the right to marry, the right to agency these should not be a privilege," she wrote in another tweet.

The Special Marriage Act of 1954 offers a provision of registered marriage for all Indian nationals, irrelevant of the religion or faith either follow. This also means that the marriages under the Special Marriage Act are not governed by the Uniform Civil Code. In Special Marriage Act, a form is required to be submitted and if no one raises an objection in 30 days then the marriage is registered as official.
People on Twitter, including film personalities, activists and journalists, congratulated the couple. But the wishes and love were intercepted with hate.
Bhasker has over the years faced some of the worst troll attacks and slander on Twitter from right-wing groups for her political views. The news of her marriage with a Muslim political leader got those trolls back.
As of Friday evening, Bhasker's video on Twitter was viewed 3.3 million times. The tweet had 21.3k likes and was shared over 3,000 times as people congratulated her on the new chapter in her life. She also received best wishes from the most unexpected quarters, such as actor Kangana Ranaut.
"You both look happy and blessed that's God's Grace … marriages happen in the hearts rest all are formalities," Ranaut wrote.
Ranaut and Bhasker had a Twitter spat in 2021 after the former said Bhasker was an 'outsider' in the film industry and didn't get work despite denying "nepotism" to impress filmmaker Karan Johar. Ranaut had also called Bhasker a 'B-grade actress'.
Bollywood stars, journalists, political leaders- everyone joined in to congratulate Swara Bhaskar.


A day after the wedding announcement, #SwaraBhaskerWedding became the top trend on Twitter, with over 3,000 tweets on Friday evening.
Many of these tweets were not congratulatory messages, but instead hateful and vile messages directed towards the actor for choosing a Muslim partner.
Twitter user Ashutosh J Dubey fished out an old tweet where Bhasker referred to Ahmed as "bhai" as she wished him on his birthday and juxtaposed it with her tweet on marrying him. While "bhai" literally means brother in Hindi, it is often used as a term to refer to friends, but Dubey missed that point. And so did hundreds of other trolls on Twitter.
"Today marks a day of celebration for the country of 100 crore Hindus when Swara Bhasker confirmed her departure from Hinduism," Dubey wrote on Twitter implying that the actress would convert to Islam after marrying the Muslim political leader.
Many other tweets made similar claims, suggesting that Bhaskar is now leaving her Hindu religion.
The messages claimed that the Bollywood actor changed her religion even as she repeatedly tweeted the news with that one hashtag: #SpecialMarriageAct.
Do you always want to share the authentic news with your friends?
Subscribed Successfully...
Enter Valid Email Id