Opinion
'Never Be Afraid', Says Arnab Goswami. But How About Not Lying?
A longer video released by Alt News shows Arnab Goswami lying about recording an interview with Narendra Modi and the subsequent attack on his car in 2002
Last week Republic's Editor-in-chief Arnab Goswami was in news after an old video from 2013 showed him claiming that he and his crew were attacked "50 metres from a chief minister's residence" while covering riots. Goswami came under fire from his former editor Rajdeep Sardesai and ex-colleagues from NDTV as they accused him of lying as no such incident happened with him in 2002.
Since the video was edited abruptly, it was not clear whether Arnab Goswami was indeed talking about the Gujarat riots or an incident that took place somewhere else.
But in a fresh big blow to Goswami's image, fake news busting website Alt News has released a longer video which clearly shows Goswami mentioning 2002 Gujarat riots and the incident taking place post an interview with the then chief minister Narendra Modi.
In the new video, Arnab Goswami says "Never be afraid, never be afraid. In 2002... yesterday I was doing a program. And in this program it was about Gujarat. Narendra Modi has gone to Godhra and he has done...(audio not clear). He has stopped other people from going there and there is a big political fight. You know in life, your own experiences come back to you. I remember coming out of Narendra Modi's house after interviewing him in the height of the riots in 2002...."
He then goes on to recite how the vehicle was stopped 50 metres away from the chief minister's residence and the car attacked with trishuls. The rioters asked them their religion and since no one from the minority religion (read Muslim) was there in the car, they were safe. All of them had press cards but here is where the story takes an interesting turn.
Goswami makes his imaginary driver the centre piece of his story - the hapless victim with no identity to prove his credentials proved to be Goswami's defining moment which helped him recount this incident after ten years. Goswami says the driver did not have any identity card but he had "Jai Shree Ram" imprinted on his hand and that saved his life.
So what did Arnab Goswami learn from this rather scary incident. He learnt that one should never be afraid.
"But I saw at that moment how scared he (the driver) was. And that is a moment that stays with me today. Today when people threaten me, advise me, some politicians call me and say "you have a young family, why do you want to lose your job, you have a career, why do you want to lose it, why do you want to report on scams. When they do warn that, the image of that driver comes back to my mind and i tell myself, I will never be afraid. What is the most that they can do. what is the most that they can do?
If you are honest and hardworking and ambitious, then trust me, nobody beyond a point of time can touch you," said Goswami in a moment of bravado that has proved to be costly four years later.
CLAIM 1: Arnab Goswami interviewed Narendra Modi in 2002 at his residence in Gandhinagar.
FACT: FALSE. Goswami never interviewed Narendra Modi in 2002.
CLAIM 2: Arnab Goswami's car was attacked 50 metres away from chief minister Narendra Modi's residence
FACT: FALSE. Only one attack took place on the NDTV crew. Rajdeep Sardesai's car was attacked by a mob.
In our earlier story filed on September 22, we had spoken to senior journalist Sanjeev Singh who was the bureau chief of NDTV's Gujarat bureau in 2002. Singh in his scathing remarks said that Arnab Goswami lied to his audience as he was not even in Gujarat when the attack took place on Rajdeep Sardesai's car. Singh also said that Goswami was stationed in Ahmedabad and was never assigned to meet Modi at his residence in Gandhinagar.
Today, Singh had a rather cryptic tweet on the discovery of the full video that leaves no ambiguity that Goswami lied in his speech.
Rupen Pahwa, a senior video journalist who was there in the car with Rajdeep that night, spoke to India Today and explained in a detailed manner on how the attack took place. When asked if Arnab was anywhere around, Pahwa said,"I dont remember seeing him at all in Gujarat at that time. This incident happened with Rajdeep post the CM's interview and it was a 2-cam setup and we were 5 of us who went for the interview." Pahwa calls Arnab's claim bizarre.
Arnab Goswami, who defined his journalism career over the last ten years taking his channels to dizzying heights, playing the role of Judge, Jury and Executioner, has preferred to stay silent. It is ironical that a man who coined the iconic term "the nation wants to know" refuses to apologise for blatantly lying in front of an audience of young students who may have continued to believe his lie ever since he made this shameful speech, till the events of the last one week.
On September 20, Goswami's colleague at Republic, Prema Sridevi had tweeted a image of Arnab Goswami with Rajdeep Sardesai from 2002, to blunt the attack on her editor.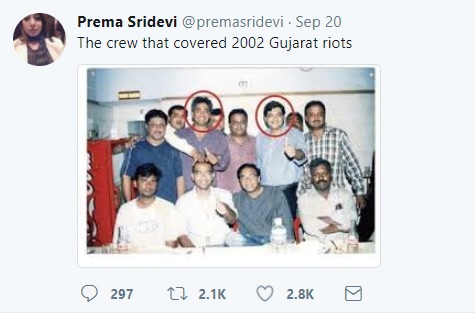 This tweet was quickly debunked by Goswami's former colleague Maya Mirchandani.
BOOM had sent an email to Goswami seeking his clarification. We are yet to receive a reply. This story will be updated when we hear from him.
Now is it possible that both these incidents could have taken place? Arnab Goswami can still claim that he did go to meet chief minister Narendra Modi and this incident took place in 2002. If that is true, why no one from his team has come out to support his claim? On the other side, several former colleagues of Sardesai have openly stood by their former editor.
Also, it is a well accepted fact that despite his numero uno status today, his former editor Rajdeep Sardesai was the only journalist from NDTV who was given an interview by Narendra Modi during the riots in 2002. This fact is also not disputed that Narendra Modi never gave any interview to Arnab Goswami in 2002 during the riot affected period.
In the face of defiance and hubris, maybe it is time to remember what lawyer Sanjay Hegde said on India Today's show a few days back. "A man is entitled to be a legend in his own mind," said Hegde.
But even if the Republic shuts its eyes and ears, the nation now knows the truth.
Do you always want to share the authentic news with your friends?
Subscribed Successfully...
Enter Valid Email Id