Fact Check
Arnab vs Rajdeep: Ex-Colleagues Question Goswami's Account Of Riot Coverage
Was Arnab Goswami talking about 2002 Gujarat Riots in an old video? Former colleagues say Goswami's account of being attacked is a clear lie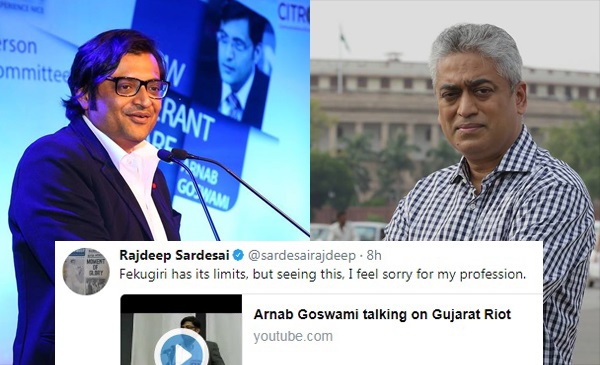 A video of Republic Editor-in-chief Arnab Goswami published more than a year back, talking about his experiences while covering a riot in some state has gone viral. Goswami mentions a scary incident when his team was attacked 50 metres away from a chief minister's residence. The video was shot when Goswami was delivering a speech at a public event in Assam a few years back.
While the short video clip does not make it clear which state Goswami was referring to, his former senior colleague Rajdeep Sardesai took to Twitter to dispute the entire claim. He claims that while the incident did take place, the Republic editor was nowhere near the location in Gujarat in 2002.
Wow! My friend Arnab claims his car attacked next to CM Res in Guj riots! Truth:he wasn't covering Ahmedabad riots!! https://t.co/xOe7zY8rCp

— Rajdeep Sardesai (@sardesairajdeep) September 19, 2017
A fact confirmed by Nalin Mehta and Sanjeev Singh, two senior journalists who covered the 2002 Gujarat riots for NDTV.
Astonishing revelation considering Arnab wasn't in Gujarat when this incident took place with @sardesairajdeep. @bhavatoshsingh @nalinmehta https://t.co/HphTLSAs2j

— Sanjeev Singh (@sanjeevrsingh) September 19, 2017
Amazing: becos actually this incident happened with @sardesairajdeep in Guj riots. We know cos we were there @sanjeevrsingh https://t.co/HwHyl3Peqh

— Nalin Mehta (@nalinmehta) September 19, 2017
Once the video went viral, the YouTube user who posted the clip deleted it Tuesday evening. So what did Goswami say? Here is a transcript of the 1:16 minute clip available on YouTube.
[blockquote width='100']
And we came out 50 meters from his residence, we are stopped, suddenly our ambassador car is stopped and there are people who are breaking the windows with trishuls. All the windows are broken. It is almost as if there are trishuls all around. I know it is very unsavoury. But I must share with you the reality of life as I have seen it. when that happens we are all told to reveal our religion. It is 50 metres from the Chief Minister's house. How it happened I do not know. We said we are journalists. 'NO, NO, what is your religion? What is your religion?'. And, thankfully, let me tell you. There was nobody from the minority community with us. But one of our people.. We had our identity cards, but my driver did not have a press card. I was sitting at the front. I have an obsession of sitting in the front seat. I looked to my right and I can see the look on my driver's face. When people talk about secularism, I have seen hate from up close and I know that group of people could have killed him. He had a tattoo. He put up 'Hey Ram' or something on his…… it is not a tattoo. It is just an imprint that you put which stays with you. He showed that and we walked out.
[/blockquote]
There are three claims made by Arnab here -
1) That he visited the chief minister's residence.
2) NDTV's ambassador car was stopped and windows broken with trishuls.
3) This incident happened 50 metres from the Chief Minister's house.
This raises three important questions-
1) Was Arnab speaking about Gujarat riots and did he cover the riots at all?
2) Did he ever meet or interview chief minister Narendra Modi in Gandhinagar?
3) If he covered the riots, which areas did he cover and was his crew ever attacked?
Meanwhile, it is quite possible that Goswami may point out that he never mentioned Gujarat in his speech and the incident took place somewhere else. In the absence of the entire clip of his speech on You Tube, we have to assume that he is speaking about the 2002 Gujarat riots, covered by his former channel NDTV extensively. There are no public records of Goswami covering any other riots in his career. More importantly, there are no other public accounts of a chief minister coming under the scanner apart from Narendra Modi, as rioters wrecked havoc on the streets.
BOOM spoke to three present and former NDTV employees and all of them have denied the occurrence of this incident as reported by Goswami. Two of them agreed to speak to us on the condition of anonymity as they are presently engaged with different media organisations.
There were several reporters from NDTV who were covering the riots at that time. While Rajdeep Sardesai, Nalin Mehta and Sanjeev Singh were stationed in Ahmedabad, Barkha Dutt covered several stories in Baroda. Other reporters who had come from various parts of the country were deputed to riot affected districts to cover ground reports as there was keen interest in the coverage of Star News in 2002.
"Arnab came on the third day and he did not cover any story in Ahmedabad. Rajdeep sent him to Kheda district. He accompanied a Sky News team who were present in the city to cover the riots. He covered couple of stories there and also spoke to some families of the victims of the Sabarmati Express. I can confirm that his team was never attacked as he was never in any danger zone," said Sanjeev Singh who headed NDTV's Gujarat coverage in 2002.
Singh also disputes the claim by Goswami of the attack taking place "50 metres from the chief minister's residence". Singh insists that only one vehicle of NDTV was attacked - a incident that took place when Rajdeep was returning to the office after shooting an interview with chief minister Modi. He has no record of another vehicle meeting with any damage.
"Where does the question arise of the attack when Goswami was never sent to Gandhinagar?," wonders Singh.
It is a fact that Rajdeep Sardesai, the then political editor of Star News (NDTV channels were not launched then) was taking all the crucial decisions on the channel's coverage of the riots. "The situation was quite volatile and we were screening every visual before putting it on-air, to avoid flaring up communal tension. Rajdeep was in touch with the chief minister's office for statements, so where is the question of Arnab being close to Modi's residence," said another senior journalist who covered the riots for NDTV.
Another senior editor who has clear memories of the events that took place in 2002 said, "Arnab did go to Ahmedabad but there is no record of any attack taking place on the crew. In those days we all heard about the incident of Rajdeep's vehicle being attacked. Why did Arnab keep quiet for so long if such a big incident happened?," asks this editor and former colleague of Goswami.
Another senior journalist who covered the riots said it is quite strange that Goswami chose to narrate such an incident heroically, despite not having reported extensively during the riots. "The only reason why he came to Ahmedabad was to anchor the shows in the evening. He spent his entire time in the Ahmedabad office except for one occasion when he went to Kheda district after being assigned by Rajdeep. How come neither he nor his cameraperson never shared this incident with any of us. We were a very close knit team and I am hearing about this for the first time despite being present in the city at that time, " said this former NDTV journalist.
Narendra Modi's only interview to NDTV was recorded by Rajdeep Sardesai. He wrote about the incident in his book "2014 The Election That Changed India."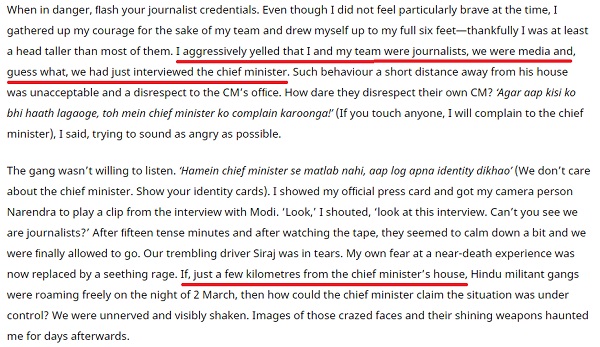 Excerpt from Rajdeep Sardesai's book. Source: www.newslaundry.com
Goswami's former colleague, Nalin Mehta also mentions the same incident in his paper published on the topic "From Arkansas to Ahmedabad: Situating the politics of television in the 2002 Gujarat Riots". The research paper talks about several attacks that took place in Gujarat but has no mention of the incident recounted by Arnab.

Source: www.nalinmehta.in
BOOM wrote to Arnab Goswami seeking his clarification but we are yet to receive any reply. We will update the story as and when we receive a clarification.
Do you always want to share the authentic news with your friends?
Subscribed Successfully...
Enter Valid Email Id