Neither MSF, IUML Nor Pakistan's Flag; How a Bizarre Controversy Unfolded In Kerala
BOOM found that the flag while the Pakistan flag was not waved, the flag did not resemble the Muslim Students Front.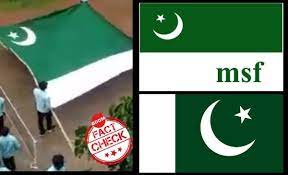 On August 30, a controversy broke out after a political body Muslim Students Front (MSF) was accused of waving the Pakistan flag in a college in Kerala.
The Perambra police have booked nearly 30 students for the same and news channels reported that it was the Pakistan flag, leaving MSF in a soup.
The organisation, at first blamed the tailor who made the flag for "making a mistake" and then on Monday claimed that the "photos were manipulated".
BOOM analysed the videos and photos and found that the flag is not the Pakistan flag but neither is it the official MSF flag or the flag of the Indian Union Muslim League.
THE CONTROVERSY
On Saturday, the Perambra police registered a case against 30 students of the Silver Arts and Science College, Perambra, for allegedly waving a green flag resembling the Pakistan's national flag on campus. The students are part of the MSF, a political body and were taking part in the election campaign in college on August 22, reported The Hindu.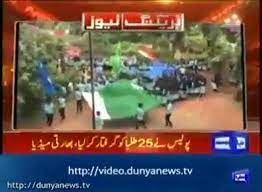 The video from the event soon went viral with the official Facebook pages of local wings of the Bharatiya Janata Party (BJP) sharing it.
FACT-CHECK
BOOM looked at videos from the event and found that the flag in question was not the Pakistan flag. A further analysis showed that the flag did not resemble the official MSF flag or the flag of the IUML
In the above 30-second video of the incident, at exactly the six second counter, one can see the flag unfurled and clearly visible.
BOOM compared the above vible flag with three seperate flags – Pakistan national flag, MSF official flag and the IUML flag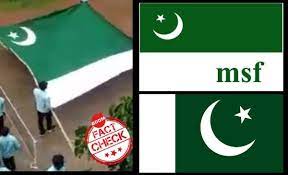 As seen above, the IUML flag is completely green with a crescent moon and star on the left side unlike the flag in the viral video which has a white band in the bottom and green in the rest of the part with the crescent moon and star in a corner. The flag in the viral video is also different from the Pakistan flag – the Pakistan flag has a white band with the rest of the green and the crescent moon and start are placed in the centre of the green part unlike in the viral video.
We even compared the flag in the viral video with that of the MSF flag and found differences.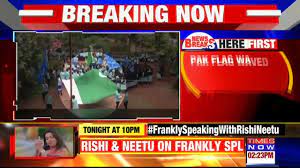 The official MSF flag has equal parts white and green with the crescent moon in the left corner of the top green part. The official flag also has 'msf' in small case written in green font in the white part of the flag at the bottom left corner. The flag waved in the college has more green and less white and the words 'msf' are missing.
| | |
| --- | --- |
| IUML Flag | Completely green with crescent moon and start in left corner |
| MSF Flag | Equal parts green and white. Crescent moon and star on top left corner in green part, 'msf' on bottom right corner in white part of the flag |
| Pakistan flag | Green with a white strip on left. Crescent moon in the middle of the green part |
MSF STATEMENT
BOOM reached out to MSF who while at first said, "it was a mistake made by the tailor", later made claims that the flag visible in the viral video and by news channels is manipulated
T P Ashraf Ali, national president, MSF speaking to BOOM on Sunday said, "the MSF flag is equal proportions white and green with MSF written in green colour font on the white part. In the video shot at Perambra, a mistake was made wherein there was 15-20 percent extra green making it look similar to Pakistan flag. Plus the students forgot to write MSF on the flag." He added that the tailor who made the flag "did not pay attention" and said, "it is definitely not the Pakistan flag. Anything green and white with the moon becomes the Pak flag for news channels."
On Monday, Ali in a statement sent to this reporter, said, "…the manipulated photos have been taken while the students held the mammoth the flag as the flag mast were broken. The students have never waved the Pakistan flag. It is part of old dirty game of the Sangh Parivar to depicting any green flag while associated with Muslims as the Pakistan flag.," he said. And added, "the Police without due deliberation have filed case against the innocent students. The SFI is also indulging in nasty political game. The police should immediately withdraw the false accusations and the SFI should stop playing dubious blame game."
We are glad to bring you this fact check. If you are happy with our mission to keep the internet safe of disinformation, do support us by clicking on the link