Fact Check
Nehru Met Bhagat Singh in Jail: The Tribune's Archives Disproves Modi's Claim
Newspaper archives, historians and books written on Bhagat Singh all point to the fact that Jawaharlal Nehru did visit Bhagat Singh and others in Lahore Jail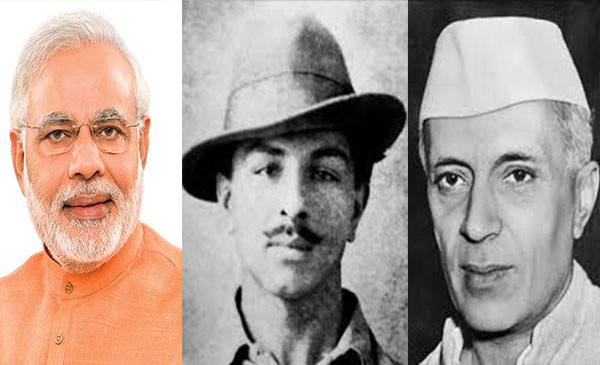 File: Narendra Modi, Bhagat Singh & Jawaharlal Nehru
In the last leg of the Karnataka election campaign, Prime Minister Narendra Modi once again targeted the Congress by pointing out to historical events. While campaigning in Bidar constituency on Wednesday, Modi said, "When Shaheed Bhagat Singh, Batukeshwar Dutt, Veer Savarkar, greats like them were jailed fighting for the country's independence, did any Congress leader went to meet them?"
Also Read: Did Gandhi Ask Savarkar To File Mercy Petitions, As Rajnath Singh Claims?
While the PM did not take any names, his attack was directed towards Congress President Rahul Gandhi who had visited RJD leader Lalu Prasad Yadav at the All India Institute of Medical Sciences where he is undergoing treatment for various ailments. Yadav has been sentenced in the fodder scam case and is currently serving his sentence.
But Thursday morning, historian Irfan Habib refuted the claim on Twitter and said, 'Nehru had not only met them in prison but also wrote about them'.
https://twitter.com/irfhabib/status/994410093952221186
Other journalists also presented excerpts from Jawaharlal Nehru's autobiography where he narrated his visit to the Lahore Jail to meet Bhagat Singh and his fellow prisoners. Bhagat Singh and others had gone on a hunger strike seeking better living conditions for all undertrials and political prisoners. Nehru mentioned that he met Bhagat Singh for the first time and he also met Jatindranath Das and a few others.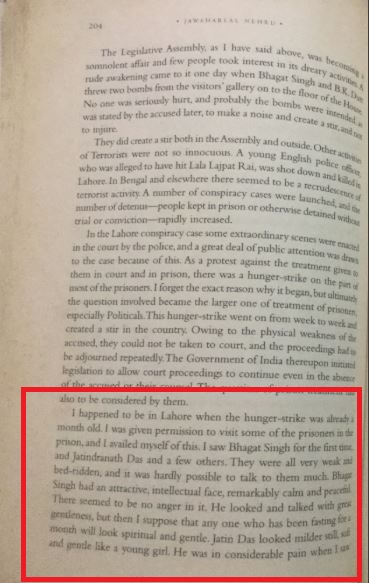 Courtesy: @pujamehra
But that is not the only historical reference to Nehru's visit to the Lahore Jail to visit Singh and the other prisoners. BOOM got in touch with The Tribune which began publication in 1881 from Lahore (now in Pakistan) for copies of news articles published about Nehru's visit to the jail. The news reports collected from the archives clearly show that the visit of Nehru was not limited to autobiographies and accounts written by historians but was reported on the same day it happened. Given below are the screenshots of the editions on August 8 and August 9 in 1929. In the August 9 edition, Nehru is quoted as having said to the press,
"I visited the Central Jail and the Borstal Jail yesterday and saw Sardar Bhagat Singh, Mr. Batukeshwar Dutt, Mr Jatindranath Das and all the other accused in the Lahore conspiracy case, who are on hunger-strike."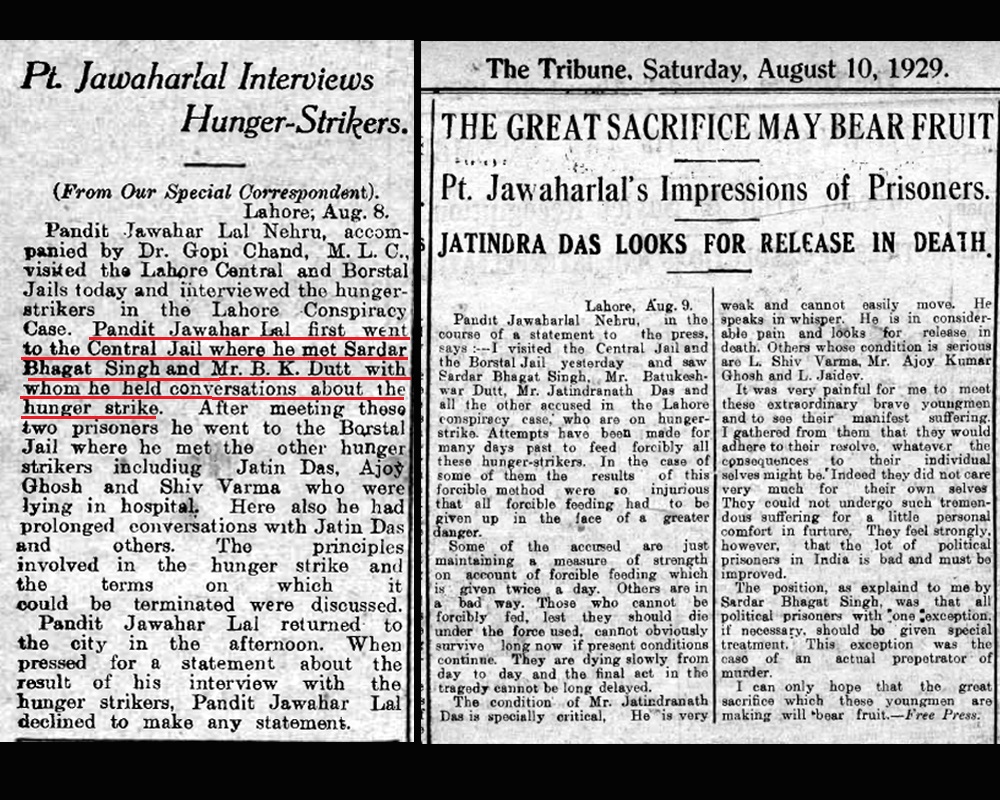 Here are excerpts from history books and authors
From, Jawaharlal Nehru by Frank Moraes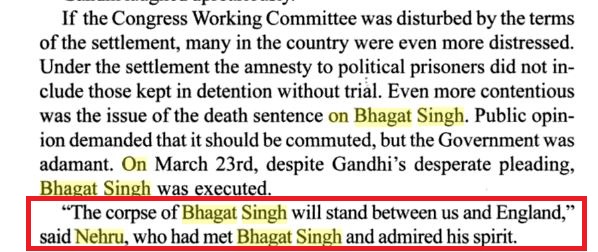 Another excerpt from the book Bhagat Singh by Bhawan Singh Rana is a letter written by the revolutionary on January 20, 1930 to the Home Minister, Government of India. In this letter, Singh wrote that the recommendations around hunger strikes made by the All Indian Congress Committee were not being implemented by the jail authorities and the "Congressmen have been refused permission to see the prisoners."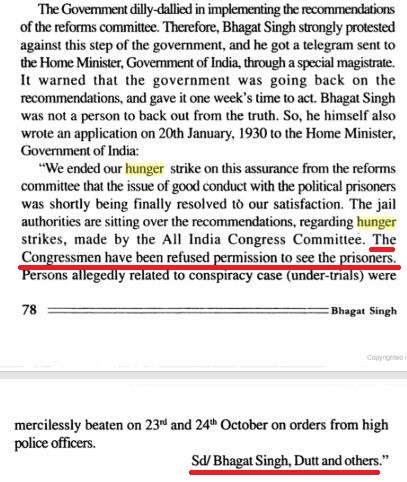 Courtesy: Bhagat Singh, by Bhawan Singh Rana
This is not the first time Narendra Modi has attracted controversy by referring to history in a bid to corner the Congress during the Karnataka election campaign. Last week speaking in Gulbarga, Modi claimed that "In 1948 after defeating Pakistan, General Thimayya was insulted by PM Nehru and Defence Minister Krishna Menon". While different accounts (Read here and here) of what transpired between Nehru and the Generals have now been discussed in several articles, it is clear that the Prime Minister's speechwriters should have done a better job at checking facts before stating that no Congress leader went to meet the freedom fighters when they were in jail.
Do you always want to share the authentic news with your friends?
Subscribed Successfully...
Enter Valid Email Id