Fact Check
Mentally Challenged Man Lynched In MP Over Child Kidnapping Rumours
BOOM reached out to K Karthikeyan, SP, Dindori, who confirmed that the man had fallen victim to the child kidnapping rumours doing the rounds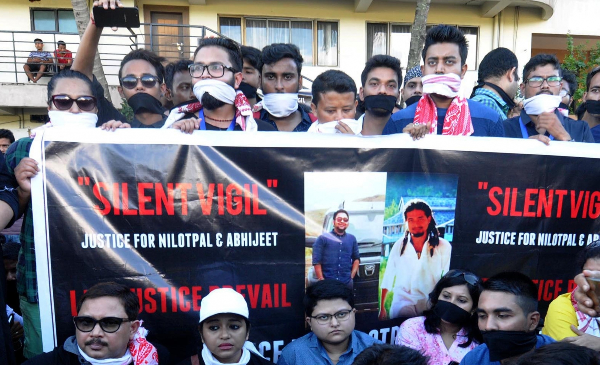 IANS File Image: People stage a silent demonstration against the lynching of two Guwahati-based youths in Karbi Anglong district, Assam, on the suspicions of being child abductors
A mentally challenged man was beaten to death and his body tied and thrown into a well in a village in Madhya Pradesh after a few villagers suspected him to be a child kidnapper. This is the second incident in the state in less than a month after a mentally challenged woman was lynched by villagers after they suspected her to be a child kidnapper.
The incident happened in Singwar village on July 28 but the body of the victim identified as 27-year-old Mukesh Gond was discovered only on August 1 from a well. According to a press release issued by Dindori police, Gond hails from Anuppur - the village next to Singwar.
"At about 9.30 pm, Gond was spotted by some villagers walking out from behind the government school in Singwar. The four men who spotted him called out to him but Gond did not respond and hid behind the school building. The men who were in an inebriated state ran behind him and brought him to the main road and started questioning him. When he could not respond properly to their questions, they started yelling "chor-chor" which caused many other villagers to gather," stated the press note.
BOOM reached out to K Karthikeyan, Superintendent of Police, Dindori,MP who confirmed that the man had fallen victim to the child kidnapping rumours doing the rounds in the district.
"While initially the villagers thought he was a thief, some of them jumped to the conclusion that he was a child kidnapper because he was spotted near the school. Due to his mental state, he could not answer their questions and only told them he was from the next village. Since he was an unknown face and was not giving proper answers, the men beat him up with sticks and then killed him by strangling,"Karthikeyan said. He added that to hide their crime, the accused tied up the victim's body and dumped it into a well. "They even tied stones to the body so that it would not float up."
But on August 1, another villager discovered the body in the well and informed the police. Following investigations, the police arrested ten people from the villagers for the murder including the four men who first spotted him and raised an alarm that he was a child kidnapper.
RUMOURS SPREAD THE OLD SCHOOL WAY
More than 25 people have lost their lives in 2018 alone - all triggered by rumours and fake news of child kidnappers viral on social media and WhatsApp. While the government is trying desperately to tackle this problem by sending out notices to WhatsApp and police departments starting drives to fight fake news, the Dindori police department is grappling with a different set of problem.
BOOM reached out to local reporters and policemen who said that many villages in the State form parts of the tribal belt and there is abysmal to nil mobile network - making it nearly impossible for the villagers to have come across the rumours on social media.
Karthikeyan who was posted to Dindori six months ago says that the Singwar village where the latest incident happened, has no mobile network at all. "The villagers have not come across the rumours on any social media but have heard people in districts and other villages talking about these messages," he explained. He adds that even those who have been arrested had not read a single child rumour message but knew about it.
"The rumours spread to these villages by word of mouth. It's a vicious cycle - those with smart phones and mobile networks receive these messages and discuss them while travelling in buses or while buying vegetables. The villagers from the poor areas are present when these conversations happen and they hear or are a part of these discussions. They have no way of knowing that these are false or fake. They believe it as would anybody when they hear someone else talking about it. They then go back to their village and discuss the same rumour and it is soon known to the entire village," the SP explained.
A reporter with a leading Hindi daily in Dindori confirms the same. He further adds that the villagers regularly come to attend the local fair on Sunday where they again hear such rumours.
"The local fair held in Dindori sees people gather from all nearby villages. It is here that many discuss these messages. Everybody has received them on WhatsApp and they discuss this with those who have no access to them and this spreads like wildfire,"he said. He adds even though local newspapers and the police are doing their best to debunk these rumours, the damage is done. "You ask anybody if they know about bacha-chor incident and every district has one story or image they have received on WhatsApp."
Do you always want to share the authentic news with your friends?
Subscribed Successfully...
Enter Valid Email Id