Meet Anil Upadhyay, A Fictional Politician Made Up By India's Fake News Brigade
BOOM looks at how a fictitious character was conjured by India's fake news brigade to spread viral disinformation in a closely watched national election.
In last few weeks, an MLA named Anil Upadhyay has thrashed a man from the Dalit community in Gujarat, beaten a police officer in Uttar Pradesh and recorded a video praising Prime Minister Narendra Modi while being a member of the opposition party.
If viral social media posts are to be believed, Anil Upadhyay is a Member of Legislative Assembly (MLA) belonging to the Bharatiya Janata Party and the Indian National Congress (Congress) and has been up to no good over the past few weeks.
But MLA Anil Upadhyay does not exist.
BOOM looks at how a fictitious character was conjured by India's fake news brigade to spread viral disinformation in a closely watched national election.
Video Of BJP Councillor Assaulting A Policeman Shared Falsely As Congress MLA Anil Upadhyay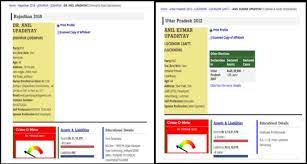 The fake character Anil Upadhyay first made an appearance on April 9, 2019 in a viral video of a BJP leader attacking a police officer in Meerut.
The video started going viral on Facebook with a caption, "What would you say about this unruly behavior of Congress MP Anil Upadhyay. Make this video so viral that entire India can watch it. @INCIndia rowdies, what will you do about this MP".
The fake posts claimed that the politician assaulting a police officer in the video is a Congress MLA named Anil Upadhyay.
BOOM debunked the video and found that the politician was in fact a BJP councillor named Manish Kumar from Meerut, Uttar Pradesh. Read about it here.
2. Video Of TMC Worker Instructing Voters Shared As Congress and BJP MLA Anil Upadhyay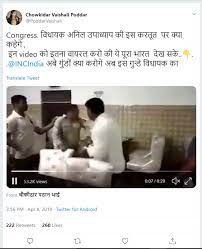 A few days later, the character of Anil Upadhyay made an appearance in the video from West Bengal. A video shot inside a polling booth of a man 'instructing' voters, standing next to them at the EVM machine while they cast their votes was shared with the caption that the man is a Congress MLA from Madhya Pradesh.
Some other posts claimed the man in the video was a BJP MLA, from Madhya Pradesh.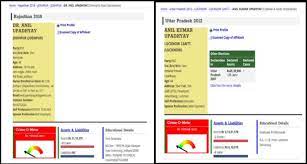 BOOM analysed the video and debunked the posts to show that the man in the video was a member of the Trinamool Congress party named Hamizuddin. The incident was from Islampur in West Bengal and the man in the video confirmed to reporters that it was him in the video. Read about it here
3. Video Of Man Beating His Son-In-law Shared As BJP MLA Anil Upadhyay Thrashing A Dalit Youth For Travelling In A Fancy Car
A two-year-old video from Gujarat of three men brutally assaulting a man in the middle of the street was shared with a misleading caption that BJP MLA Anil Upadhyay beat up a Dalit youth for travelling in a fancy car.
BOOM found the video was of a man assaulted by his in-laws for allegedly assaulting his wife. Read about it here
4. Video Of A Noida Resident Mohan Pandey Praising Narendra Modi Shared As Congress MLA Anil Upadhyay
A viral video of a man praising PM Modi and claiming only "corrupt want him to lose" was shared with a claim that the man was a Congress MLA Anil Upadhyay. The viral video was also aired by Hindi news channel Republic Bharat with the same false claim.
BOOM found that man was Mohan Pandey, an employee at a private firm and not a politician. He told BOOM that he was "just a common man and a Modi fan and not a member of any political party". Read about ithere
Fake MLA Anil Upadhyay all over social media
A search on Twitter for MLA Anil Upadhyay only shows results for all the posts shared on social media with misleading caption that MLA Anil Upadhyay played a central role.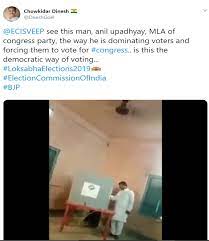 Who is MLA Anil Upadhyay?
BOOM first looked through the official list of Congress MLAs in Madhya Pradesh but did not find any leader by that name.
We then looked through the official list of BJP MLAs in Madhya Pradesh and failed to find any member named Anil Upadhyay.
You can access the Congress list here and the BJP list here
We also looked for any politician named Anil Upadhyay and found two politicians on MyNeta – Dr Anil Upadhyay a leader from the Bahujan Samaj Party (BSP) in Rajasthan and Anil Kumar Upadhyay, an independent candidate from Uttar Pradesh.
MyNeta is a website providing details about candidates contesting elections including their criminal and financial background.
The BSP candidate contested the election from 2018 Rajasthan Assembly elections and the independent candidate contested the 2007 and 2012 elections from Uttar Pradesh. Both of them did not win the elections.
BOOM also searched for any political leader named Anil Upadhyay on social media belonging to either Congress or BJP but found only party workers with the same name.
The story has been updated to show that the video of a TMC leader was falsely shared with a claim that he is a Congress MLA and a BJP MLA respectively.
If you value our work, we have an ask:
Our journalists work with TruthSeekers like you to publish fact-checks, explainers, ground reports and media literacy content. Much of this work involves using investigative methods and forensic tools. Our work is resource-intensive, and we rely on our readers to fund our work. Support us so we can continue our work of decluttering the information landscape.
BECOME A MEMBER