Manohar Parrikar Claims Demonetisation Has Stopped Terror; No, Data Show
12 deaths of armed forces and police personnel, 39 cease fire violations across the border and 33 instances of infiltration since November 9. Maybe Defence Minister should hire a fact checking team before claiming peace in the era of demonetisation.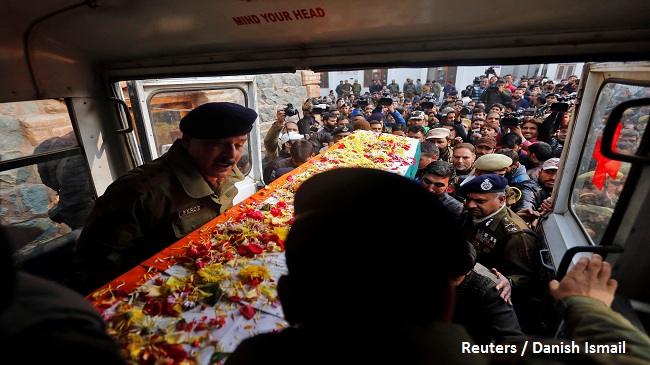 Indian police officers carry a coffin containing the body of their fallen colleague Mohammad Shafi Dar, who according to the police was killed in an encounter with suspected militants on Wednesday, during his wreath ceremony in Srinagar, November 16, 2016.
Has demonetisation of Rs 500 and Rs 1000 notes made our borders secure?
Yes, if Defence Minister Manohar Parrikar is to be believed.
Speaking on Sunday at BJP's Vijay Sankalp rally at Sangeum, Goa, Parrikar said, "Demonetisation is another war by the Prime Minister. This is war against black money which affects the economy of the state. Black money is responsible for inflation in the country. Due to demonetisation, money which was being fed to terrorists, criminals has stopped. We have been giving a tit-for-tat to the enemy along the border. The country's borders are now completely secure."
It is not an isolated statement if his tweet on November 13 is also taken into account.
Demonetization has struck the core of terror funding & PM @narendramodi ji in his speech today emphasized on continuing to fight #BlackMoney

— Manohar Parrikar (@manoharparrikar) November 13, 2016
But do ground reports support this claim? Data collected by IndiaSpend show that ever since India's much talked about 'surgical strike' on September 29 across the LOC took place, 20 Indian Army and Border Security Force soldiers have been killed in cross-border firing.
At Least 20 Indian Soldiers Killed Along LoC, J&K Terror Attacks, Since 'Surgical Strikes' https://t.co/qeZvGhs0jA — IndiaSpend (@IndiaSpend) November 25, 2016
And even as we analyse this data, terrorists have struck again. 7 soldiers were killed in a terror attack on an army artillery unit in Jammu and Kashmir's Nagrota on Tuesday morning.
Our own fact check across news sources and foreign ministry statements suggest that ceasefire violations across the border have also been on the rise. 39 cease fire violations happened across the border post demonetisation between 9th-21st November and 12 soldiers were killed in the encounters.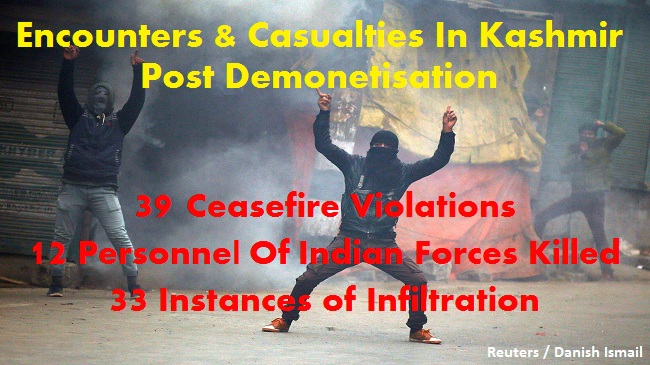 Masked protesters shout pro-freedom slogans amid smoke from a tear gas shell fired by the Indian police during an anti-India protest in Srinagar, November 25, 2016.
Let us take a look at the events in Kashmir post announcement of demonetisation on November 8 by Prime Minister Narendra Modi:
Nov 9th – Reuters reported gunfire with Pakistani troops at Machi sector of Kupwara district which led to killing of 1 soldier and 2 militants.
Nov 16th – Indian Express reported that one policeman was killed and another injured when militants attacked the Sufi Shrine at Tujjar near Sopore.
Nov 17th – Vikas Swarup, spokesperson of Foreign Ministry, made a third demarche to the Pakistan High Commission that, 'Pakistan forces have committed 12 ceasefire violations between 9th and 15th November, 2016 targeting 14 villages which led to 4 fatal and 25 non-fatal injuries. During the last week alone, there have been 18 instances when terrorists attempted to infiltrate into the Indian side from the vicinity of Pakistani posts and also targeted Indian posts and patrols.'
How come the foreign ministry has something different to say from the Defence Minister Parrikar? When Swarup lays down the number of aberrations, Parrikar seems to be living in a different India. This could be because both the departments do not work in tandem or Parrikar does not consider these as violation of peace.
Nov 18th – Pakistani troops targeted Nowshera and Sunderbani districts of Rajouri districts by heavy mortars and arms which led to the injury of a woman and destruction of two houses.
Nov 19th – Separatists, Hurriyat and JKLF, announced relaxation of shutdown for 2 days after 4 months of continuous shutdown of the Valley.
Different separatist groups managed to make a joint statement, but the government seems unable to make a coherent statement on the Kashmir situation.
Nov 20th - Heavy firing by Pakistani army in Rajouri sector killed BSF soldier, Rai Singh and injured 3 other soldiers
Nov 21st - Separatist shutdown resumed after two days of relaxation.
Nov 22nd – Rs. 15,000 in 2000 and 100 denominations recovered from slain militants in Bandipora area. 3 soldiers killed in Machil sector, among which one soldier's body mutilated.
The militants seem to have found a way to exchange more than Rs. 4,000 per day even as lakhs of people across the country struggle to get their hand on the new currencies.
Nov 24th – Foreign Ministry spokesperson, Vikas Swarup, once again made a demarche against Pakistan stating that 27 ceasefire violations and 15 instances of infiltration happened between November 16th and 21st.
Reuters reported that markets and roads remain empty as separatist shutdown continues in Srinagar.
Once again, spokesperson Swarup has something different to say. His statement sounds like demonetisation could not seal the borders as Parrikar claims so.
Nov 25th - An attack on Police in Kulgam district killed two policemen and injured one.
Nov 26th – A BSF soldier dies as militants attack convoy in Kupwara district.
Nov 27th – Separatists announce relaxation on November 26th and 27th.
Nov 28th – One more encounter between security forces and militants in Handwara.
Nov 29th – A major attack on the headquarters of the Army's 16 Corps in Nagrota killed 3 soldiers.
It cannot be denied that there are positives due to demonetisation and activities of outlawed organisations fighting the state have been affected. The Times of India reports 564 Maoists and their sympathizers have surrendered before the authorities in the last 28 days, the highest number to do so in a month ever, across left-extremism affected states. But the report also says that a number of other factors like crackdown by CRPF and various state police forces have also contributed to these surrenders.
Maybe Parrikar should learn to wait for the events to play out before making sweeping statements that cannot be backed entirely by data. After all, he is the Defence Minister of India, one of the world's largest democracies that is fighting terror on a daily basis.
[video type='youtube' id='-f73FJJqaI4' height='365']