Fact Check
Police Refute Social Media Claims That Muslims Youths Were Behind Gurugram School Bus Attack
Police quash rumour mill that says the names of five arrested for attacking a school bus in Gurugram are Saddam, Aamir, Feroze, Nadeem and Ashraf.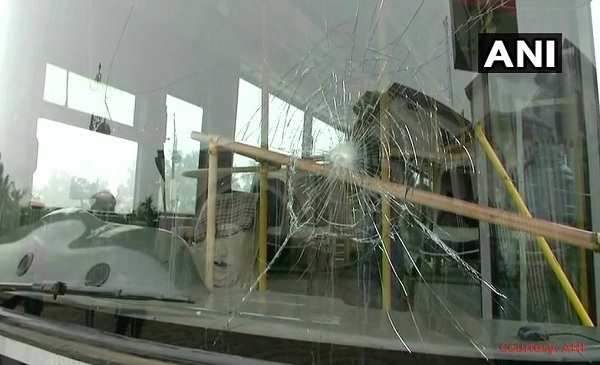 The commissioner of police of Gurugram has rubbished claims on social media that Muslims were behind the cowardly attack on a school bus in Gurugram on Wednesday.
Days after suspected Karni Sena members stoned a school bus belonging to the GD Goenka World School in Gurugram and images of frightened school children huddled beneath seats, shocked and angered Indians, a communal twist was given to the incident on social media.
Many claimed that while Rajputs were being blamed for the violence, Muslim youths were actually involved in the attack. Messages on Twitter and Facebook claimed that the names of five people arrested for stone pelting were 'Saddam', 'Aamir', 'Feroze', 'Nadeem' and 'Ashraf'.
"The names used on social media is an absolute canard and complete falsehood," Gurugram Commissioner of Police, Sandeep Khirwar told BOOM on Friday. "The accused have already been arrested in the case and further investigations are on."
Hours after speaking to BOOM, the official handle of Gurugram Police also tweeted a denial on Twitter.
This is to clarify that no Muslims boys have been detained in relation to the recent acts of vandalism on a Haryana Roadways bus and a School bus in Gurugram.

— Gurugram Police (@gurgaonpolice) January 26, 2018
Even though no evidence was provided to support the claim; several prominent Twitter handles took the lead in propagating conspiracy theories.
The names of the 5 people arrested for stone pelting a children's school bus in the name of Karni Sena protesting against Bhansali's movie are Saddam, Aamir, Feroze, Nadeem and Ashraf. IF ABOVE NEWS IS TRUE THEN IT SPEAKS VOLUMES. No more need be said

— MadhuPurnima Kishwar (@madhukishwar) January 25, 2018
गुड़गांव में स्कूल बस पर पथराव के पकड़ेगए आरोपीयों के नाम सद्दाम,आमिर नदीम,फिरोज और अशरफ।करनी सेना की आड़ में नक्सली आपिये और वामपंथियों के शांतिप्रिय समर्थक मासूमों पर हमला कर गये ! चलो अब नक्ससली @ArvindKejriwal को नींद आ जाएगी और आत्मा को शांति भी प्राप्त होगी #BanPadmaavat pic.twitter.com/NIDSb79QPS

— Jay® (@Saffron_Rocks) January 25, 2018
जो कहा था मैंने वही साबित हुआ

गुड़गांव में स्कूल बस पर पथराव में "करणी सेना" के

सद्दाम, आमिर, नदीम, फिरोज और अशरफ पकड़े गए ।#PadmaavatRow

— Jitendra pratap singh (@jpsin1) January 25, 2018
जो कहा था मैंने वही साबित हुआ

गुड़गांव में स्कूल बस पर पथराव में "करणी सेना" के

सद्दाम, आमिर, नदीम, फिरोज और अशरफ पकड़े गए ।

पर मुझे तो ये शंक हो रही है कहि मीडिया ये न कह दे सारे पकड़े गए शांतिदूत मुस्लिम राजपूत है@anjanaomkashyap @ZeeNewsHindi@manakgupta #PadmaavatRow

— कुंवर अजयप्रताप सिंह (@sengarajay235) January 25, 2018
In a report filed by the Indian Express on Thursday, there is no mention of any Muslim being caught for the vandalism. The police have held 18 suspects, including eight minors and all of them belong to Rajput-dominated Bhondsi village that is situated about 500 meters from where the buses were attacked.
The attack on the school bus carrying children and teachers were condemned by people across social media. Many had expressed outrage how those invoking historic Rajput pride could attack defenceless children. The Karni Sena have denied their involvement in the incident and have blamed political parties for defaming them in a bid to scuttle their protest against Sanjay Leela Bhansali's Padmaavat.
https://www.sharethefacts.co/share/8ecbd531-d5aa-4ab0-8ba4-8bc9e4d2b543
(This story has been updated to include Gurugram Police's tweet)
Do you always want to share the authentic news with your friends?
Subscribed Successfully...
Enter Valid Email Id