Law
SC Begins Hearing Amid Strong Opposition To Same Sex Marriage
On January 6, 2023 Supreme Court transferred all pleas pending in high courts seeking recognition of same-sex marriage.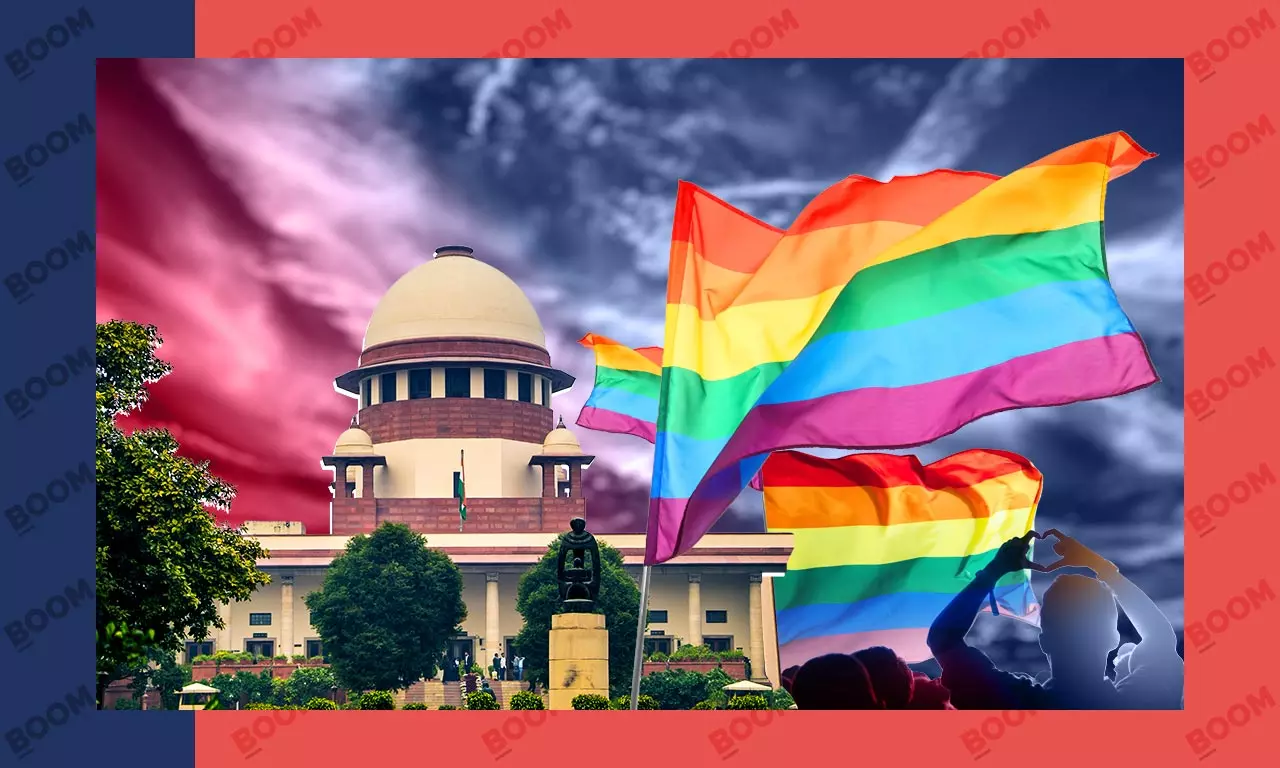 Supreme Court today will begin hearing pleas seeking recognition of same-sex marriages. However, before it begins deliberation and frames issues of law that will define the scope of arguments, the Supreme Court must decide on the Centre's plea challenging the maintainability of the pleas.

The pleas—which were transferred to the Supreme Court from different high courts—have drawn sharp reactions from different sections of society. While there are a few who want to welcome this socio-legal move, there are those who feel same-sex marriages would destroy the fabric of society.

The Indian Psychiatric Society issued a statement in support of the LGBTQIA+ community and said they must be treated like any other citizen of the country and they must be allowed to enjoy all civil rights including marriage, and adoption.

Over the weekend, the Center filed a fresh affidavit challenging the batch of pleas seeking recognition of same-sex unions.

Since marriage is an institution which can be created, recognised and conferred with legal sanctity, only the legislature and not the courts had the power to decide on this issue, Centre told the top court.

More than five years after gay sex was decriminalised, the queer community moved courts seeking legitimacy and legal recognition of same-sex relationships. On March 13, the top court referred the matter to a five-judge Constitution Bench to decide pleas seeking recognition of same-sex marriages. Chief Justice of India DY Chandrachud will lead the bench which will also comprise Justices Sanjay Kishan Kaul, Ravindra Bhat, Hima Kohli and PS Narasimha.

According to details available on the Supreme Court's website, there are 21 petitioners and around 20 intervention applications have been filed – either to oppose or in support of same-sex marriage.

BOOM recaps the views of some of these intervenors.
Strangers before law: Plea for recognition of same-sex marriage
In 2020, three same-sex couples—including Nikesh and Sonu, considered to be the first married gay couple in the country—moved high courts across the country seeking legal recognition of same-sex relationships.
In their plea before the high courts, the couples contended that existing laws violated their right to choose a partner of their choice. "Without marriage, the Petitioners are strangers in law," Kavita Arora and Ankita Khanna, who have been together for over a decade, contended.

Over time, many more joined the cause and ultimately the Supreme Court earlier this year on January 6, transferred all matters pending in the high courts before it for deliberations.

While chalking out the salient points of his arguments, senior advocate Abhishek Manu Singhvi said, "One is a philosophical proposition – 'the right to love makes us human'. It should be extended in equal terms," Singhvi has said. The senior advocate argued that the Supreme Court could extend it on equal terms only if it read down several provisions of marriage laws. "It has to be read in such a way that terms such as man, and woman are done away with," he had said.
Pleas in court represent views of urban elitist: Centre
In its second affidavit on this issue, the Centre said pleas seeking recognition of same-sex marriage merely represent "urban elitist views for the purpose of social acceptance" and cannot be compared with the appropriate legislature which reflects the views and voices of the far wider spectrum and expands across the country.
Centre said, "Only Parliament can take into consideration views of not just urban elites but rural, semi-urban, rich, poor, different religious denominations etc. all sections of society".

The government added that the question concerning legal recognition of same-sex marriage and its parity with the existing concept of marriage, as an exclusively heterogenous institution, which is governed by the existing legal regime and has a sanctity attached to it in every religion in the country, seriously affects the interests of every citizen.

In its reply filed on March 12, the Centre opposed pleas seeking marriage equality arguing that same-sex couples in a live-in relationship cannot be compared to an Indian family unit comprising a biological man, a biological woman and their offspring.
NCPCR says children of same-sex couples in danger; DCPCR says children grow up in a non-discriminatory environment
Even as the National Commission for the Protection of Child Rights (NCPCR) has opposed same-sex marriages, the Delhi Commission for Protection of Child Rights (DCPCR) has welcomed the move.
Both child rights bodies have sought to intervene in pleas seeking recognition of same-sex marriage. The NCPCR submits that "allowing adoption to same sex couple is akin the endangering the children". It added that giving children to be "raised by persons having issues" would be "exposing children to struggle just for experimentation".

Children being raised by same-sex parents would have limited exposure to traditional gender roles which will impact their understanding of gender roles and gender identity, the apex child rights body said. NCPCR further relied on the Hindu Adoption and Maintenance Act (HAMA) which does not allow same-sex couples to adopt.

Giving a psychological context to the matter at hand, the DCPCR contended "multiple studies on same-sex parenting have demonstrated that same-sex couples can be good parents, or not, in the same manner, that heterosexual parents can be a good parent or not."

More than 50 countries have legalized same-sex marriages, the state commission added. DCPCR said it was important to highlight that children of same-sex couples grow up in "non-discriminatory" environments in general. In socio-legal situations where the queer community are not treated at par with their heterosexual brethren, children who identify as LGBTQIA+ tend to develop adverse psychological complexes and suffer from low self-esteem and other mental health issues.

"Further, unless equal rights are accorded to homosexuals, their acceptance, assimilation, and legitimacy will remain under troubled waters. This again is bound to have its bearing upon adolescents," the state commission added.
Concept of same-sex marriages attacks the family system: Muslim Body to SC
Jamiat Ulama-i-Hind—a Muslim body—opposed same-sex marriage submitting that the concept of "marriage" is more than just the socio-legal recognition of a union of "any two persons". The concept of same-sex marriage goes to attack the family system rather than making a family through this process, the Muslim body said.
"The recognition of marriage is on the basis of established and sustainable societal norms and shall not keep changing on the basis of variable notions based upon newly developed value system emerging from a different worldview in a different paradigm," it added.

Through these pleas, the petitioners are seeking to "dilute" the concept of marriage, a stable institution, by introducing a free-floating system by introducing the concept of "same-sex marriage", the affidavit read.

JUIH said that similar to most religions, from Christianity to Hinduism, "Islam's prohibition of homosexuality has been categorical from the dawn of the religion of Islam itself".

"Any person who questions the well-established norms of religion or demands the creation of a non-existing space within the religious norms and its teachings is in fact seeking to amend the religious norms. There cannot be an imposition of a radical non-religious worldview in established, inseparable and core principles of religions," the affidavit read.
Same-Sex marriage is unnatural, will prove disastrous to society: Hindu Body to SC
The Akhil Bharatiya Sant Samiti, a Hindu body, has also opposed same-sex marriage on the ground that it is "totally unnatural" and would prove "disastrous to society".
"Hindu marriage is a sacramental relationship between a biological man and a biological woman, unlike under Muslim law, where marriage is a contract. As a legal institution as well, marriage between opposite sexes has been central to the legal regime of our country. The writ petitioners are trying to destroy the very Indian concept of marriage by promoting same-sex marriage, which is going to attack the whole family system in India," the Hindu body told SC.

Do you always want to share the authentic news with your friends?
Subscribed Successfully...
Enter Valid Email Id