Law
Govt Can Regulate Certain Relationships If Legitimate Interest: Centre on Marriage Equality
Five-judge Constitution Bench of the Supreme Court began hearing pleas for marriage from April 18 onward.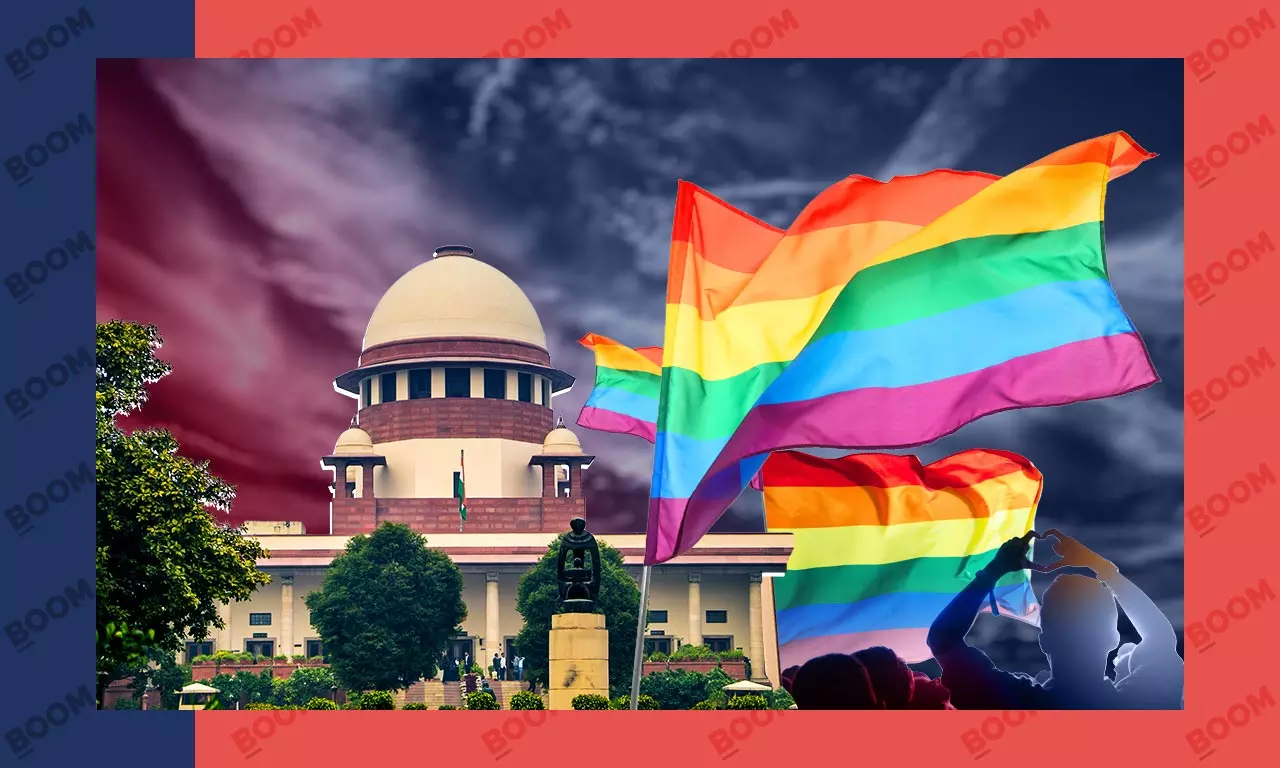 Centre told the Supreme Court that though the government cannot regulate social personal relationships, it could intervene and regulate "certain relationships" if it was in the legitimate interest.
Solicitor General Tushar Mehta, representing the Centre, also expressed apprehension that if one allowed marriage equality and legitimised what is considered to be "forbidden relationships", then at some point in the future the same arguments could be made to allow incest or polygamy.
Today, on day six of the hearing on Marriage Equality, the top court engaged in a back-and-forth discussion on this topic even as the Centre presented its views opposing "same-sex" marriage.
Can queer couples get rights, without legal recognition as marriage? SC to Centre
The Supreme Court asked the Centre if there could be some arrangement where the queer community could be granted some kind of legal recognition but perhaps not label it "marriage". SC observed that, if the right to cohabit was recognised as a fundamental right, then correspondingly, the State would be obligated to recognise all social impacts of cohabitation and grant it legal recognition.
While the top court accepted that granting marriage equality fell within the legislative's domain, it stressed that the objective behind hearing these pleas was to ensure that queer couples were given social and other benefits along with legal rights without the label of marriage.
Justice S Ravindra Bhat, one of the five judges on the bench, wondered if we could give some sort of recognition to couples from the queer community.
"When we say recognition, it need not be recognized as a marriage. It may mean recognition which entitles them to certain benefits. The association of two people need not be equated to marriage," Justice PS Narasimha, who is also part of the bench said.
"We may not call it marriage, but some labels are necessary," Justice Bhat said.

BOOM captures the highlights of the Centre's submission. You can watch the proceedings here:
Not all relationships need to be recognized: Centre
Solicitor General (SG) Tushar Mehta argued that the state must be slow in recognising relationships. "State is not obligated to recognize each and every social relationship," he said adding, "Not all relationships need to be recognized."
"Right to love, right to cohabit, right to choose a partner, right to have a sexual orientation is a fundamental right but there is no fundamental right to seek recognition of that relationship as a marriage or in any other name," Mehta said.
A state can regulate certain relationships in the public interest if it feels that it is in the legitimate interest to do so, Mehta said. "Therefore, marriage was not a regulated relationship. But the state in its legislative policy wisdom decided that we will regulate, and we can regulate only when we recognize (relationships)...," Mehta submitted.
He contended that if such marriages were permitted, as many as 160 laws provisions of law be affected which would lead to 'irreconcilable' differences in the country's statutory framework.
Giving legal recognition to queer couples may be used as a launchpad to legitimize incest: Centre
The SG argued that if legal recognition was given for marriages between non-binary, non-heterosexual, or transgender persons; then tomorrow this could be used to defend incestuous relationships.
"Visualise a situation, when a person is attracted to those persons who are mentioned in forbidden/prohibited relationships... Incest not uncommon in the world and world over it is prohibited...Suppose a person is attracted to his sister, can they say we are consenting adults, we're entering into activities privately and we claim our right of autonomy, choice? Tushar Mehta said.

When Chief Justice of India (CJI) DY Chandrachud argued that this theory was "far-fetched", Mehta promptly replied that at one point, "We used to treat even this as far-fetched."

Mehta added that people could also argue for polygamy. People may say my choice is polygamy...arguments, the way they are read for marriage can be made...Whether they're accepted or not is another thing, (but same could be done) for challenging incest and prohibited relationships, Mehta said.
Indian culture broad, inclusive; current values an impact of British Victorian morality: SC
CJI DY Chandrachud observed that Indian culture was actually very broad-minded and inclusive when SG Tushar Mehta said the LGBTQIA+ movement seeking rights was more of a social movement which began in 2002.
"No SG…," CJI Chandrachud said, "This started much before and it had to be given up to make way for the Victorian philosophy."

Go to any temple and see murals... see the year 1857 and thereafter… Restrictions were a code of British Victorian morality that was imposed on a totally different society. A culture which was so different and broad; and also a reason why our religion survived...," the CJI said.

Justice Sanjay Kisan Kaul, who along with Justice Him Kohli made up a five-judge bench, argued that if concerns of the gay and lesbian community have to be addressed, legislation like the Transgender Act may be needed. But the answer will not be in the transgender act, Justice Kaul clarified.

The solicitor General then said that there was a stigma about transgenders... others (like the gay lesbian community) do not face stigma. "Persons in L or G category of LGBTQ, they're not stigmatised or getting problems," Mehta said.

CJI Chandrachud immediately corrected the SG saying they're "very badly stigmatised". "If you see (parliamentary) debates on the Special Marriage Act, you will see there was a considerable degree of social stigma attached…" the top judge said.

The top court, which began hearing pleas on marriage equality from April 18 onward, will continue hearing the matter on May 3. The Supreme Court on April 18 had asked all parties to steer clear of personal law and limit their interpretation of rights to the Special Marriage Act.

Do you always want to share the authentic news with your friends?
Subscribed Successfully...
Enter Valid Email Id