Media
Journos' Copycat Tweets Thanking Smriti Irani: PR Stunt Or Lapse Of Judgment?
Identical tweets thanking the I&B Minister creates a moral dilemma over a worthy cause, puts spotlight on age old issue of relationship between journalists and those in power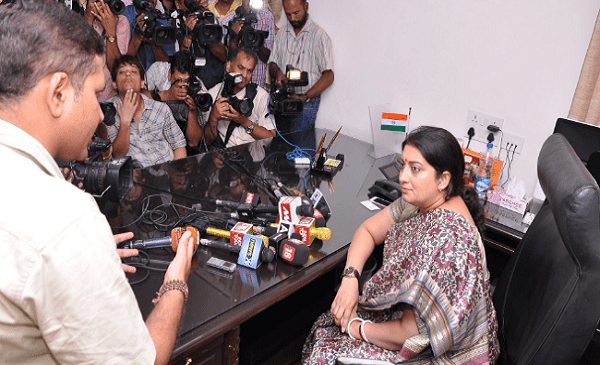 What prompted 17 journalists to copy paste the same tweet on Thursday thanking Union Minister for Information & Broadcasting for raising the amount allotted to the Journalists Welfare Fund? And was the tweet sent to these journalists by Smriti Irani as alleged by one Twitter handle?
Several prominent political reporters and editors like Vikas Bhadauria of ABP, Pallavi Ghosh of News18, Rakesh Singh of India News among others tweeted, "Thank you @smritiirani for raising the amount of journalist welfare fund from Rs 20 lakh to Rs 1 crore." #SmritiRaisesJournalistWelfareFund
The identical tweets didn't go unnoticed and several users criticised the journalists for promoting Smriti Irani openly for raising the amount allocated to the Journalists Welfare scheme from Rs. 20 lakh to Rs. 1 crore in next fiscal and running the hashtag #SmritiRaisesJournalistWelfareFund.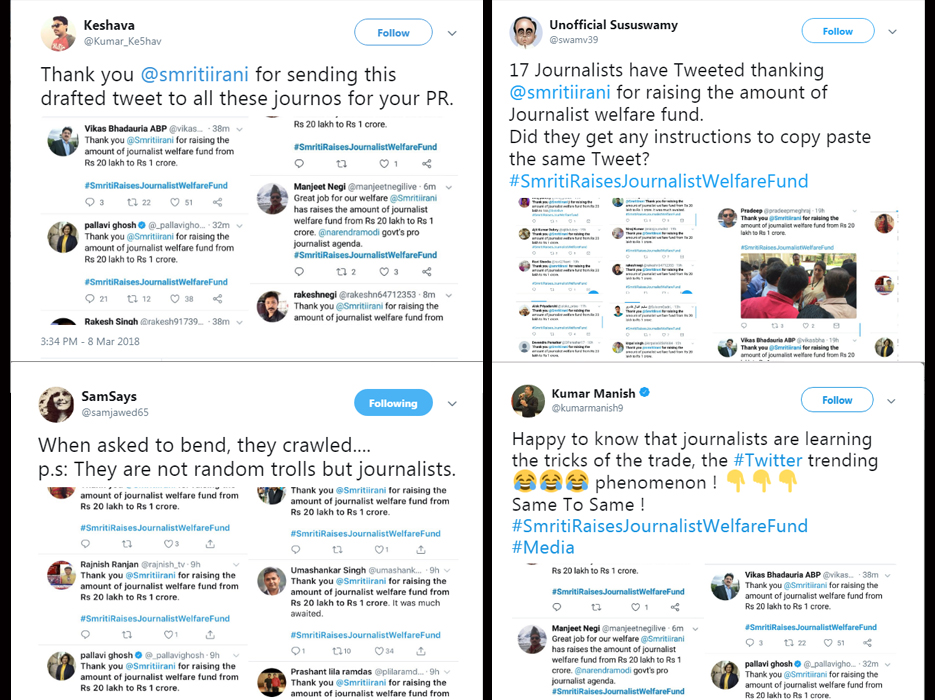 Press Trust of India (PTI) had reported this five fold increase and that it is to be implemented from April 1, 2018 citing an unnamed official from the Information and Broadcasting Ministry (MIB), on Wednesday.
BOOM spoke to Vijay Kaushik, Under Secretary (Press) of MIB who confirmed that the news was true.
BOOM spoke to several journalists including some who had tweeted the copy-paste tweets and they have denied that this was part of any orchestrated PR campaign for the union minister. These journalists agreed to speak to BOOM on the condition of anonymity as they are not authorised by their organisations to speak to the media.
Two senior editors BOOM spoke to said that an informal body of broadcast journalists have been in contact with the I&B ministry for a welfare fund dedicated to journalists in the industry. This, they say has been necessitated due to severe economic stress on the industry that has meant that most non-accredited journalists who work with TV stations do not get the benefit of the Journalists Welfare Fund. But an another editor BOOM spoke to denied this charge as he said that there have been cases in the past where non-accredited journalists have been taken into consideration by the panel authorised to release funds.
It is in this context that a text of the tweet was circulated in an informal WhatsApp group of journalists, said a senior editor. This senior editor admits that it was a huge lapse of judgment on their part to tweet out the same text but it was only out of a genuine appreciation for the minister who had raised the fund corpus. Journalists involved in these tweets have denied that this would force them to be soft on Smriti Irani or the I&B ministry.
BOOM has not been able to independently verify the source of the text that the tweet originated from.
Interestingly, this move by Smriti Irani also comes at a time when she is at loggerheads with Prasar Bharati (the body that runs Doordarshan and AIR) over the ministry's unprecedented step of withholding funds the public broadcaster needs to pay the salaries of its employees. Digital news website The Wire had reported in the first week of March that the decision to block funds were taken after Prasar Bharati refused to pay nearly Rs 3 crore as fees to a private company at the cost of national television channel Doordarshan - a move the website reports angered the minister resulting in a huge row.
While the move is a positive for journalists in the country, Twitter users were annoyed with journalists circulating the exact same tweet and saw it as a plug for the minister. This is the first instance that BOOM has come across Indian journalists copying and pasting identical tweets, a formula used mainly by political parties so far to manufacture trends and influence public opinion. See BOOM's stories on this in the past ( here, here and here).
A former television editor that BOOM spoke to said that this incident of putting out copy paste tweets should not be looked at in isolation and is part of a far deeper malaise impacting the industry. He said that while no motives should be imputed to these tweets as it is an attempt to help genuine needy journalists, these editors should have not plastered their views in such a manner on a social media site.
"The fact that journalists have to approach the government for welfare is itself an uncomfortable issue. This is a result of organisations failing to meet the welfare of its own journalists which have resulted in its employees approaching the ruling establishment to get doles," said the former editor to BOOM.
But, what is this Journalists Welfare Scheme? BOOM does a context check.
What is the Journalist Welfare Scheme?
The scheme 'provides one time ex-gratia relief on urgent basis to journalists or his/her family ( in case of demise of journalist)', according to Lok Sabha question dated March 4, 2018. 'Ex-gratia relief' means the government is not liable to pay, but does it out of goodwill.
Under the scheme, up to Rs.5 lakh may be provided to the family under extreme hardship in cases of death or permanent disability of the journalist, Rs.3 lakh for cost of treatment of major ailments and Rs.2 lakh for hospitalization in case of accidents causing serious injuries.
To be eligible for the scheme, you need to be a 'working journalist' or 'media personnel', an Indian citizen residing in the country and accredited to the Press Information Bureau. See the list of PIB accredited journalists here.
Non accredited journalists who have completed 5 continuous years are also eligible but will be limited to Rupees One Lakh for journalists and Rupees One Lakh for every additional 5 years of working with Rs 5 lakh as the maximum amount.
See below screenshot from MIB's Guidelines For Journalist Welfare Scheme.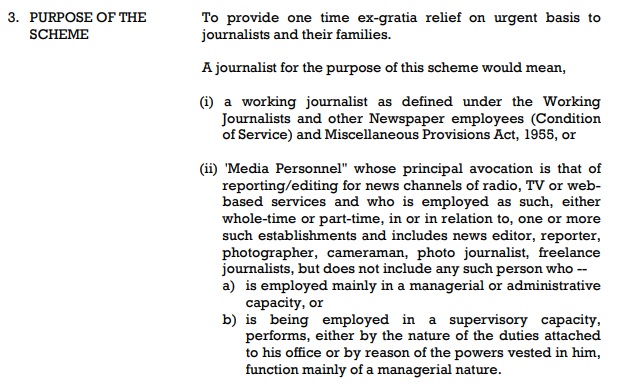 In 2016-17, Rs 25.8 lakh was sanctioned under the scheme against an allocation of Rs 15 lakh, according to a PTI report.
In 2017-18, the allocation was increased to Rs 20 lakh which is now increased to Rs 1 crore for next fiscal.
MIB's guidelines specifies that, 'grant of financial assistance from the Scheme to any working journalist is not a matter of right.' The assistance is sanctioned based on eligibility / merits of the application by a committee comprising members from the Ministry.
Do you always want to share the authentic news with your friends?
Subscribed Successfully...
Enter Valid Email Id