Elections
How BJP Stormed Mamata Banerjee's Citadel In West Bengal
Polarisation, a weak Left Front and showdowns - BOOM explores the reason that led to BJP's remarkable showing in West Bengal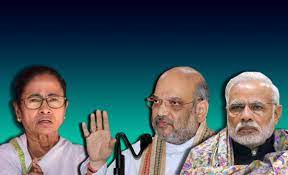 The Bharatiya Janata Party made huge inroads in West Bengal, a stronghold of the Mamata Banerjee-led Trinamool Congress, after a bitter and long-drawn-out fight for dominance in the state drew to an end.
BJP, which won only two Lok Sabha seats in the state in 2014, improved its tally this year. It has won 18 seats while the Trinamool Congress has won 22 - out of 42 seats.
West Bengal is electorally significant as it sends 42 representatives to the lower house of parliament after states such as Uttar Pradesh (80) and Maharashtra (48).
While the BJP swept the 2014 general elections with a record win in north, west and central India, the east still had to be won.
Here's a roundup of why West Bengal became a battle royale.
BJP's 'appeasement politics' attack on the TMC sticks
BJP throughout its campaign in the state reiterated its charge that Mamata Banerjee practiced appeasement politics - showing a soft corner for Muslims and Bangladeshi immigrants, often at the expense of Bengali Hindus. The BJP also raised questions about alleged hindrances in the celebration of two of Bengal's biggest festivals - Durga Puja and Saraswati Puja.
The introduction of the Citizenship (Amendment) Bill 2016 by the BJP and its support for the National Register of Citizens (NRC) was done mainly to extend BJP's influence in Bengal and Assam. Both moves aggravated the us-versus-them sentiment in West Bengal.
The Hindu narrative played an important part in shifting a major chunk of the vote bank, according to political analysts.
Shibashish Chatterjee, professor of international relations, Jadavpur University, reiterated, "The reason why BJP had a remarkable improvement in the state is because of the border districts marred by infiltrators from Bangladesh and its Hindu votes."
"The Hindu narrative became electorally meaningful."
The unprecedented mutual insults
Political discourse between the BJP and TMC kept testing new lows throughout the campaign. While the prime minister called the TMC - 'tolabaaz' or a party of extortionists, the chief minister retorted with a 'slap of democracy' jibe at Modi. Narendra Modi also described Mamata Banerjee as an obstacle to development - dubbing her 'Speedbreaker Didi'. In reply, Banerjee invited Modi to savour 'Bengali rasgullas made of stones and pebbles'. Indeed, the battle of words took a comic turn at times.
Battles off the field
As slurs flew between the chiefs of the two parties, Banerjee held her ground by refusing permission to BJP rallies in the state on multiple occasions. On February 3, Uttar Pradesh Chief Minister Yogi Adityanath was supposed to address a rally in south Dinajpur, but his chopper was denied permission to land at the last moment. Yogi Adityanath addressed supporters over phone. Earlier, permission was withheld for the chopper of BJP President Amit Shah to land in Malda airstrip on grounds of inadequate landing facilities, forcing Shah to opt for a private helipad.

The finale - Amit Shah's roadshow
On May 14, five days before Kolkata was to go to polls in the last phase, its iconic College Street turned into a battleground, literally. Amit Shah's road-show had to be cut short because of a pitched outbreak of violence and lawlessness that prevailed in the area. BJP and TMC supporters clashed on the streets of Kolkata, when Shah's convoy was passing College Street. Though Shah escaped unhurt, several supporters of both the parties were injured in fist fights and lathi-charge, after students in the area demonstrated using black flags and shouted slogans against Shah.
Blow on the harbinger of Bengal's Renaissance, Ishwar Chandra Vidyasagar
The College Street violence that erupted during Shah's roadshow, spilled over to Vidyasagar college, where a bust of Ishwar Chandra Vidyasagar - the pioneer of the Bengali Renaissance, was vandalised by miscreants. Both parties have blamed each other for the vandalism. In a first, following the Vidyasagar college fiasco, the Election Commission of India curtailed all campaigning in the state one day before its scheduled end.
Bengal under relentless attack of fake news
While disinformation has played a key role this election, in West Bengal it was weaponized. BOOM found a series of unrelated violent videos from different states and neighbouring country Bangladesh, that were passed off as West Bengal. (Read about it here) This is in addition to the host of photoshopped pictures and edited video clips of Mamata Banerjee's speeches.

Left Out
For a state which thrived on an absolute Left majority until only 12 years ago, the block did not win a single seat this time. "The Left Front in the state has been suffering from a serious leadership crisis for quite sometime now," political analyst Udayan Bandyopadhyay, told BOOM.
"The entire Left wipe out went into BJP's kitty," Bandyopadhyay added.
Do you always want to share the authentic news with your friends?
Subscribed Successfully...
Enter Valid Email Id