Honda Giving Activas For Diwali? Don't Get Taken For A Ride By This WhatsApp Forward
A fake giveaway is viral on Whatsapp, apparently by Honda, who joins Cadbury and Amazon in being targeted by WhatsApp forwards that state these companies are giving free gifts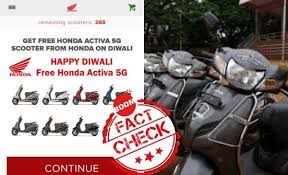 A viral Whatsapp forward, stating that motorcycle company Honda India is giving free scooters for Diwali is fake, as the link provided in the message redirects users to a website that is not officially one of Honda motorcycle.
The Whatsapp forward has reached BOOM multiple times on its Whatsapp helpline (7700906111).

The message carries a claim that Honda is giving 300 of its Activa 5G scooters for free on the occasion of Diwali, which fell on October 27 this year.
Activa is a popular scooter, which recently regained its status as the top selling two-wheeler brand in India.
Users on Twitter too were questioning Honda motorcycles about this tweet, carrying the same link as in the Whatsapp message.

When a user clicks on provided link on a phone, the following page opens up. It carries the URL 'honda.com-cc.com'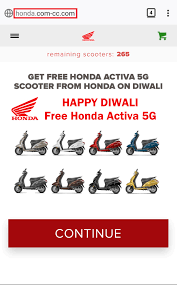 Then, users are asked to select their colour of preference, and how they came to know of the message. Finally, the website does "grant" a scooter with a promise of delivery in two days on the condition that the message be forwarded to twenty more people on WhatsApp.

If the same website is accessed on a desktop, a user is redirected to another shady website 'go6.co'.
Both these URLs are much unlike the official website of Honda's website, which is honda2wheelersindia.com.
BOOM contacted a spokesperson of Honda, who declined to provide a comment.
This is the latest the latest in a line of supposed giveaways being made by top brands. Only recently, BOOM has debunked fake promises of free gifts by chocolate-maker Cadbury and Amazon that were circulating in a similar manner on Whatasapp.
Also Read: Amazon Great India Sale Hijacked By Fake Links On WhatsApp
And Is Cadbury Giving Out Free Chocolate Baskets?

Claim Review :
Honda is giving 300 Activa scooters for Diwali
Claimed By :
Whatsapp messages