H Raja's Social Media Playbook: Tweet, Delete, Repeat
BJP's H Raja and his history of foot-in-mouth social media posts.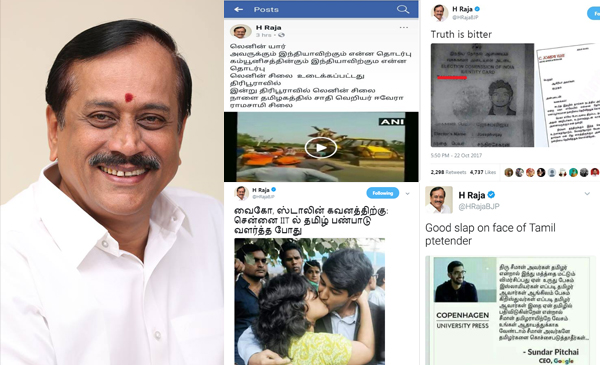 'We will not take action against H Raja', said Bharatiya Janata Party President Amit Shah on Wednesday. Party National Secretary H Raja was caught in another controversy over a Facebook post that was seen as an incitement to destroy the statue of EVR Ramaswami Periyar in Tamil Nadu.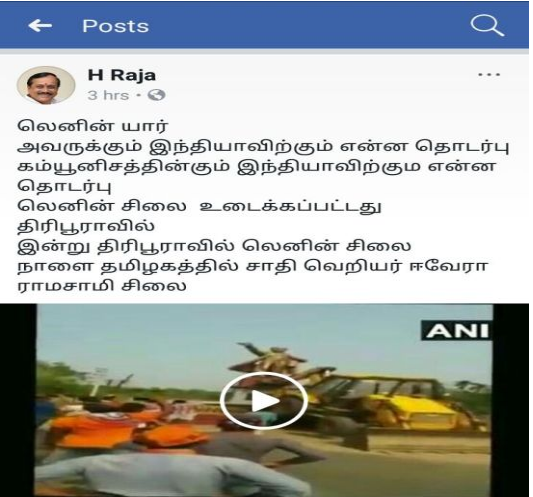 Screenshot from Outlook
Raja's post from his verified Facebook page said,
'Who is Lenin? What is his connection to India? What is the connection of communists to India? Lenin's statue was destroyed in Tripura. Today, the statue of Lenin in Tripura; tomorrow the statue of caste hater Periyar in Tamil Nadu.'
The post, in approval of the destruction of Russian communist revolutionary Lenin's statue in Tripura after BJP ended the two decade long communist rule in Tripura, was seen as a provocation to vandalise the statue of Periyar, an icon of Dravidian politics and Tamil pride.
Raja later deleted the post and expressed regrets in hurting sentiments through his Facebook post. He also said that the post was published by one of his Facebook page's admins without his permission.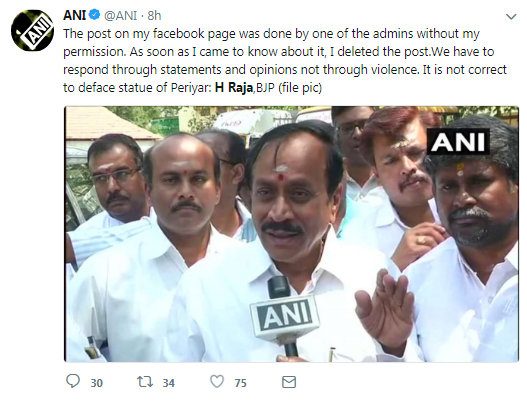 Political leaders from Tamil Nadu including DMK president MK Stalin and Kamal Hassan demanded action against Raja.
While this time Raja apologised, in the past he has sometimes stood by his tweets or deleted them after facing much criticism on social media.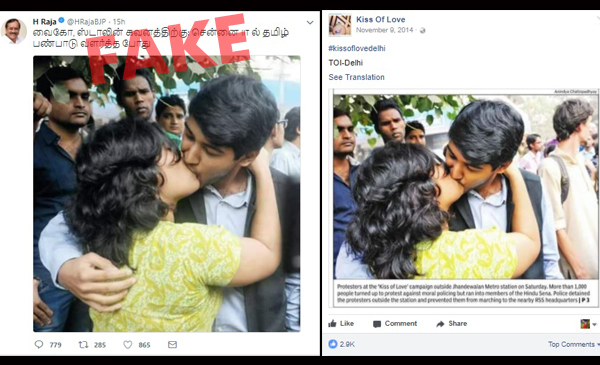 On February 28, Raja tweeted a photo of a couple kissing claiming them to be from IIT Madras. He took on the role of a moral police and tweeted, 'Stalin, for your kind attention, look at how IIT Madras students are keeping up Tamil culture.' However, BOOM found that the image dated back to Delhi 2014 and had nothing to do with IIT Madras or the state. Ironically, the kiss was part of the 'Kiss Of Love' protest against moral policing. Read the story here.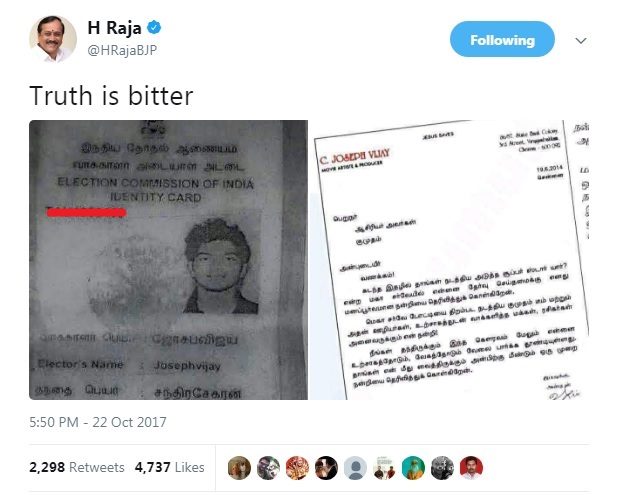 He also created a stir when he tweeted a photo of a voter ID card belonging to actor Vijay and a letter that the actor had written to a Tamil publication. Both had Vijay's full name 'C Joseph Vijay'; which Raja used to 'prove' that Vijay is a Christian. Vijay's film 'Mersal' had created a controversy as it contained dialogues that were critical of Goods and Services Tax (GST) and demonetisation, which ruffled feathers of the ruling BJP at the centre. Read BOOM's story here.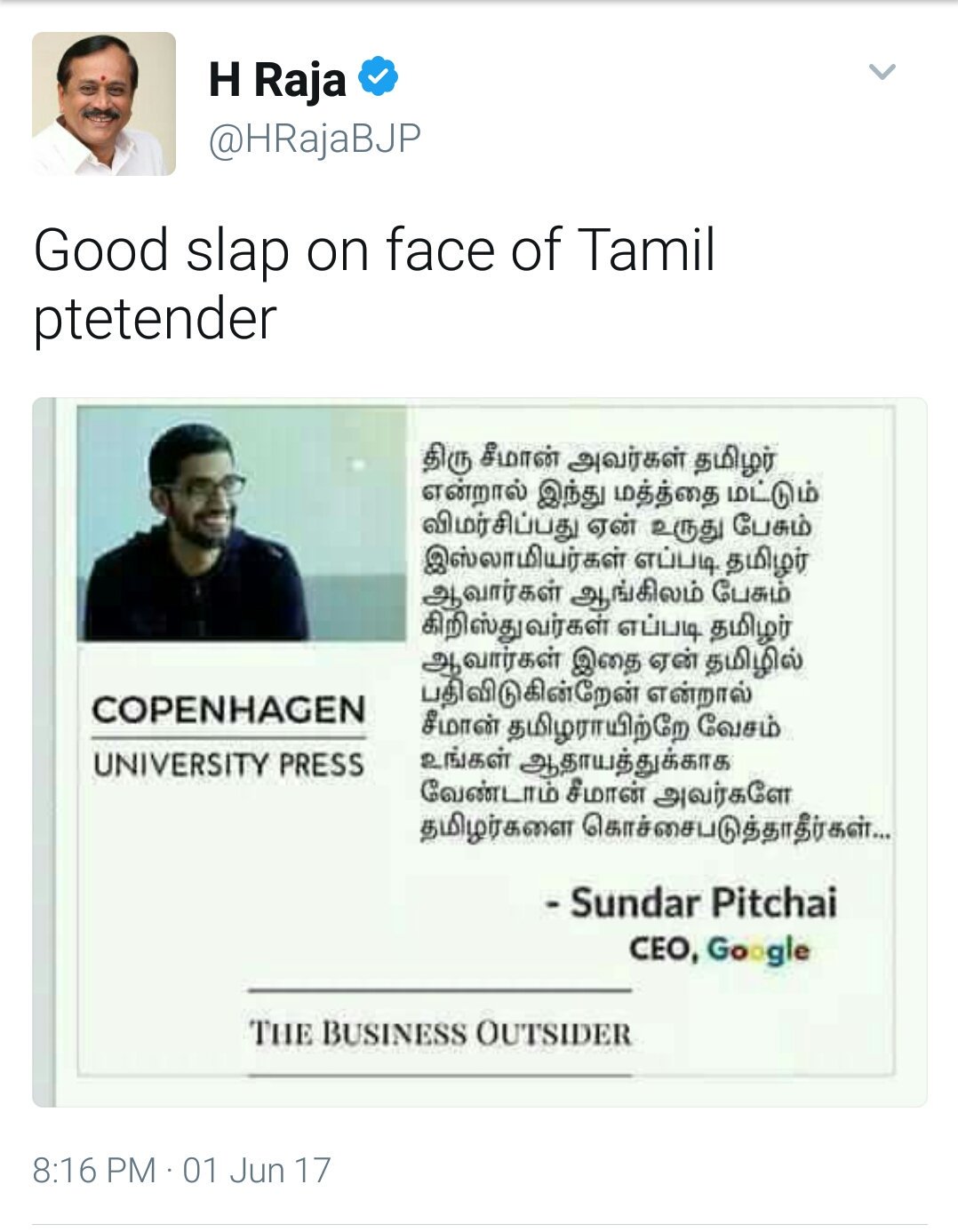 In another gaffe, Raja tweeted a fake quote in Tamil attributed to Google CEO Sundar Pichai. The text was addressed to Seeman, a Tamil politician and communally charged. The text translates to, 'If Seeman is a Tamilian, why does he criticise only Hinduism. How are Urdu speaking Muslims tamils, then? How are English speaking Christians Tamil? The reason why I write this in Tamil, is because Seeman is Tamil. Do not put on a mask at your convenience. Seeman, do not humiliate Tamils'.