Guatemala Video Shared As Hindu Girl From MP Burnt Alive For Church Visit
BOOM found that the video is from Guatemala in 2015 when a teenage girl accused of murder was assaulted and then set on fire by a mob.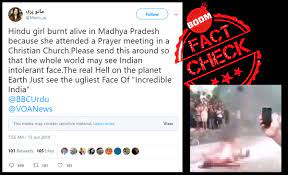 A disturbing video from Guatemala of a teenager writhing in pain as she is burnt alive by a mob is viral on Facebook and Twitter with a false communal claim that she is a Hindu girl from Madhya Pradesh, set on fire for attending a prayer meeting in a church
In the video one can spot a crowd stand by as a teenage girl in a black top and shorts is set on fire and burnt alive by a mob.
This video was shared and latter deleted by a Pakistani Twitter user 'Mano' (@Mano_isi) with the caption, "Hindu girl burnt alive in Madhya Pradesh because she attended a Prayer meeting in a Christian Church.Please send this around so that the whole world may see Indian intolerant face.The real Hell on the planet Earth Just see the ugliest Face Of "Incredible India".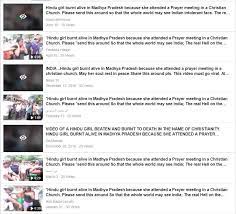 The tweet had gained around 102 retweets and 106 likes as of writing this article. BOOM has chosen not to include the same in the report, given the disturbing nature of the video.
The video has been circulating on social media since December 2016 with the same false communal claim.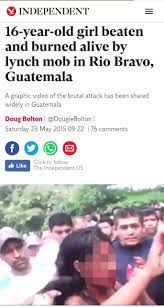 FACT CHECK
2015 Incident from Guatemala
BOOM found that video is from an incident in Rio Bravo, Guatemala where a 16-year-old girl was burnt alive by a mob, for allegedly killing a taxi driver.
The incident was widely reported in May 2015 by international news outlets after the same video went viral.
The girl was accused by the mob of being part of a group that killed a motorcycle taxi driver named Carlos Enrique González Noriega (68) reported The Independent on May 23, 2015.
BOOM found that the viral clip is part of a longer video of 1.45 minutes.
A story in Guatemalan newspaper La Prensa Libr, a Spanish language news outlet mentions the video and explains that the girl was brutally beaten by a mob and then burnt alive by dousing her in petrol. The group reportedly fled after attacking Noriega, but the girl was caught by the mob.
This misinformation was previously fact-checked by Quint on December 17, 2018.
Claim Review :
Hindu girl burnt alive in Madhya Pradesh because she attended a Prayer meeting in a Christian Church
Claimed By :
Twitter User