GST Primer: No Double Taxation If You Pay Utility Bills Through Credit Card
You will be charged GST instead of Service Tax on the various charges levied by the bank and not the billed amount. Pay your bills on time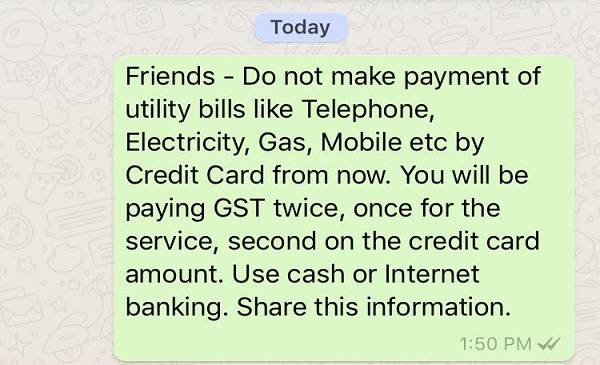 WhatsApp Message On GST
As the country moves to a one nation, one tax regime, social media is on fire with various messages about its actual impact on consumers. One such message that has gone viral since the last few days claims that a consumer will be subjected to double taxation under GST when he chooses to make his utility bill payments via credit card. The inference being that you will be charged GST on your utility bill and on the credit card billed amount as well. The message urges people to avoid double taxation by paying cash for utility bills.
The scare created by this viral message forced Revenue Secretary Dr Hasmukh Adhia to clarify through a tweet on Sunday. Adhia tweeted that there will not be any case of double taxation and urged people not to circulate such messages without confirming with the relevant authorities.
1/2 A wrong message is doing rounds on social media that if u make payment of utility bills by credit cards,you will be paying GST twice.

— Dr Hasmukh Adhia (@adhia03) July 2, 2017
2/2 This is completely untrue. Please do not recirculate such message without checking it with authority.

— Dr Hasmukh Adhia (@adhia03) July 2, 2017
The fear of double taxation is unfounded due to multiple reasons. If you check your past credit card bills, you will find that if you have managed to pay your bills on time, there was no service tax. The tax was only applicable on annual charges, interest payment, processing fees of EMIs and not on the billed amount. This service tax was charged at 15% which will now be replaced by GST at 18%.
For e.g, take a look at an ICICI credit card bill. A service tax of Rs 29.86 was charged. This will now rise to Rs 36 (18% on the interest component of the EMI), a rise of Rs 16 on the monthly bill.

ICICI Credit Card Bill
Let us take a look at another credit card bill by Kotak Mahindra Bank. The consumer has been charged a late payment fee of Rs 500 and interest charges of Rs 173.30. The service tax at 15% applicable on the late payment fee and interest charges is Rs 101. This will now rise to Rs 121, an increase of Rs 20 with the GST being levied at 18%.

Kotak Mahindra Credit Card Bill
Both these examples show that there were no taxes applied on the billed amount but only the additional charges levied by the bank which were seen as an additional service offered to the consumer. This will now be charged as GST. Banks have sent messages to their customers informing them about the change in taxation.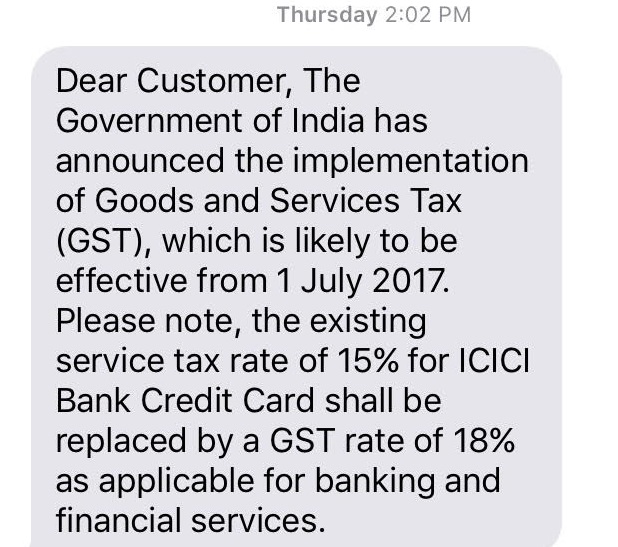 ICICI's SMS to Credit Card customers
Your utility bill payments will also see an increase. Wherever VAT was applicable like piped gas, that will now be replaced with GST. The service tax (14%) plus Krishi Kalyan cess (0.5%) and Swach Bharat Abhiyan cess (0.5%) on your phone bills will also be replaced with GST at 18%.