'Ghost Hand' In MP Congress' Advertisement Makes Party A Target Of Social Media Ridicule
A photo of Madhya Pradesh CM Kamal Nath standing next to an old woman in a farm loan waiver advertisement is viral with an extra hand seen lurking in the background, thanks to poor editing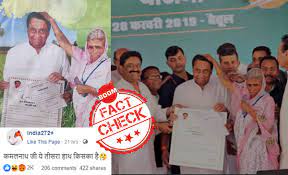 A poorly edited image of Madhya Pradesh chief minister Kamal Nath that appeared as a front page advertisement on Hindi daily Nav Duniya's June 23 edition has become the reason of ridicule for the CM on social media. The image shows an old woman blessing the Madhya Pradesh CM as he jubilantly displays loan waiver certificates handed over to farmer. However, it's the presence of a ghost hand in the picture that has piqued social media's interest.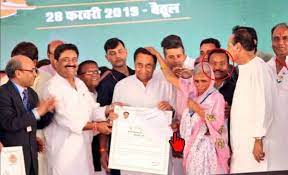 You can view the viral post here and its archived version can be accessed here.
The image has been shared widely on Facebook and Twitter.
Archived tweet can be accessed here.
Fact Check
The photoshopped image had appeared as a front page advertisement for MP government's Jai Kisan Loan Waiver Scheme in some of the Hindi dailies in the state.
It shows an old woman blessing Nath with one hand while her other hand rests close to her body. Nath, meanwhile, is seen holding farmer loan waiver certificates in both his hands. Interestingly, a third hand not belonging to the Madhya Pradesh CM or the woman is holding one of the certificates.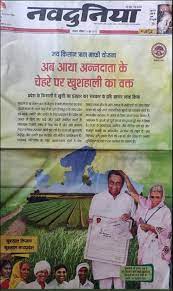 BOOM tried looking for the online edition of Nav Duniya but found none. The same advertisement was on the front page of another Hindi daily Naidunia. However, there was no ghost hand in the advertisement carried here.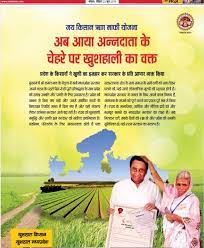 When we got in touch with an employee of Naidunia, we were informed that there was indeed a mistake on the print version of the advertisement.
BOOM tracked the original image back to February 28 this year.
The chief minister was in Baitul, MP, on February 28 this year to hand over loan waiver certificates to beneficiary farmers. The viral photo was clicked at the said event with many other dignitaries and local leaders standing in with and behind Nath and the woman.
A reply on one of the viral tweets about the third 'ghost' hand mentioned that the hand belonged to MLA Kamleshwar Patel, seen standing behind the woman in a black shirt. BOOM then compared Patel's photo with an image from the event and found that it the third hand seen holding the certifcate belonged to him.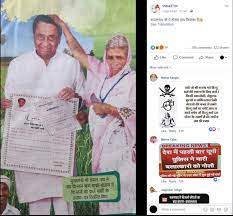 BOOM then tried looking for the online edition of Nav Duniya but could not find a newspaper by that name.
Read about a similar goof-up by the Congress party below.
Poorly Edited Pic Makes Congress A Target Of Social Media Ridicule
Claim Review :
Whom does the third hand belong to in this Congress advertisement
Claimed By :
Facebook pages and Twitter handles