Fast Check
Photo Of RSS Members With Queen Elizabeth II Is Doctored
The viral image has been created by superimposing two different unrelated photos of Queen Elizabeth II and RSS members respectively.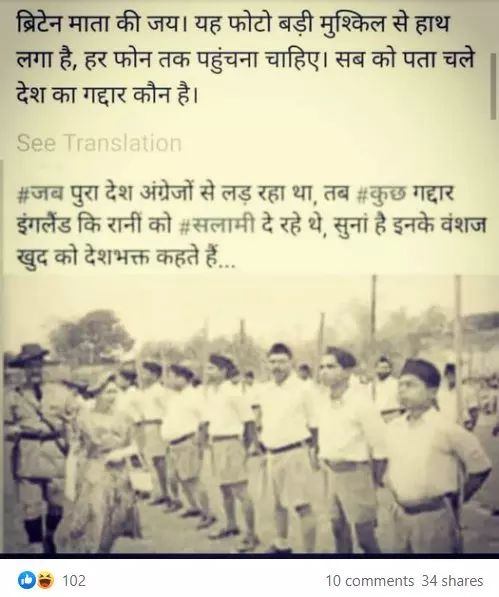 Claim
A morphed image showing members of the Rashtriya Swayamasevak Sangh (RSS) and Queen Elizabeth II in one frame has resurfaced and is viral with false claims that the RSS members were busy saluting the queen when the country was fighting for independence. A Hindi caption written on the image that was posted on Facebook translates to "Hail Britain's Queen. Got the photo after a lot of hard work. This should reach every corner. Everybody should be aware that who are traitors of the country. When the whole country was up in arms against the British there were few traitors who were busy saluting the Queen of England. Their descendants call themselves patriots." (Original Text in Hindi: "ब्रिटैन माता की जय। यह फोटो बड़ी मुश्किल से हाथ लगा है, हर फोन तक पहुंचना चाहिए। सब को पता चले देश का गद्दार कोण है। जब पूरा देश अंग्रेजों से लड़ रहा था तब कुछ गद्दार इंग्लैंड की रानी को सलामी दे रहे थे. सुना है इनके वंशज खुद क देशभक्त कहते हैं।")
Fact
BOOM had fact checked the same image, when it was viral earlier with a similar caption. We ran a reverse image search and found that the viral image has been created by superimposing two different and unrelated photographs. The image of RSS volunteers was published in a report on Nagpur Today on August 14, 2013 and the Deccan Chronicle on January 22, 2015. The image is also present on Wikipedia since April, 2008. BOOM did another reverse image search and found that the second image in the viral picture, that of the queen, was taken in Nigeria on February 2, 1956. The Getty images' caption reads, "Queen Elizabeth II inspects men of the newly-renamed Queen's Own Nigeria Regiment, Royal West African Frontier Force, at Kaduna Airport, Nigeria, during her Commonwealth Tour, 2nd February 1956."
Claim :
Image shows RSS members saluting British Queen
Claimed By :
Facebook Post
Do you always want to share the authentic news with your friends?
Subscribed Successfully...
Enter Valid Email Id