Video From Cyclone Fani Peddled As Destruction By Cyclone Amphan
BOOM found that the video is from May 2019, when Cyclone Fani hit Odisha.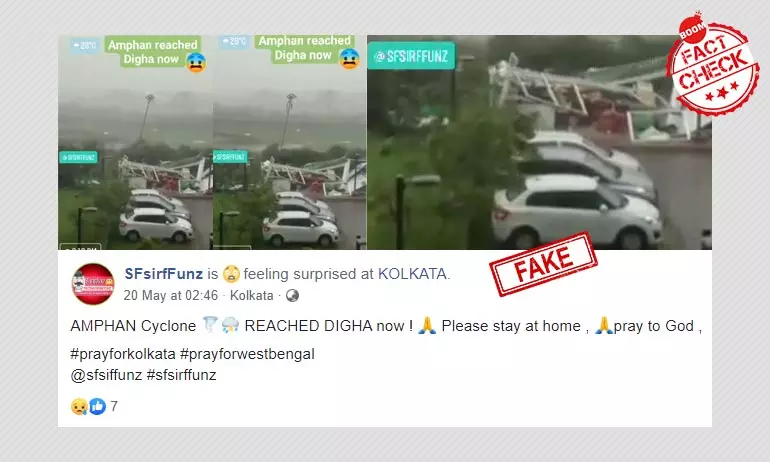 A video of a shed in a parking lot in Odisha, blown away by strong winds caused by cyclone Fani is being shared claiming destruction by cyclone Amphan in West Bengal. BOOM found that the video is from May 2019, when cyclone Fani hit Odisha.
The video is being shared with a caption, Cyclone Amphan at Digha, West Bengal. Digha, a coastal town in West Bengal is where Amphan made landfall on May 20, 2020. Several districts of West Bengal have been severely hit, with power lines damaged and at least 100 casualties reported.
The video is being shared on Facebook pages claiming it is recent.
FACT CHECK
A reverse image search for a keyframe from the video showed results from 2019 of destruction caused by cyclone Fani in Odisha. We also found the same tweeted by a user on May 3, 2019 and published by media outlets, reporting on cyclone Fani.
The same video crediting the above user was used by The Economic Times in their video report about Fani. The story published by Economic Times on May 3, 2019 with the description, "The extremely severe cyclonic storm 'Fani' or the 'Hood of Snake' made landfall around 8 am in Puri, with roaring winds flattening huts, enveloping the pilgrim town in sheets of rain, and submerging homes. '
We also found other YouTube channels carrying the video claiming destruction caused by Fani, uploaded on May 2019.
Updated On:
2020-05-22T18:42:36+05:30
Claim :
Video Of destruction by Cyclone Amphan at Digha, West Bengal
Claimed By :
Social media posts