Video From Bangladesh Shared As Distressed Muslims In Bengal
The clip shows the plight of Rohingya refugees in Cox's Bazaar in Bangladesh, following a fire that broke out in a camp.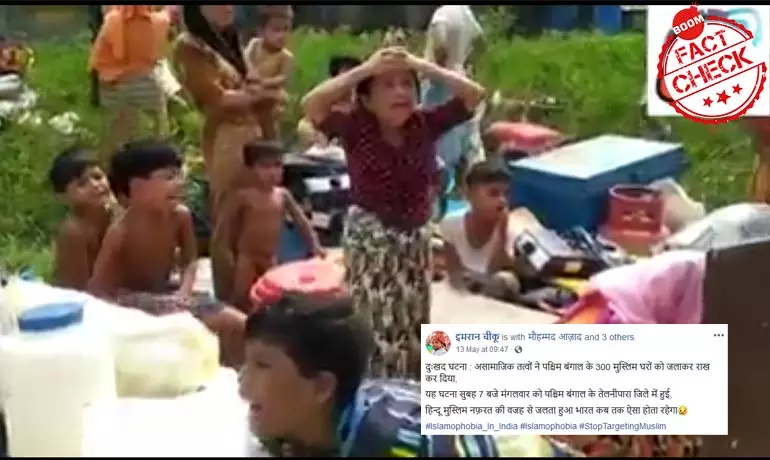 A footage of a group of women and children, visibly in distress, is going viral with the claim that it shows the plight of Muslims in Telinipara in West Bengal, where sectarian violence between Hindus and Muslims had recently broken out.
This claim is false; while the footage is recent, it shows Rohingya refugees in Bangladesh following a massive fire in the refugee camp where they were stationed.

The 1:20 minute clip was shared with the following caption:
English translation: Sad incident: Some antisocial elements set 300 Muslim homes on fire in West Bengal. The incident took place on Tuesday morning at 7 am in Telinipara district of West Bengal. India is burning in the fire of Hindu-Muslim hatred. How long will this go on?
Original Hindi caption: दुःखद घटना : असामाजिक तत्वों ने पश्चिम बंगाल के 300 मुस्लिम घरों को जलाकर राख कर दिया, यह घटना सुबह 7 बजे मंगलवार को पश्चिम बंगाल के तेलनीपारा जिले में हुई, हिन्दू मुस्लिम नफ़रत की वजह से जलता हुआ भारत कब तक ऐसा होता रहेगा
The video has raked in over a million views on Facebook, and was also found being shared on Twitter with the false narrative.

दुःखद घटना : असामाजिक तत्वों ने पश्चिम बंगाल के 300 मुस्लिम घरों को जलाकर राख कर दिया,

यह घटना सुबह 7 बजे मंगलवार को पश्चिम बंगाल के तेलनीपारा जिले में हुई,

हिन्दू मुस्लिम नफ़रत की वजह से जलता हुआ भारत कब तक ऐसा होता रहेगा😢 pic.twitter.com/jSZuDEDznN

— Jamal Ahmad Khan (@JamalAh36937398) May 13, 2020
दुःखद घटना : असामाजिक तत्वों ने पश्चिम बंगाल के 300 मुस्लिम घरों को जलाकर राख कर दिया,
यह घटना सुबह 7 बजे मंगलवार को पश्चिम बंगाल के तेलनीपारा जिले में हुई,
हिन्दू मुस्लिम नफ़रत की वजह से जलता हुआ भारत कब तक ऐसा होता रहेगा| pic.twitter.com/32L73m9Q5l

— Rajesh Ranjan (@RajeshR71176567) May 14, 2020
Fact Check

BOOM noticed that in every post the video had a logo on the top right corner.
Cropping the logo and running it through Google reverse image search revealed that it was actually the logo of Rohingya News National News (RNN), which defines itself on its Facebook page as an independent non-profitable news agency of Rohingyas of Arakan, Myanmar.
We found a longer version of the viral video on the RNN's Facebook page, posted on May 12, 2020. The caption of the video read, "The devastating fire has taken place in the Kutupalong refugee camps today in the morning. "Reportedly 312 shelters were completely destroyed, and 362 more partially damaged, as well as small shops" UNHCR. ERC has learned that at least 10 victims have been taken to the hospital for the treatments. ERC thanks the Rohingya volunteers who are first responders in the sense. ERC is trying to reach out those affected by the fire. ERC also urges UNHCH & WFP Bangladesh for the emergency response to the displaced."
Looking for recent incidents of fire in the Kutupalong refugee camp in Bangladesh's Cox Bazaar (run by the Bangladeshi government), and found multiple news reports (Times of India, The Independent, News18) that spoke of a fire on May 12 that gutted around 400 shanties and shops in the Lambashia camp in Kutupalong.
While the video is recent, it does not show the plight of Muslims in West Bengal's Telinipara, following the sectarian violence that took place in the area a week ago.

Updated On:
2020-05-20T14:22:32+05:30
Claim :
Video shows the plight of Muslims in West Bengals Telinipara after communal attack.
Claimed By :
Facebook, Twitter
If you value our work, we have an ask:
Our journalists work with TruthSeekers like you to publish fact-checks, explainers, ground reports and media literacy content. Much of this work involves using investigative methods and forensic tools. Our work is resource-intensive, and we rely on our readers to fund our work. Support us so we can continue our work of decluttering the information landscape.
BECOME A MEMBER